Hello all!
Apologies for the few weeks of silence on Kickstarter again, we have being very busy.
We are thrilled to announce that today, we shipped out the first Kickstarter award, the BETA TESTER packs. This award consisted of a Adaptalux ultimate pack, and meant they get the product 4 weeks in advance to everyone else. We can't wait to see what they can do with their Adaptalux kit!
We can also happily announce that the Adaptalux App is now available to download for iOS on the App Store. As mentioned numerous times now, an Android version of the app will follow towards the end of summer. Please, go and download the app and start to get a feel of what it can do and how it will help you create amazing photos and videos using your Adaptalux products. You will be able to see some Adaptalux lighting set-ups Sam has put on the World Library for you to try, once you receive your Adaptalux studio. Hopefully, our BETA award testers will put more on over the next 4 weeks.
Shipping Schedule
Now we have shipped out the BETA award, we can officially announce our planned shipping schedule. Shipping is going to be an ongoing process over the next 2 – 3 months. We will try are best to finish ahead of this schedule!
Week beginning 25th July – 5th August = ULTIMATE PACK Kickstarter Award shipping.
Week beginning 8th August – 19th August = COMBO PACK Kickstarter Award shipping.
Week beginning 22nd August – 2nd September = STARTER PACK Kickstarter Award Shipping.
Week beginning 18th of July = SUPER ULTIMATE MEGA AWESOME PACK Kickstarter Award shipping.
ALL KICKSTARTER AWARDS SHIPPED.
Week beginning 5th September – 9th = ALL WEBSITE PRE-ORDERS SHIPPED.
Website
Sam took some time out a few weeks back to re-design the Adaptalux website. Go check it out and let us know what you think. https://adaptalux.com
A Small Favour
Now we have shipped the first units of Adaptalux, we would ask that you help us grow the Adaptalux community by sharing Adaptalux content on social media and telling your friends. The more people who get on board, the better this product will become as a amazing lighting tool. We are hoping that Adaptalux will inspire and teach other photographers and videographers to try different lighting techniques, to make their photos and videos even better!
Thats it for now everyone, and we hope the excitement is really building now. We know it has being a patient wait, but we really think you will love the product.
Sam + The Team.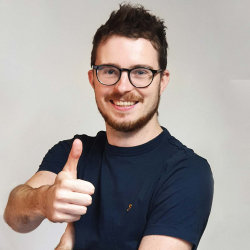 Latest posts by Sam Granger
(see all)