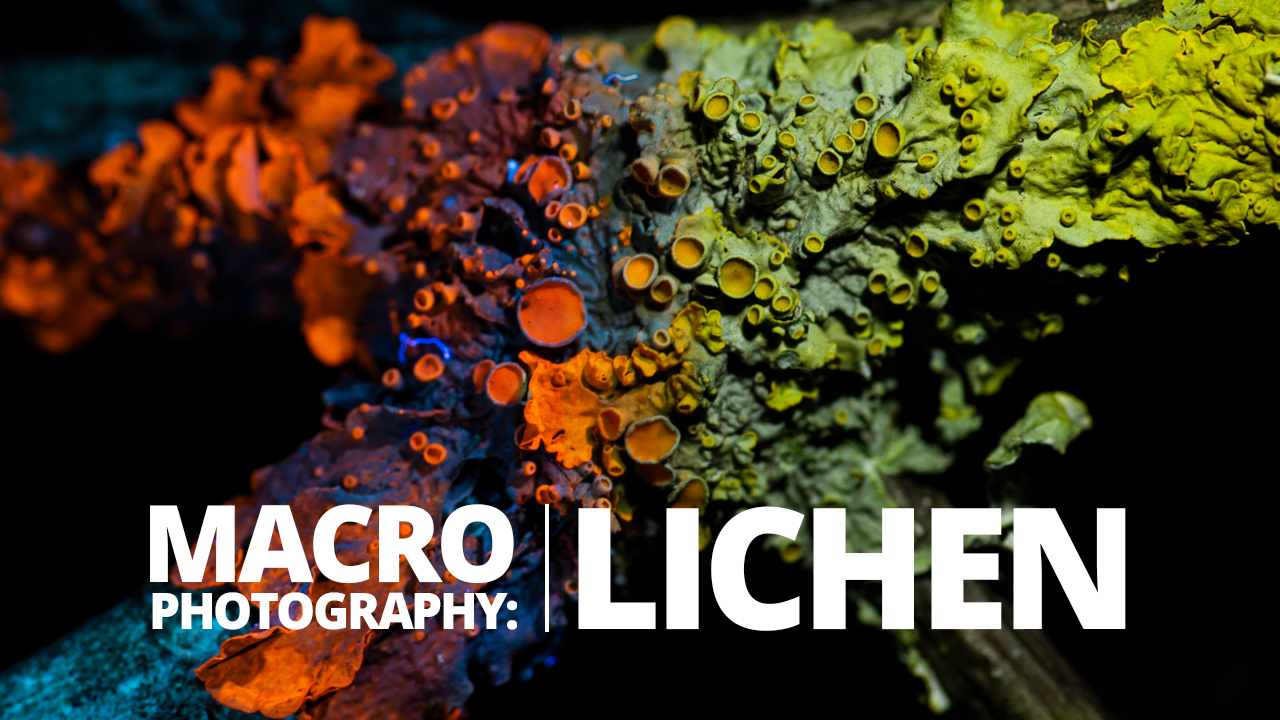 Lichen is a pretty common find in UK woodland. The particularly easy to find variety is the kind we are shooting today – Xanthoria parietina, aka Common Orange, or Maritime Sunburst Lichen. Grab a few hedge cuttings with this stuff growing and lets delve into some ultraviolet lichen macro photography.
The UV shots in this article are interactive, drag the separator to switch between the UV and visible light shots.
Ultraviolet Lichen Macro Photography
Lichen is a really amazing macro photography subject. It has a huge variety of different species, which form complex and beautiful organic structures. The kind we have today is also extremely colourful, with shades of green, yellow and orange.
The key to photographing lichen under normal light is simply finding the right composition.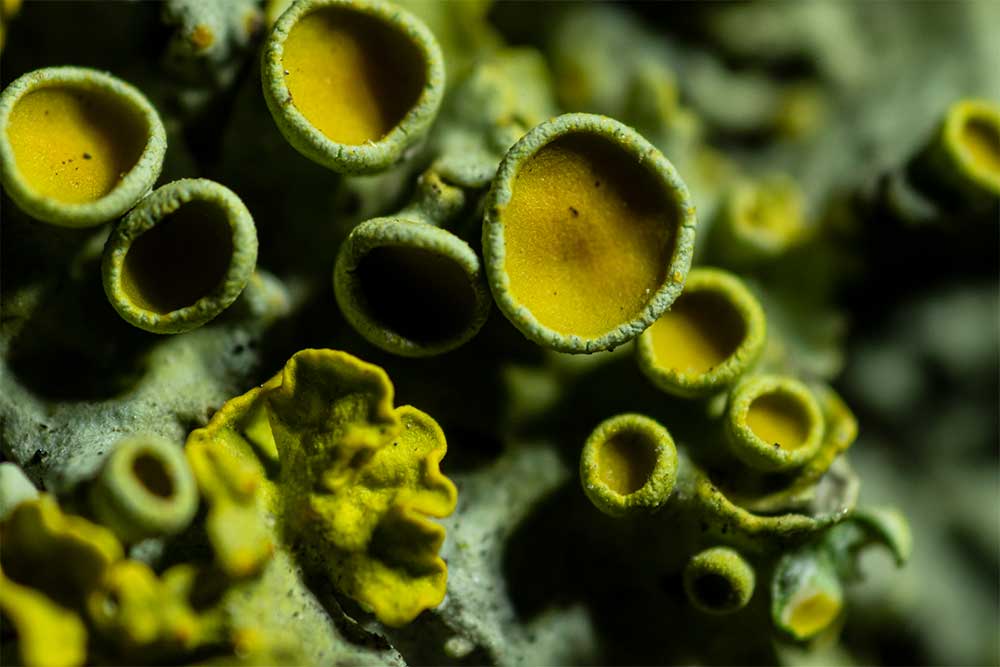 Find your focus
Getting as close as this to a subject, as with most macro photography, is a battle of depth of field. With a subject like this, it can be particularly hard to find a pleasing focal point in the image. The complexity and 3D nature of the lichen on a branch means there are few flat surfaces.
Take advantage of your shallow depth of field to create some eery alien landscapes. Alternatively, try focus stacking to get more in focus as we have done below.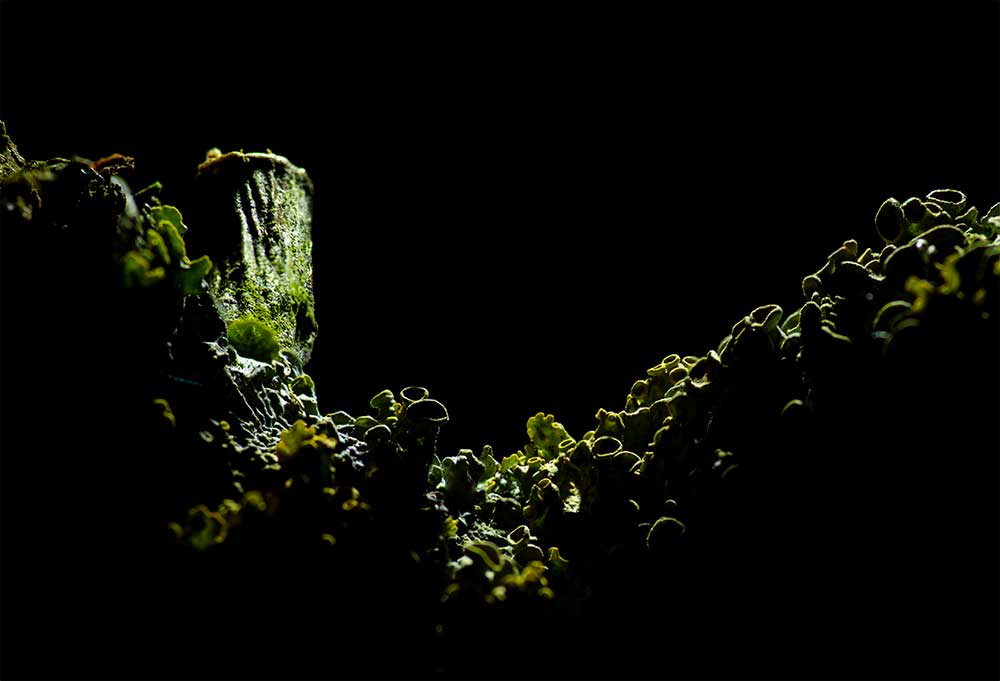 Light your subject
Once you have a composition you light, it's time to play with light. When using visible light, try lighting the surface from a low angle to pick out shadows and highlight the colours.
The more light you have, the better settings and smaller aperture you can use. This is a good subject to make use of our Super Bright White Lighting Arms, that have a narrow beam to focus the light to exactly where it is needed.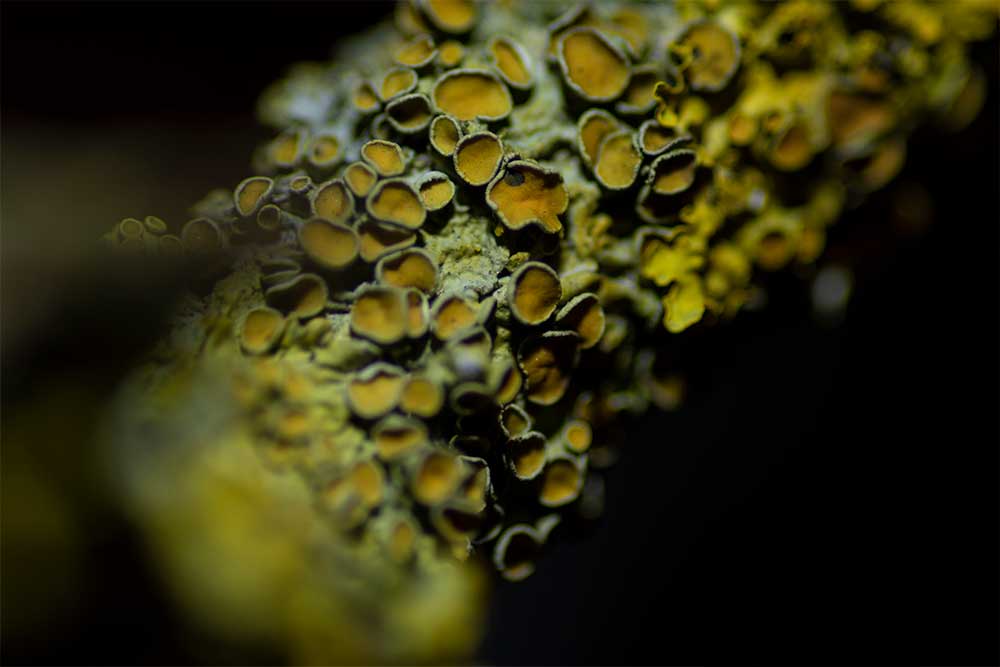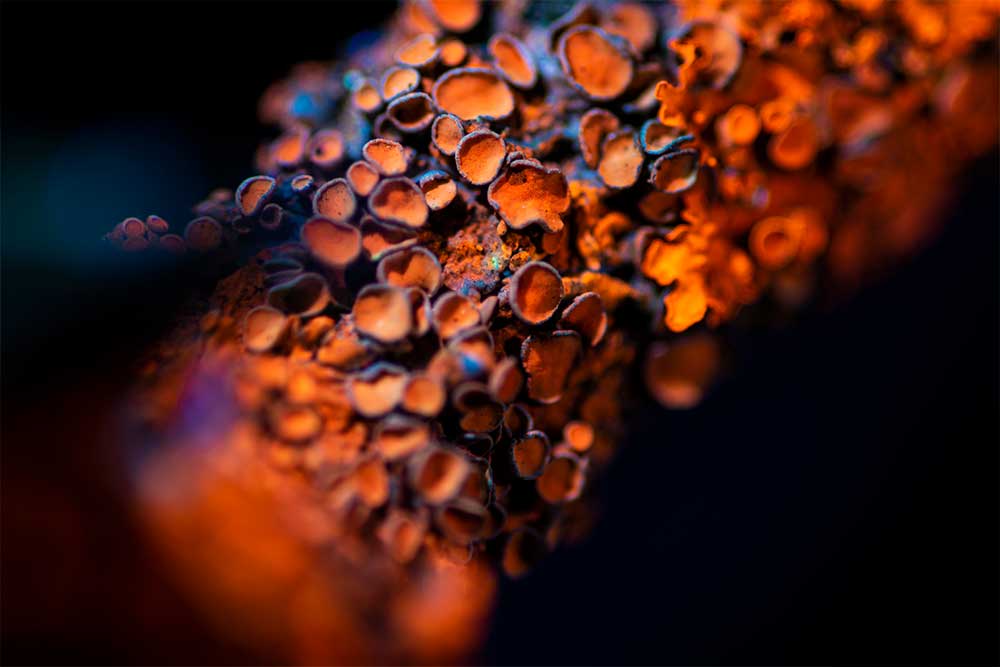 UVIVF Photography
If you haven't tried UV photography before, we have a couple of articles that are a great place to start. This article explains the differences between the types of UV photography. Here we shot some lilies and go into more detail about how to use our UV Lighting Arms.
Ultraviolet lichen macro photography is very interesting and very colourful. Maritime Sunburst Lichen glows an amazing orange colour when exposed to UV.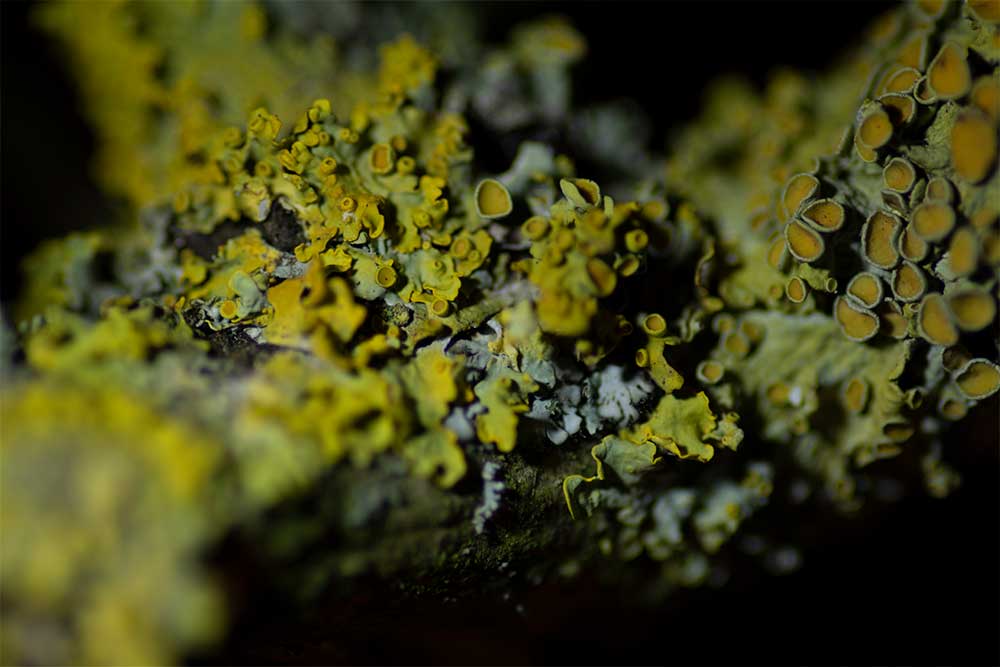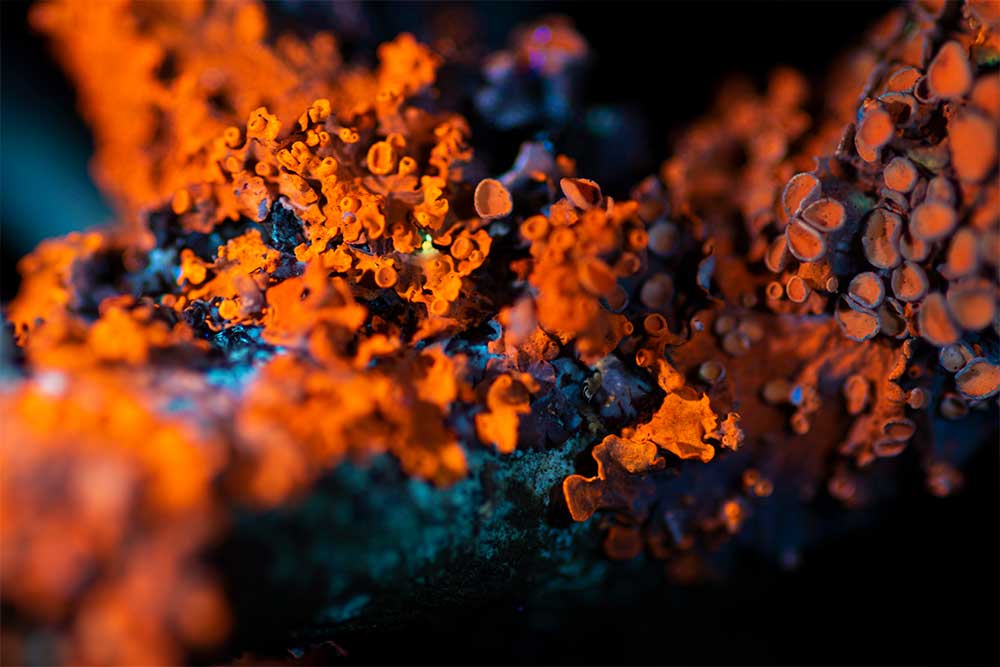 These shots used 2 UV lighting arms and a long exposure to capture the amazing glow of the orange. The more alive your lichen is, the more it will glow. Lichen sometimes goes dormant in the absence of water and light, turning grey when it is not photosynthesising. This is even more apparent under the UV light with the most active areas set on a backdrop of greyish blue.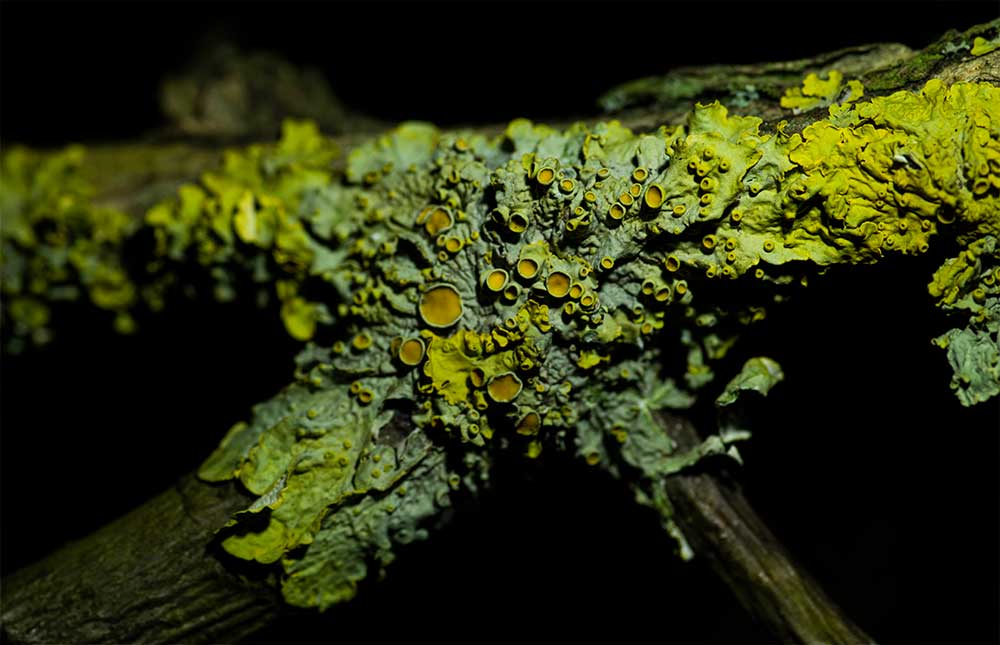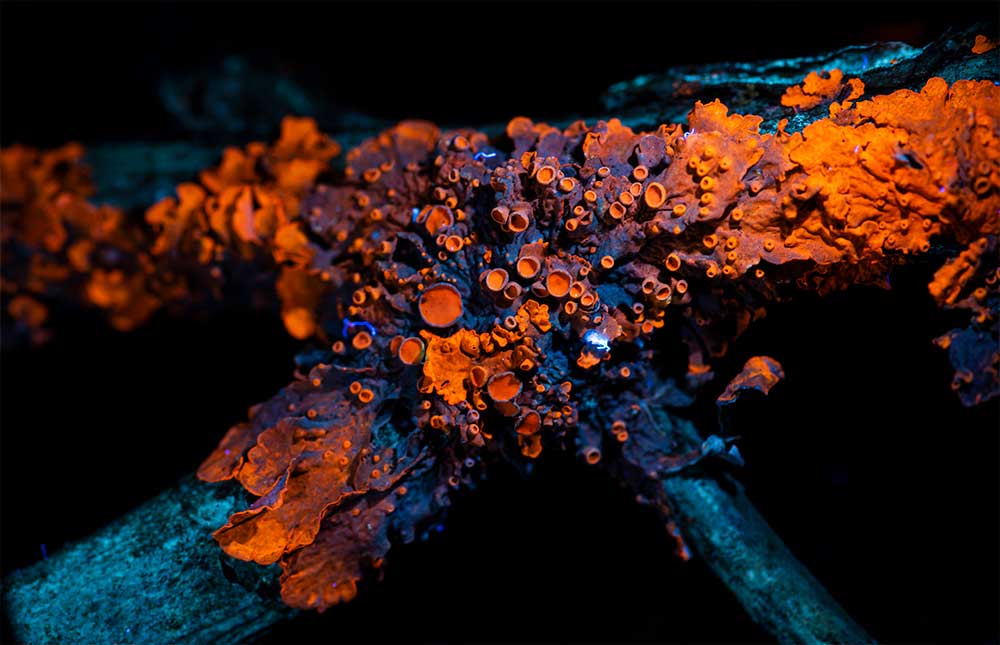 Focusing in the dark
If you read our other UV articles, you will know that you need perfect darkness to get these kinds of photographs. In the dark, you can't focus though, so we need some temporary light. Try plugging an extra white arm into your Adaptalux Control Pod and using the app to turn it on and off when you are ready to shoot!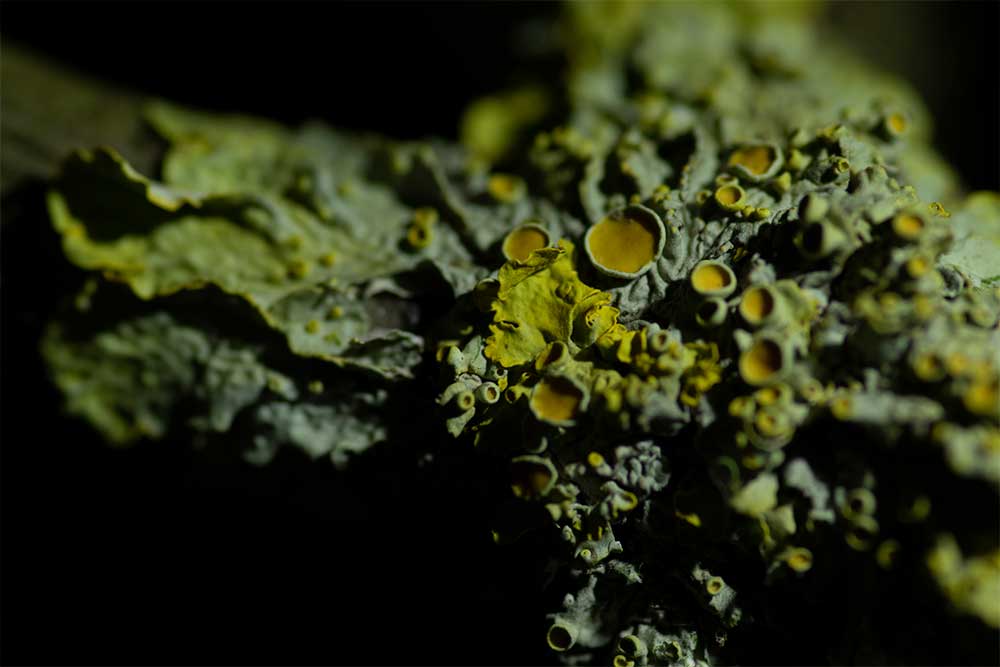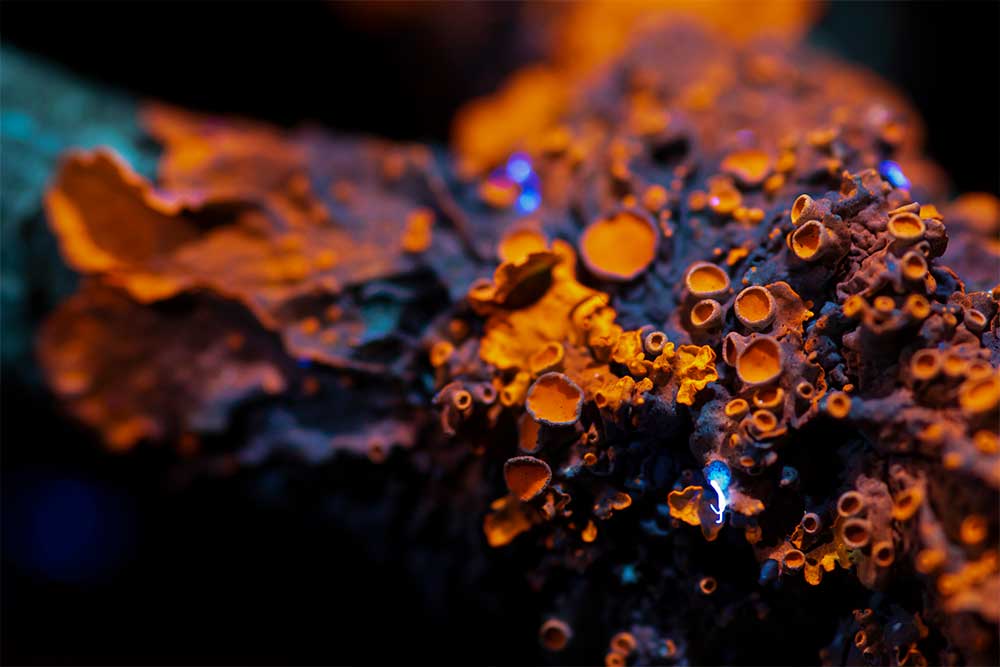 Lichen is really easy to find in temperate woodland and hedges. If you're looking for a subject to practise some UVIVF photography, look no further. This is one of the most surprising UV subjects we have shot so far!
Don't forget to subscribe to our YouTube channel for more macro photography tutorials, ideas and inspiration!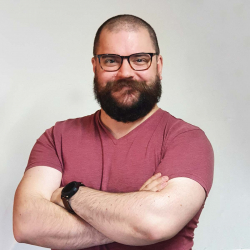 Latest posts by Ben Tuxworth
(see all)