ALL OF THE KICKSTARTER AWARDS HAVE NOW BEEN SHIPPED!
This is a very special day that we have been working very hard towards since we launched this kickstarter campaign. Everyone who pledged for an Adaptalux pack, should now have a tracking number. If you have not received your Adaptalux yet, don't worry it is on its way!
We are constantly being amazed and surprised with some of the photographs some of you are already getting with your Adaptalux studios and we cannot wait to see more! If you would like us to feature your work, please send any photographs or videos captured with Adaptalux to pictures@adaptalux.com
Now that Kickstarter shipping is complete our focus now turns to shipping out Adaptalux website pre-orders throughout next week.
Week beginning 10th October – 14th October = WEBSITE PRE-ORDERS Shipping. 
KICKSTARTER STARTER PACKS (THE GOLDEN HOUR) – SHIPPED!
KICKSTARTER COMBO PACKS – SHIPPED!
KICKSTARTER ULTIMATE PACKS – SHIPPED!
SUPER ULTIMATE MEGA PACKS – SHIPPED!
BETA TESTER PACKS – SHIPPED!
A few words from Sam…
As the creator of this project, seeing this product in the hands of some fantastic photographers and videographers is something I have dreamed about for over 3 years now. Myself and the team really cannot wait to see what you can do with your Adaptalux over the coming months.
Now we have fulfilled all of our Kickstarter awards, our focus will now shift on to growing this company, which will lead onto new products been developed. I designed Adaptalux to be backwards compatible, which means any future products will work with the product you own now, so watch this space. Our goal is to achieve ultimate studio control in a miniature environment and the successful completion of this Kickstarter campaign is the first steps to accomplishing this.
I would just like to thank a couple of people who have helped myself and the team push through and get this project complete. We all owe a special thanks to Billie and Margaret (My Mum and Nanna!) who have kindly helped us assemble and ship Adaptalux over the last 4 months. Their help has meant the world to myself, Martin and the rest of the team and it has proved invaluable to getting this project complete by the shipping dates we set.
Last but not least, I would like to thank you, our amazing Kickstarter backers. Your support and loyalty has really meant the world to us, even through the tough times at the beginning of this year, where we had to announce shipping would be delayed. Myself and the team have being amazed with the positive & supportive messages throughout the last 18 months, they have really made a difference to team morale. Without your support, this product wouldn't have became a reality. You all deserve a massive pat on the back for believing in this product and we really hope you think the wait has been worth it. Thank you.
Thats it for now, another update will follow in the coming weeks.
Thank you everyone, you are all amazing.
Sam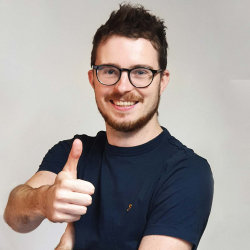 Latest posts by Sam Granger
(see all)