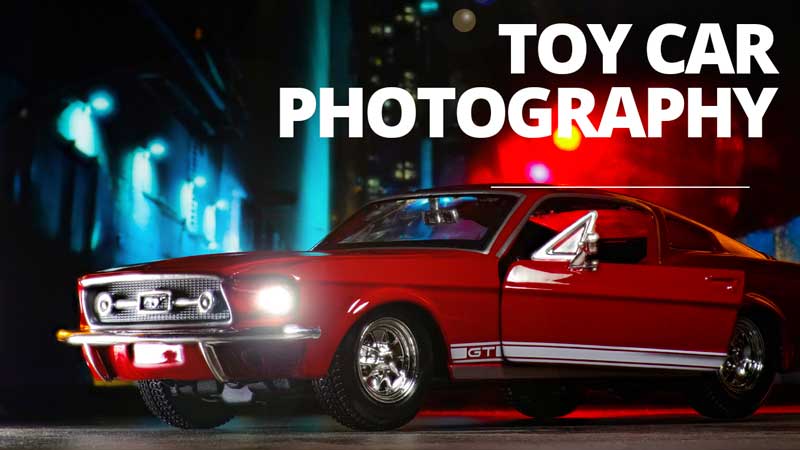 Car photography is an appealing pastime and even a lucrative career… however not everybody has a Lamborghini or Aston Martin lying around to practice with. This is where diecast model cars can be a fantastic stand-in. There are a few things to consider though, so we're going to cover them in this realistic toy car photography tutorial!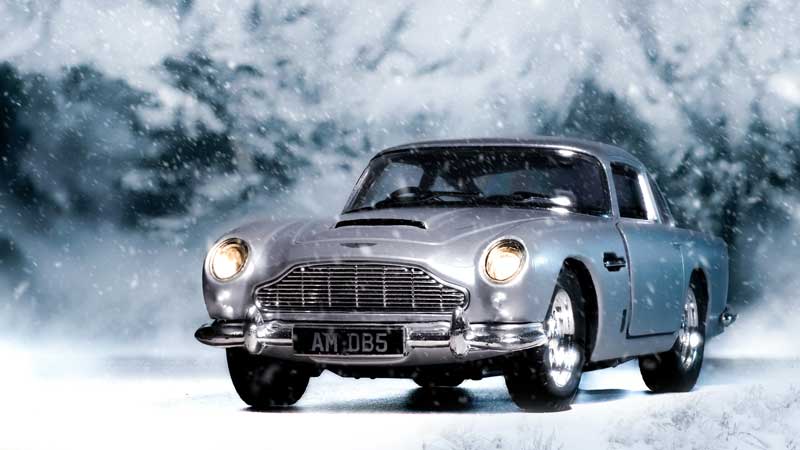 Diecast

Toy Car Photography

Tutorial
Firstly, what kind of toy cars are best for shooting realistic-looking car photography? Well, the smaller and less detailed the toy is, the more tricky it will be to make it look like its real-life counterpart.
Diecast toy cars like the ones we are using here are usually more expensive than your average kid's toy, but come with much more detail. They are usually made from well-molded and painted metal parts with plastic interiors and accessories. Collectors and enthusiast replicas like these are the next best thing to real cars.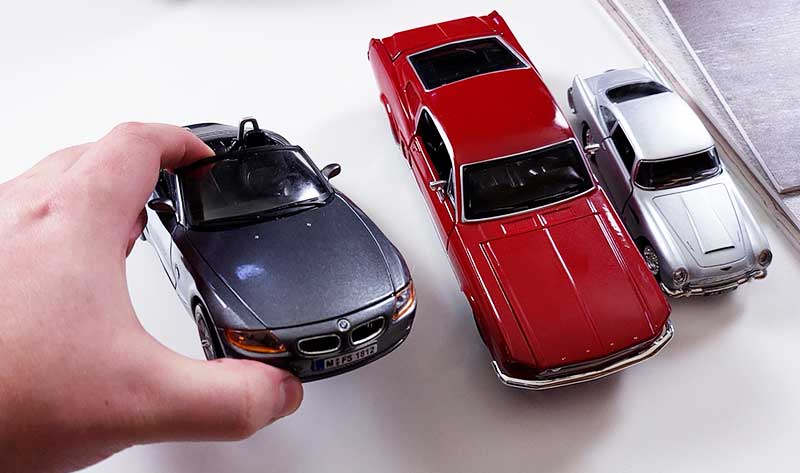 You don't always need elaborate scenery constructions to create realistic-looking toy car photos. You can usually just use the things you have available. For all of these shots, we used some dark and light protoboard surfaces for the ground, and an iPad screen for the backdrop!
You can of course add extra details as you see fit, perhaps some flour to act as snow drifts, or some real grass as a foreground detail. There is also the popular option of using forced perspective to make the car look life-sized against a real landscape.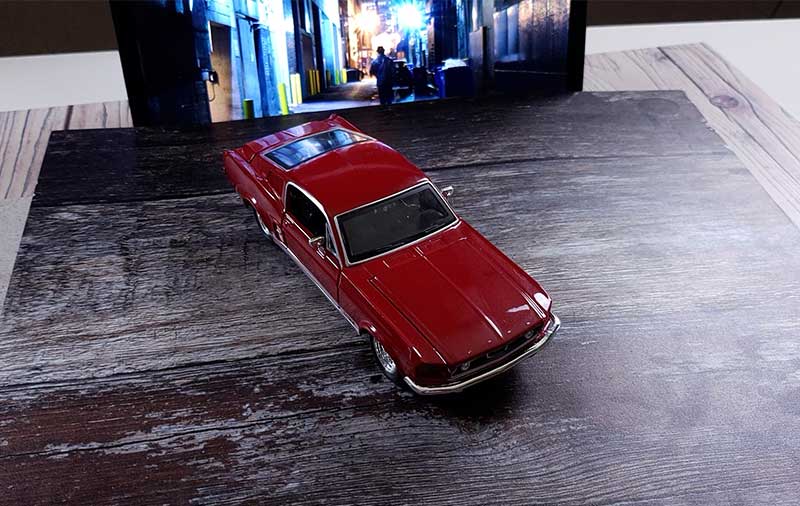 Composition

& Camera Settings
It's important to do some research and look at actual car photographs if you want to make your toy cars look realistic. You will find most car photos are shot from a standing or crouched position. For a full-sized car, getting low angles is much easier than elevated ones, and the results make the cars look powerful and imposing.
We have to think about our angles with toy car photography too. The opposite is usually true for our toys, it's easier and more natural to take your photo from an elevated angle… but think how tall the photographer would have to be to take that shot! Unless you're trying to emulate a drone photo, or a particular angle, it's usually best to place your camera as low down as possible. This will help make your car look much larger than it is, more renunciant of actual car photographs, and will reduce the need for a detailed ground surface.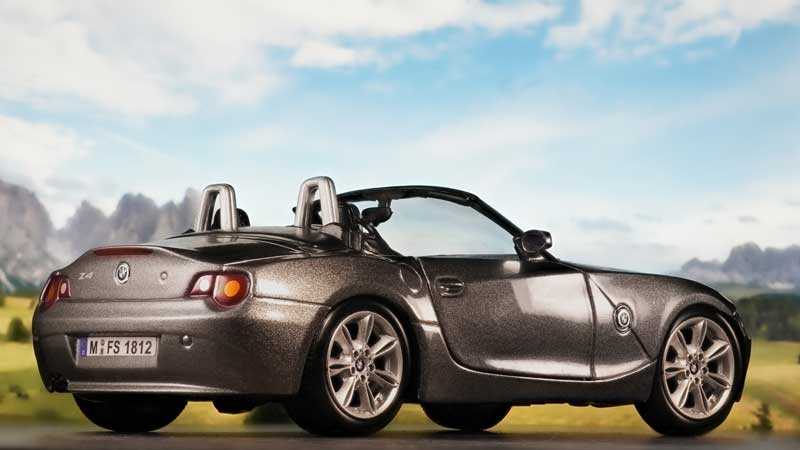 We must also think about our exposure and camera settings. If you're using a screen or the actual sky, you will need to closely match the brightness of the car with the brightness of the background.
It's best to shoot on a tripod if you can, but if not, make sure to have a fast shutter speed to reduce camera shake. You will also want to close down your aperture to get a better depth of field (more on that later).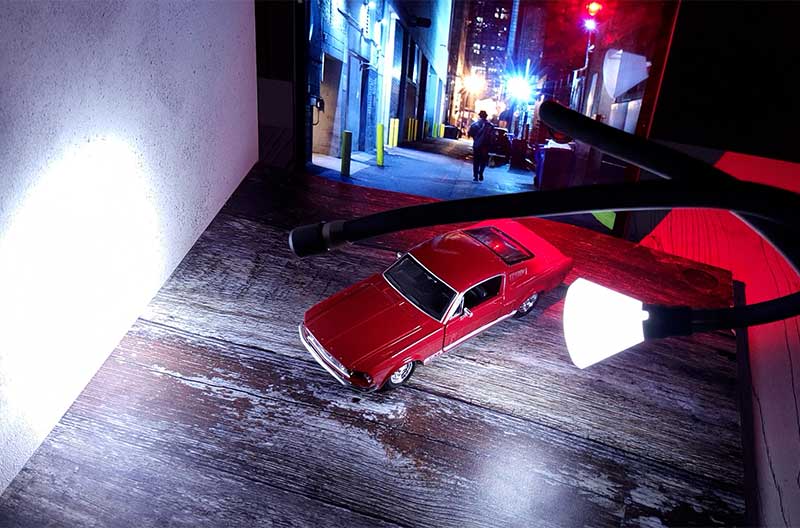 Control over your lighting is critical for photography truly realistic toy car photography. The paintwork of these models is reflective and the subject has a lot of complex details. Once again, looking at real car photos, you will notice how reflections play a big part in showing off the contours and shapes in the bodywork of a car.
Using a flexible continuous light source designed for macro photography is an ideal way to place light exactly where you need it in order to illuminate different parts of the car. You will want to light from different angles and also account for the light created by the car's headlights and brake lights (if you're shooting a night scene).
We used the Adaptalux Studio to add red light into this scene, to show how the brake lights would illuminate the ground and back of the car. We added colored streetlights and subtle reflections in all of the shots to help blend the car into the scene.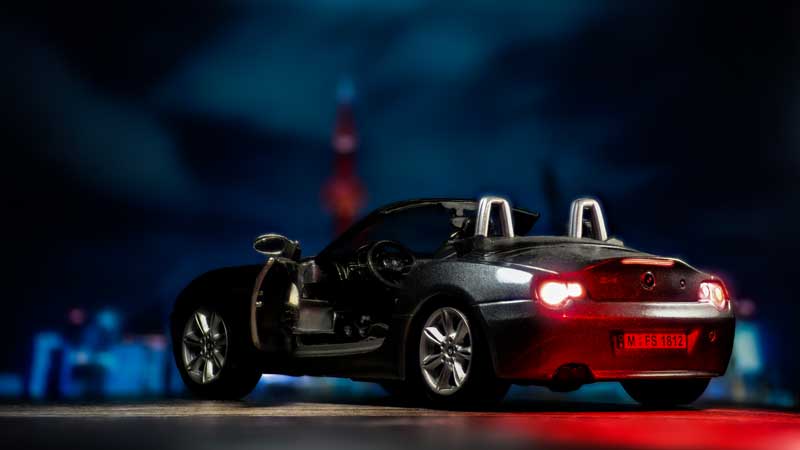 A big giveaway that your toy car is smaller than a real one, is the depth of field. This is how much of your scene you can get in focus at once. When you get closer up and increase magnification, you will struggle to get the whole car in focus. This is not a problem for full-size cars, so we want to try and get everything in focus to fool keen-eyed viewers.
No matter your aperture settings, we can achieve a fully sharp car photo with a focus stack. We have a full tutorial on focus stacking and it's a technique worth learning if you want to start making really realistic toy car photographs that rival the real ones!
We try and get everything we can in-camera to minimise the amount of photoshop required. If you're shooting day shots and are really careful about dust, hairs and fingerprints, you may not need any at all!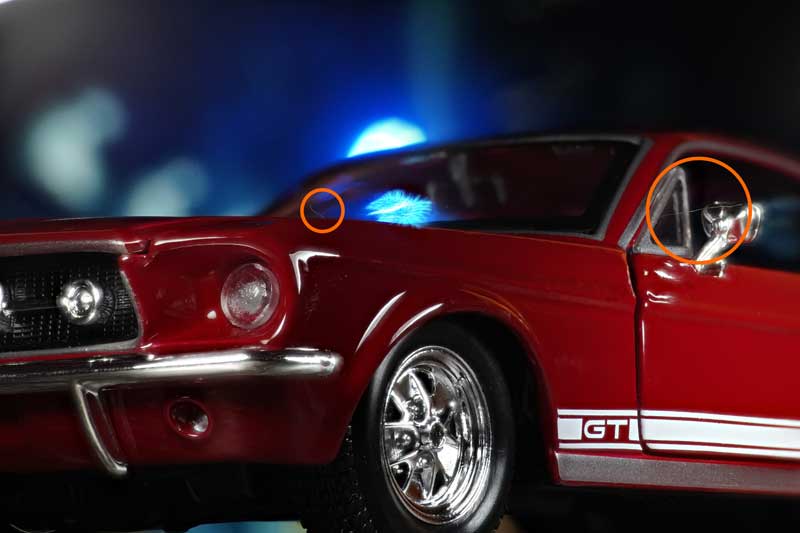 We did add headlights to our night shots, however, it was quick and easy due to thinking about our lighting during the shoot. All it takes is using the camera raw filter and a mask to blow out the headlights! You can also add lens flare, weather effects, and spend much more time smoothing out reflections and imperfections, but it's all optional.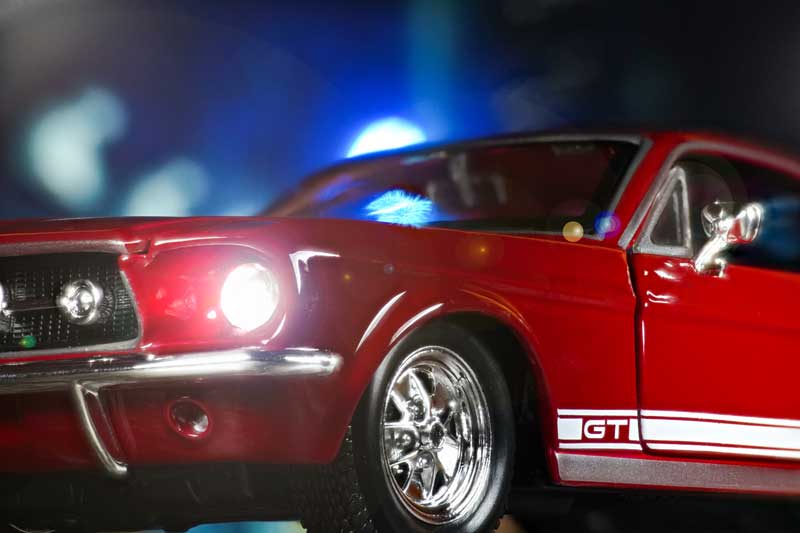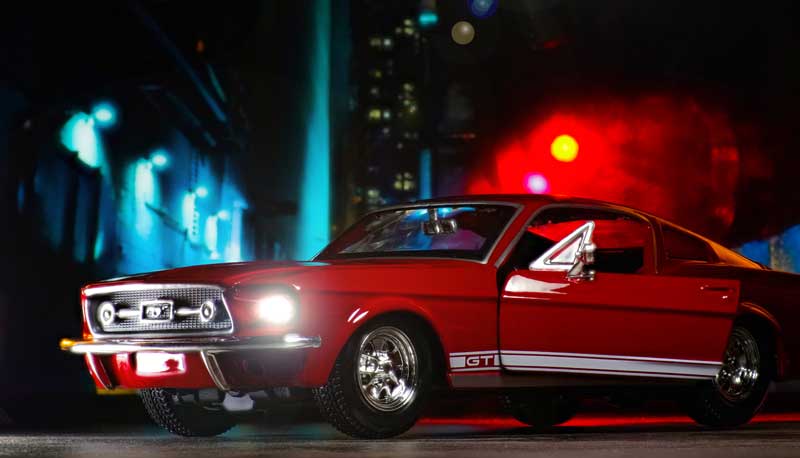 Don't forget to subscribe to our YouTube channel for more macro photography tutorials, ideas and inspiration!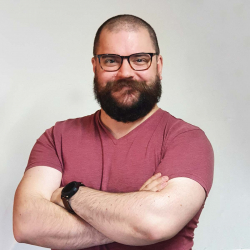 Latest posts by Ben Tuxworth
(see all)