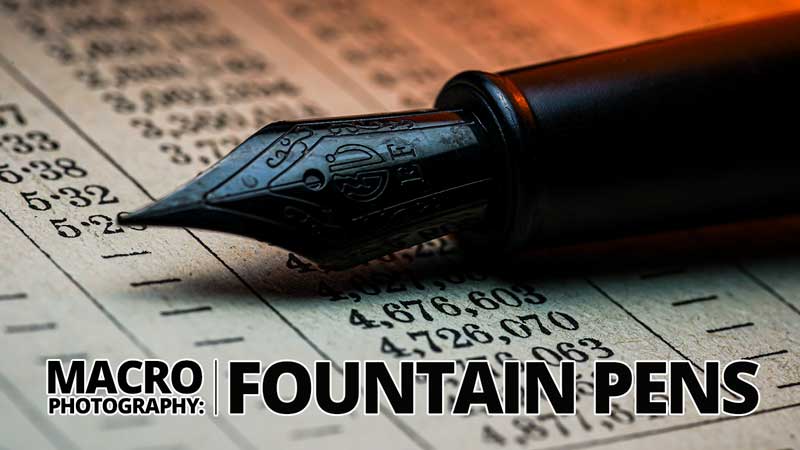 Fountain pens make for a very cool macro photography subject. While not the most common writing instrument anymore, they still have interesting designs. In this article, we will explore some of the considerations and options for capturing some fountain pen macro photography.
Fountain Pen
Macro Photography
Not all fountain pens are equal. They come in a wide variety of styles for different types of handwriting and effects like calligraphy.
Whichever kind you may have, they will be interesting to look at up close using a macro lens. The mechanics of how a fountain pen draws it's ink lends to some unique designs.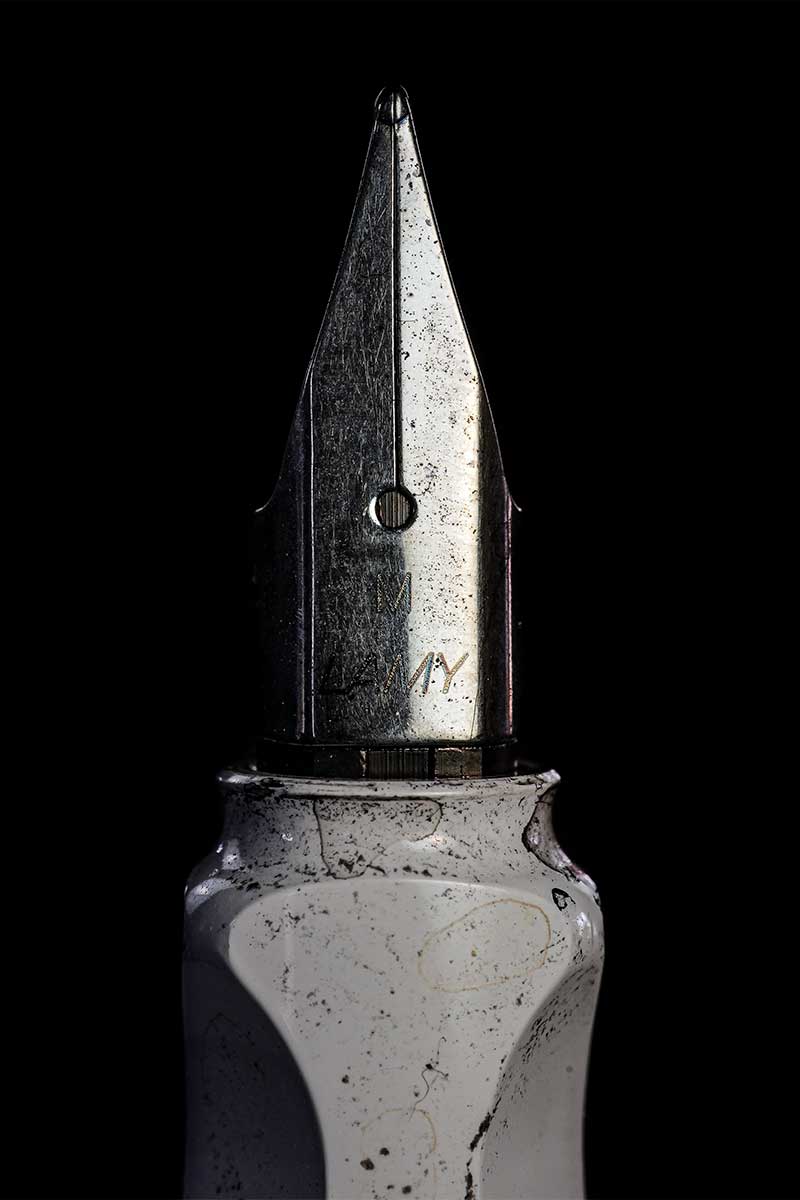 Some more expensive pens can have intricate decorations and fine detail. The one's we have to shoot are pretty average, but still interesting when looked at close up!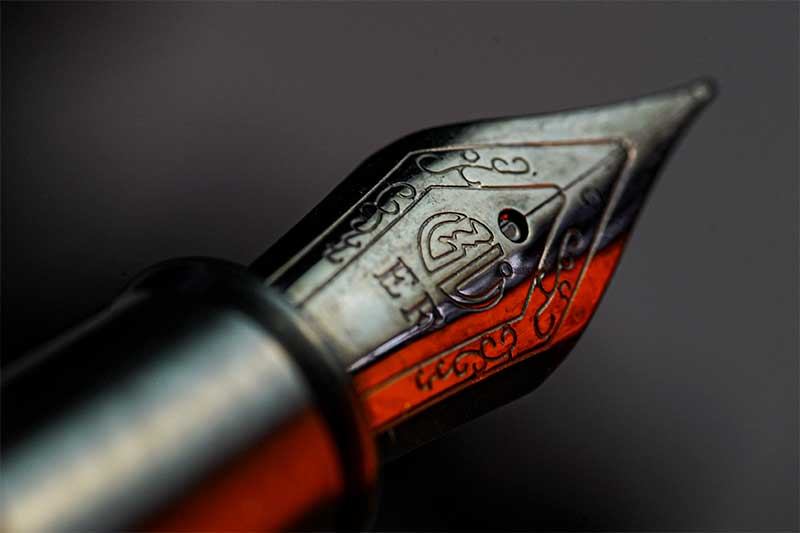 Along with the pen itself, we also have ink. Anyone that uses a fountain pen knows that they can sometimes get a little messy, with leaking or spilled ink.
When it comes to macro photography though, a little extra detail and interest from some ink can be a great benefit to your photos.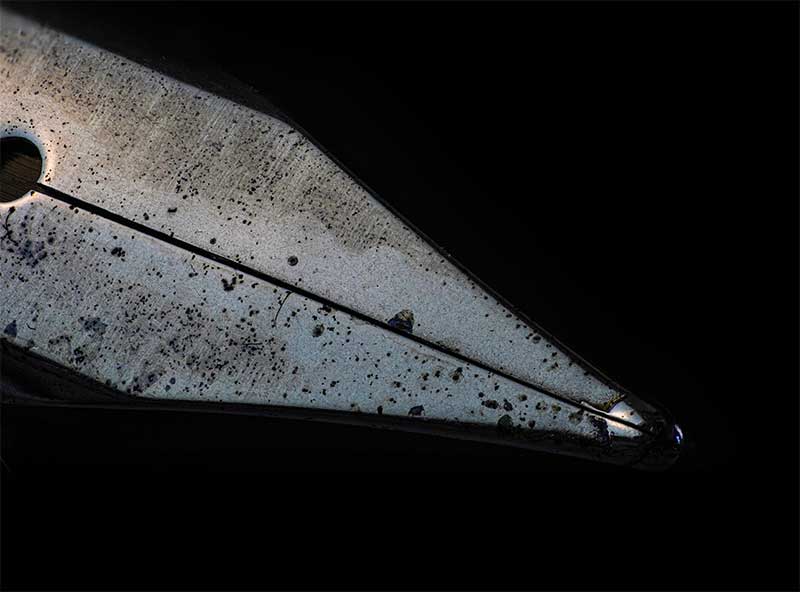 What kind of photograph do you want to take? You may not know the answer, in which case the only advice is to experiment and see what you enjoy!
However, if you want to take a particular type of image of your pen there will be certain considerations.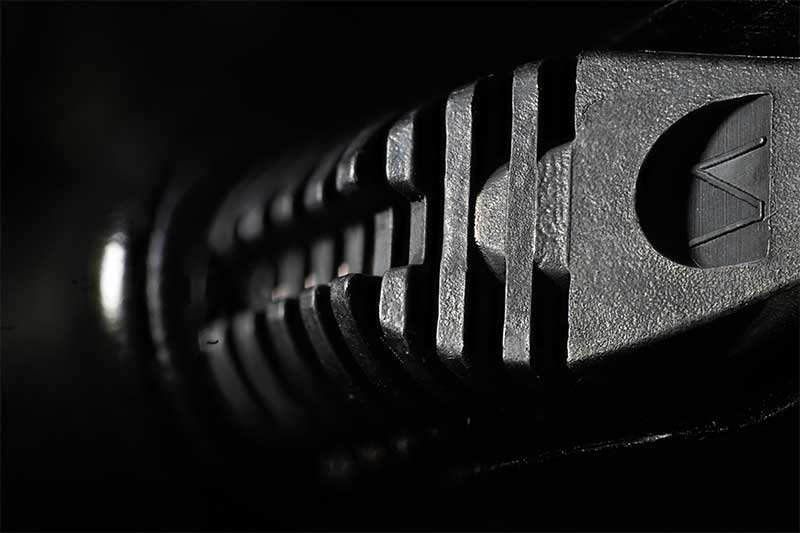 Firstly, we have a detailed, "scientific" shot. These kinds of images aim to capture the most accurate visuals of the subject.
Usually shot straight on with relatively flat lighting, they show off the maximum detail of the pen nib, with few distractions from the background. Great if you want to show off collector's pieces or sell pens online!
For this kind of shot, you will want to focus stack your image to keep everything in focus. Alternatively, shooting perfectly straight onto the nib will usually keep the detail on the flat surface.
Lighting should be balanced and diffused, so as to avoid reflections and heavy shadows obscuring the details of the nib.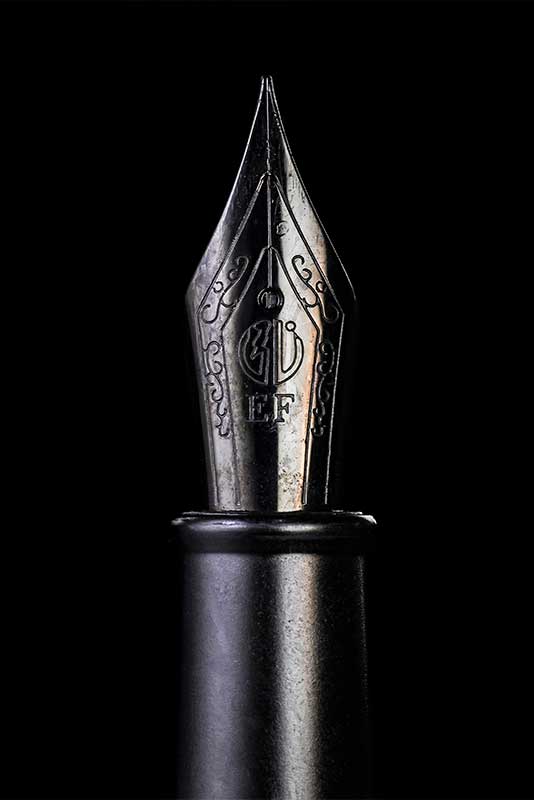 If you want to be a little more creative with your fountain pen macro photography, there are lots of opportunities. The first thing to change is the angle, getting low down to the nib adds a lot of extra interest.
However, this introduces depth of field when you are this close. Focus stacking is still an option, but you may wish to just embrace the depth of field. Soft focus can look very cool, especially with some dramatic lighting too!
When getting creative with your angles and focus, lighting can bring your images to the next level. Fountain pens are typically not very colourful. With lighting, it's possible to add colour and interest to your images.
A little red light highlight on the top of your pen can bring in the feeling of a dramatic murder novel. Perhaps some blue and green to make the pen feel magical. We acomplish this using the coloured lighting arms and colour filters of the Adaptalux Studio. Being able to adjust the placement and brightness of every light source is very valuable for small subjects like this!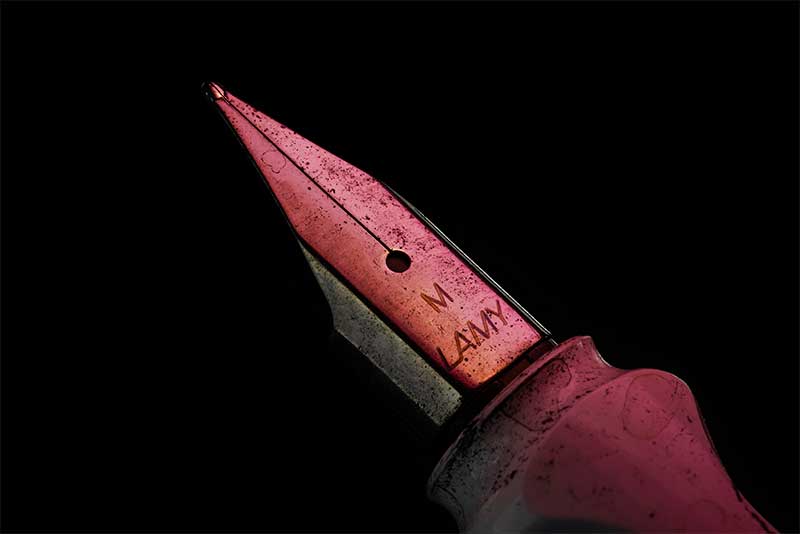 Perhaps you want to make you pen part of a larger scene. Why not include the ideas above along with a background of some handwriting and paper?
Scenes with interesting backgrounds, the detail of the pen and some creative lighting can begin to tell a story. Perhaps you can convey the feelings of a particular page in your diary, or get the right vibe for an Instagram update on your upcoming novel.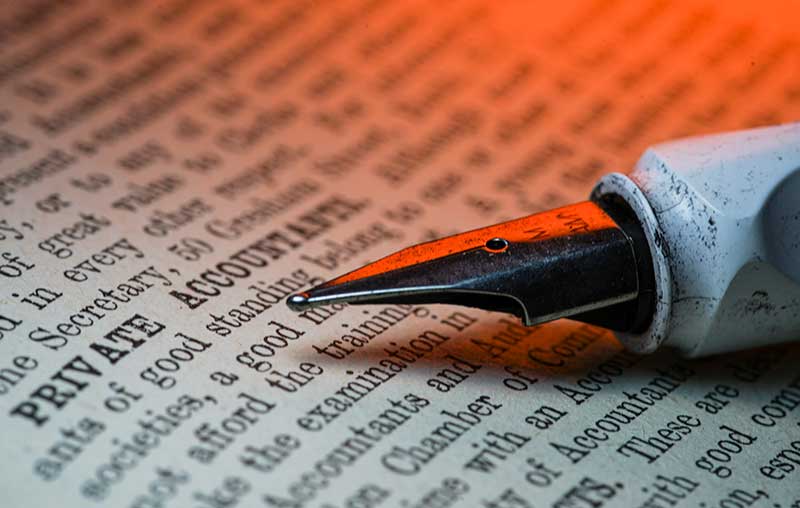 Fountain pen macro photography can be a surprising outlet for your creativity. It is also a great technical subject to practice your photography techniques on! There is a lot of detail to capture. Reflective surfaces, curves, and depth all add to the challenge.
If you want to learn more about focus stacking or lighting your fountain pen macro photos, check out some of our other articles. All of the techniques used here can apply to many other subjects.
Don't forget to subscribe to our YouTube channel for more macro photography tutorials, ideas and inspiration!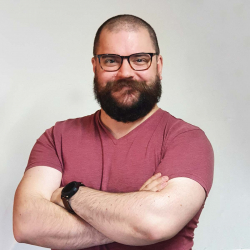 Latest posts by Ben Tuxworth
(see all)