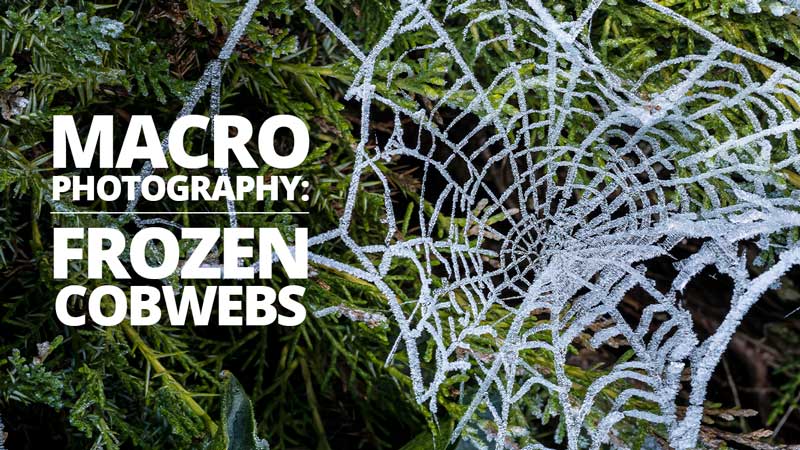 Spider webs are both notoriously strong for their size, yet delicate and vulnerable to changes around them. One of those hazards for keeping a web intact is the changing seasons. In this article, we're aiming to capture some frozen spider web macro photos as we approach winter!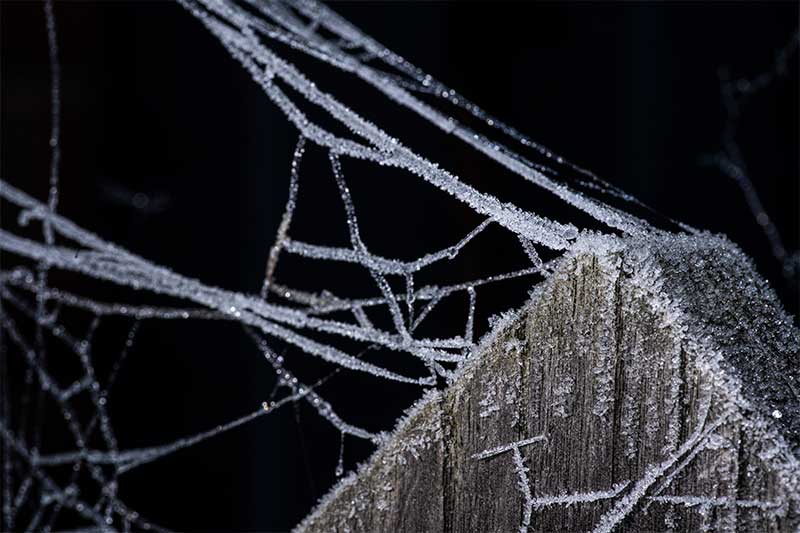 Frozen Spider Web
Macro Photos
Weather can make or break a spider's web. Quite literally, when winter rolls around, rain, wind and snow can easily clear out the homes spiders have made for themselves over the year.
However, occasionally conditions can be right for them to show off their strength. With sub zero temperatures and freezing fog, webs can build up large amounts of frost and ice without breaking! Usually, these conditions come after a winter of high winds and precipitation so frozen webs are quite rare to see!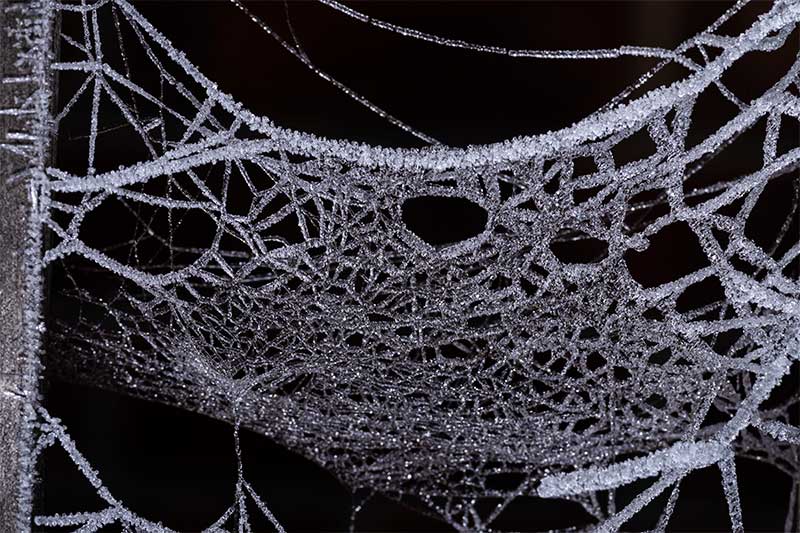 When spider webs do freeze, they stand out nicely in the environment. Usually, we don't quite realise how many webs there are around us, but the ice makes them easy to spot!
The buildup of ice also makes for some interesting photo opportunities that can showcase the structure of both the web and the ice.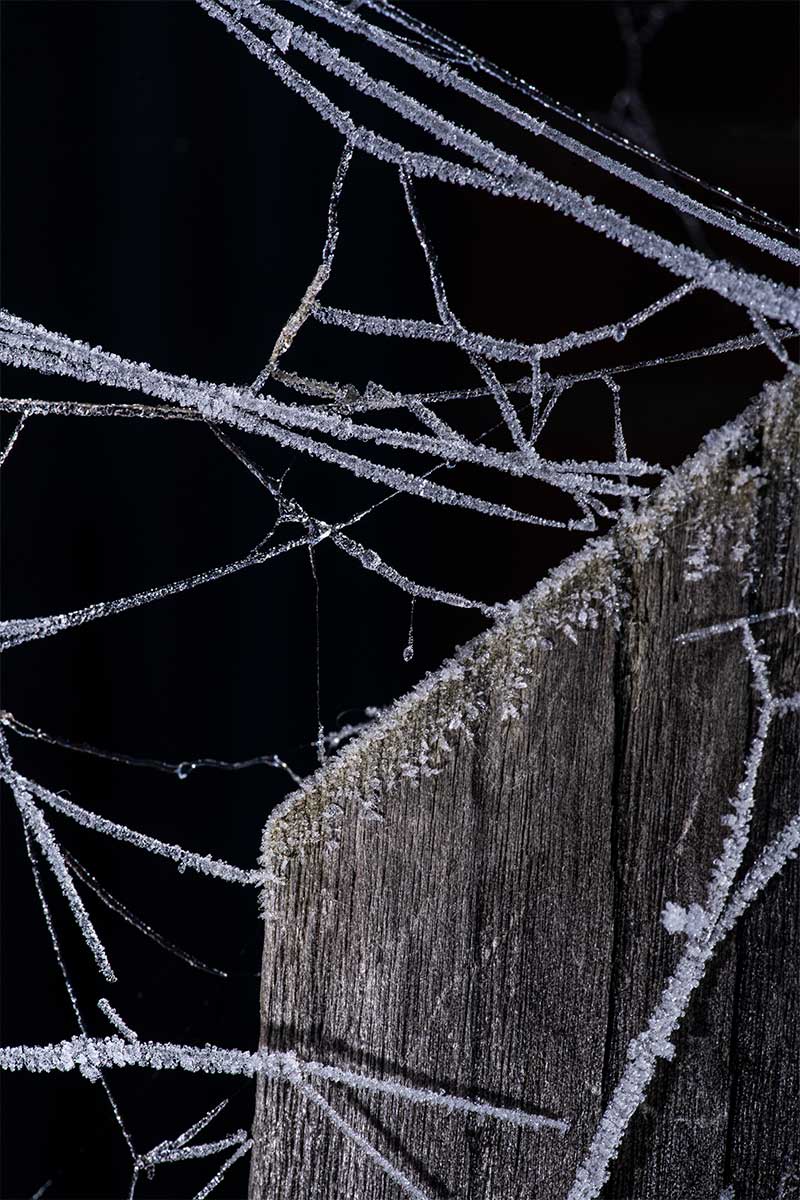 Taking frozen spider web macro photos is a bit of a challenge. Ice is notoriously difficult to capture. It's reflective, transparent and hard to compose for.
After you have found a good web, the first challenge is how to get close enough to it with your camera. You may choose to use a tripod, which is great for keeping camera shake to a minimum. However, be careful not to damage the webs with bulky and awkward equipment.
Focus stacking requires a tripod, and may be worth the time investment. Make sure the web isn't blowing too much in the wind if you want to capture an effective stack.
Wind may also cause issues if you're using natural or continuous light. Make sure your shutter speed is high enough to counteract the movement of the subject. If you're shooting without a tripod, you will need to watch for camera shake too.
The image above was shot with a focus stack from a tripod, but the others on this page were freehand using Adaptalux Flash Lighting Arms to freeze motion.
Using a macro lens for your frozen spider web photos means you can get very close to the detail of the web and ice. However, it will introduce even more movement to your shot. We chose to use flash lighting to freeze the motion of the webs in the breeze.
It's also worth considering that your hands may be more shakey than normal in cold weather, so the ability to eliminate camera shake may be even more important.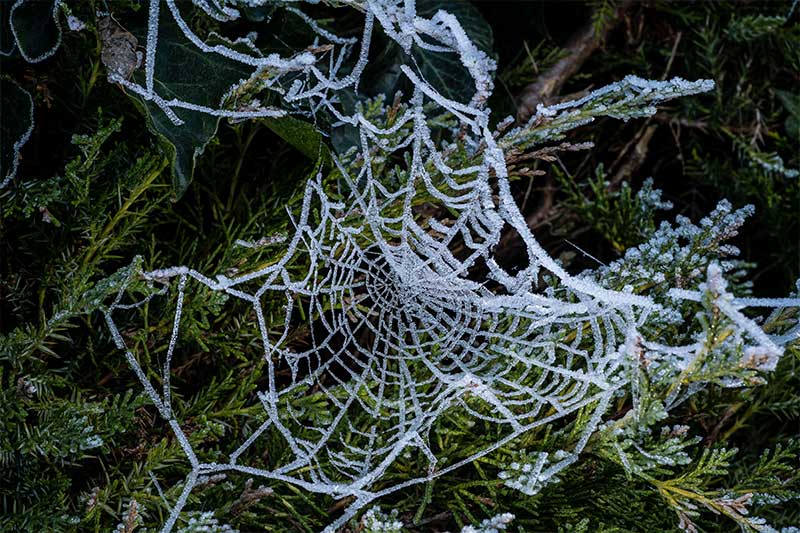 The frozen webs are white, so when shooting against a busy background they will reflect more light. It's easy to overexpose the webs, but if you compensate for the brighter webs it will leave nice dark backdrops to the intricate frosty cobwebs.
We have a full tutorial exploring this technique of achieving black backgrounds in your images. It's particularly easy and effective when dealing with icy webs as the frost is white!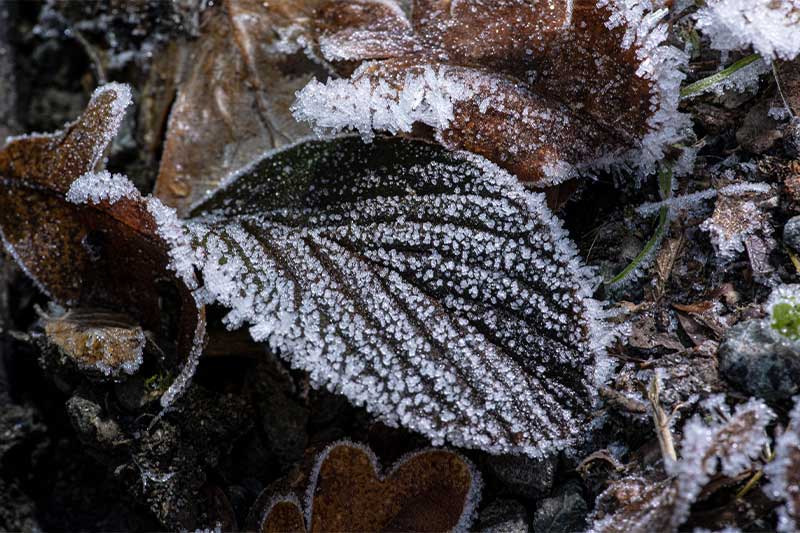 Of course, frozen spider webs are interesting and rare, but there may be many other subjects to capture too! Frost and freezing fog give regular macro subjects an interesting twist too.
Look around inside bushes and on the ground for webs, leaves and foliage that have a wintery coating of ice! If you are shooting freehand with a flash setup like the Adaptalux Studio, it's easy to explore a wintery wonderland for frozen subjects.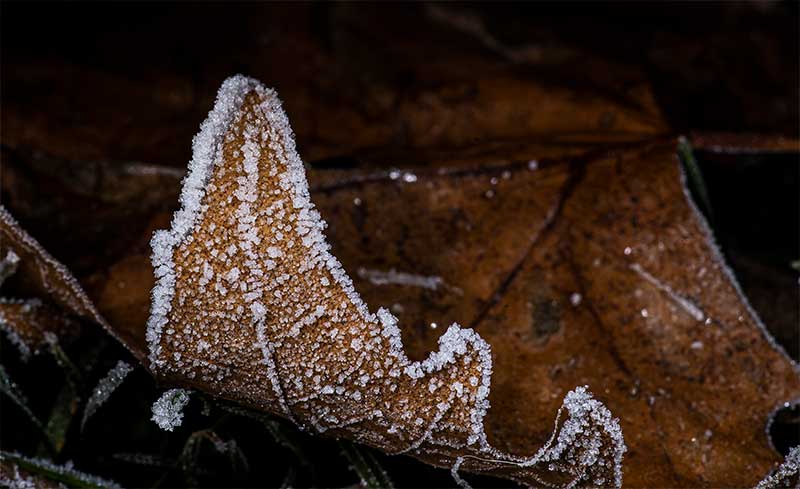 It might not happen often, but when webs stay in-tact to freeze overnight, it's certainly worth exploring outside with your macro lens and some lighting to capture some unique and surprisingly abstract images.
Don't forget to subscribe to our YouTube channel for more macro photography tutorials, ideas and inspiration!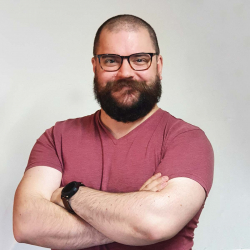 Latest posts by Ben Tuxworth
(see all)