Choosing Christmas gifts for photographers can be a struggle. Without inside knowledge of the craft, it can be hard to figure out which photography gift ideas are useful and which are a bit extra.
As photographers ourselves, we know what we would like as a great xmas gift, so here is a look at our top Christmas gift ideas for photographers this year. We're going to avoid cameras and lenses as most photographers already know what they want and need there.
Let's start with lower-cost gifts and work up to the (really) fancy stuff!
Photography gift ideas

 under £30
1 – Photoboards [£20 – £34]
A simple accessory that can take your product and still-life photography to the next level. Beautiful textures printed on ridged foam boards in various sizes, with everything from antique floorboards to brickwork and rusted metal… get amazing variety without leaving the studio, just change the backdrop or surface.
Great for – Bloggers, Product Photographers, Still life & Close up Photography.
2 – Manfrotto PIXI EVO 2 mini tripod [£40]
Working indoors and in the studio, we find that you can never have enough options to mount your camera and equipment. We picked up a couple of these at The Photography Show this year, and have been using them none stop to mount our Control Pods and cameras for tabletop work. They also collapse and create a great handhold for Vloggers on the go!
Great for – Bloggers, Vloggers, Studio Photographers, Tabletop Photography.
3 – Custom Lens Caps & Cloths [$8 – $18]
This is a very cool idea for any photographer, pro or otherwise, get their logo or name (or lens type) printed onto custom lens caps and cloths! All you need to know is their make of camera and/or type of lens and you are good to go. For example you could print one of their images onto a lens cloth, or organise their kit in the bag with lens caps. Alternatively a gift certificate to do it themselves would be great.
Great for – Wedding Photographers, Freelance Photographers, any Photographer with a logo & camera!
Photography gift ideas

 under £200
4 – MIOPS Splash [£150]
A programmable water dropper that releases individual drops of water at such precise intervals to make them collide in time with your photographs! This is the only way to capture the spectacular art of water drop photography and will provide hours of entertainment for photographers interested in technical challenges!
Great for – Macro Photographers, Technical Photographers, hobbyists, abstract photography lovers.
5 – Spider Holster [£139]
Your wedding photographer friend will love you forever. Cameras are heavy, even with a neck strap they can strain your body when carried all day long. We wouldn't go out on a location shoot without our holster, it frees up your hands and keeps your camera safe on your hip while not in use. There's various versions, for multiple cameras and one without the belt.
Great for – Wedding Photographers, Location Shooters, Cowboys.
6 – Flexible Lighting Beginner Pack [£99]
Photography is all about light, and without it, things get very tricky! A lot of photographers use flashes or natural light, but there are a lot of drawbacks if you like to photograph up close and personal. Flexible light sources like this are rare, but invaluable for anyone wanting to get creative with their lighting!
Great for – Flower Photography, product photography, wedding ring shoots, creative experimentation.
Photography gift ideas

under £300
8 – Hadley One Camera Bag [£265]
Photographers might spend their lives behind the camera, but lets face it, we like to look good too. Camera bags can be a fashionable, practical, or in the case of the Hadley one…both. Everyone likes to carry their kit in their own way, but there's not many snappers around that don't have some kind of bag. A bit of country style luxury contrasts nicely with all that high tech photo gear, don't you think?
Great for – Wildlife Photographers, Wedding Photographers, Photography Fashionistas.
7 – Adaptalux Studio Combo Pack [£280]
Our list of Christmas Gifts for Photographers wouldn't be complete without our own Adaptalux Studio. Give the macro photographer in your life the gift of light! Easy to use and great for learning lighting techniques, the Combo Pack makes a great gift. You also have the option of UV arms to create some astonishing UV Florescence images.
Great for – Macro & Close Up Photography, Product Photography, Floral Photography, UV Florescence photography.
Photography gifts under £500
9 – DJI Mini Drone [£429]
Drones are the next big thing for photographers to have in their camera bag. Photography and videography takes a massive leap into the future when you take to the air. Piloted using your phone or tablet and a radio controller, you can get some seriously amazing shots from the sky. Probably the most enjoyable gift you could get anybody that has an interest in photography. Make sure to obey local laws though, they can be dangerous if used irresponsibly!
Great for – Wedding & Events Photography, Landscape Photography, Travel Photography, Real-estate Photography.
Photography gifts under £50,000
10 – LUX Nikon Kit [$57,995]
How much do you love that photographer in your life? This bit of bling is a 24K Gold plated Nikon with some stingray leather thrown in for good measure. So what do you get for the photographer who has everything? Answer… the same things but in gold!
Great for – Millionaires.
Let us know your favourite Christmas gifts for photographers!
That's our selection of Christmas gifts for photographers, if you have something on your list that we didn't think of, let us know in the comments. A lot of the items on this list we have used ourselves, so we can highly recommend them and we will likely add more as we discover new kit!
Fingers crossed that Santa brings that golden Nikon guys!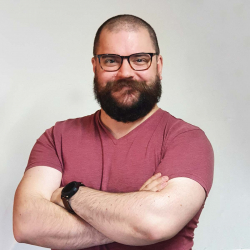 Latest posts by Ben Tuxworth
(see all)