Hi all,
Sam here, I hope you are all having a fantastic Christmas so far.
2019 is now coming to an end so I thought this would be a good opportunity to summarise our achievements this year! Here is a roundup of eveything that happened within the world of Adaptalux…
Product Improvements
Adaptalux Studio continues to improve and 2019 has seen some major improvements to various parts to improve reliability and functionality. We always appreciate your feedback and from your comments and suggestions we continue to improve the products. The studio has come a long way since it was first launched in 2016 – now with more reliability, more power and most importantly even more diverse capabilities. Here are just some of the improvements we have integrated into our products this year:
Assembly methods for various products have been improved to further enhance quality and efficiency.
The pod connector has now been improved with the magnets directly molded into the part. Other improvements have also been made to improve our connecting system reliability.
Lighting Arm connectors are now attached using a self-tapping thread directly integrated into the design.
We continue to minimise the use of adhesives in all assemblies where appropriate.
More quality control check points have been added into our production, assembly and packing lines.
Improved Ultimate Pack packaging.
There are more product improvements planned for 2020 and I hope that the Adaptalux Studio continues to please and satisfy our customers. Please keep sending us your feedback, I read all product feedback personally, it's invaluable to the design process!
A Growing Community
Our community continues to grow at an astonishing rate and Ben is doing a tremendous job hosting the Adaptalux Youtube channel. The Youtube channel has now become a core way for us to communicate with you and other photographers. Ben is making exceptional inspiration and tutorial videos, which we hope will enhance your macro photography and drive your creativity.
If you have not checked out our Youtube channel, be sure to visit and subscribe to join in the fun!
Increased Demand
This year has seen unprecedented levels of demand for our products, which is fantastic! Sometimes, increased demand puts a lot of pressure on existing supply chains, and causes delays – something we have experienced over the last 6 weeks. The high levels of demand combined with ongoing product improvements meant some products were in short supply.
However, I am pleased to report that all Christmas orders were shipped for Christmas delivery. Heading into 2020 we now have a revised and improved assembly plan with improved parts to ensure we can satisfy demand in the future.
Bring on 2020!
Flash is coming to the Adaptalux Studio in 2020!
Towards the end of this year we had another successful Kickstarter campaign for our new Flash Arms. We have worked a long time on this product and I was thrilled to see it raise over £55,000. Thank you again to everyone who backed us, we really appreciate your continued support of our innovation.
Work is well underway for the Flash Arms and we plan to begin shipping to our backers and pre-orders at the end of June 2020. Actually, there is a very exciting announcement about the Flash Arms coming early next year, but you're going to have to keep waiting a little longer for that! You can pre-order the Flash Arms with 15% off via our store by clicking here.
Better and faster Shipping.
This year we made the decision to move away from Royal Mail and over to DPD. Although we did really like Royal Mail, they have no plans on lifting the 2kg restriction for international shipments, which was not ideal for us. Under DPD we can now offer fully tracked and faster shipping across the world and as a whole it is more reliable.
Billie continues to excel in organising and managing the shipping of our products. Everything is thoroughly checked and well packaged to ensure the goods get from our door to your door in excellent condition.
What's next?
2019 has been a great year and we hope to continue this into next year and the years to come. Together as a team and with you, our community, we can continue to push our company and the Adaptalux Studio forwards. With Flash coming next year and some other top secret product developments in motion, the Adaptalux Studio is certainly becoming an even more comprehensive lighting system for macro photography.
Please keep continuing to share your images taken with Adaptalux studio in our Facebook group page, we love seeing your work and your creativity.
I would like to thank you for your continued support over the last 5 years and I hope you have a very merry Christmas and New Year. See you next year!
Sam 😄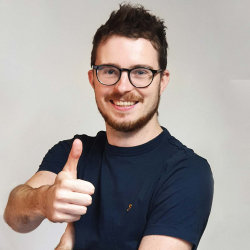 Latest posts by Sam Granger
(see all)