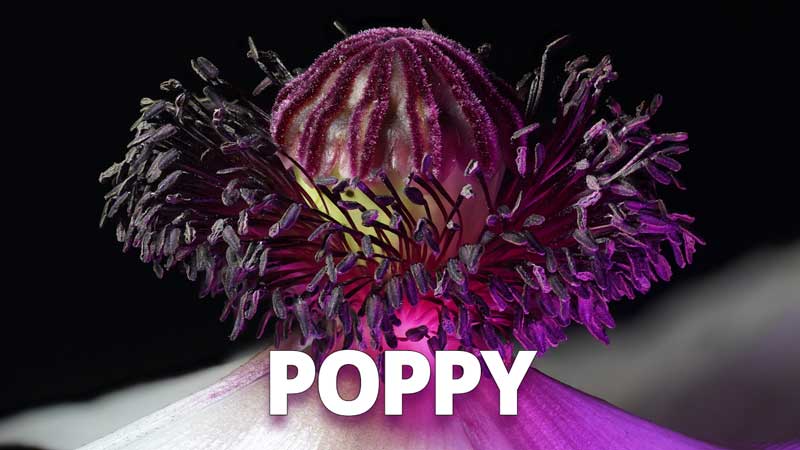 'Royal Wedding' is the white and purple variation of Papaver Orientale. Poppies are more commonly seen as the bright red flower, filling fields and garden plots, but our flower today is just as interesting up close. In this Oriental Poppy flower photography tutorial, we're using lighting and focus stacking to our advantage to get close up with our Royal Wedding Poppy.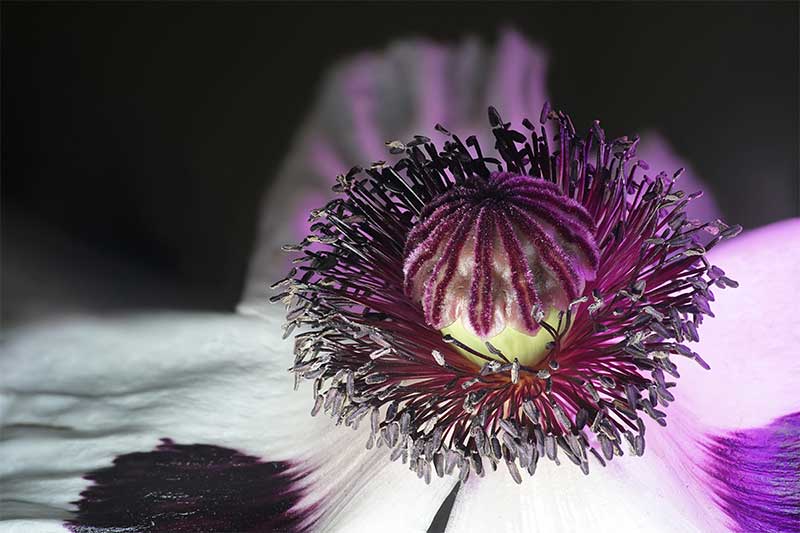 Oriental Poppy
Flower Photography
Poppies are quite a common, hardy flower. They are also quite large as far as flowers go. Once the petals open up, you can get a great view of the beautiful arrangement of stamen surrounding the central seed pod.
The 'Royal Wedding' Poppy we have to photograph today is not the commonly recognised red-petaled flower though. Ours sports white petals with a dash of purple to complement the center of the flower.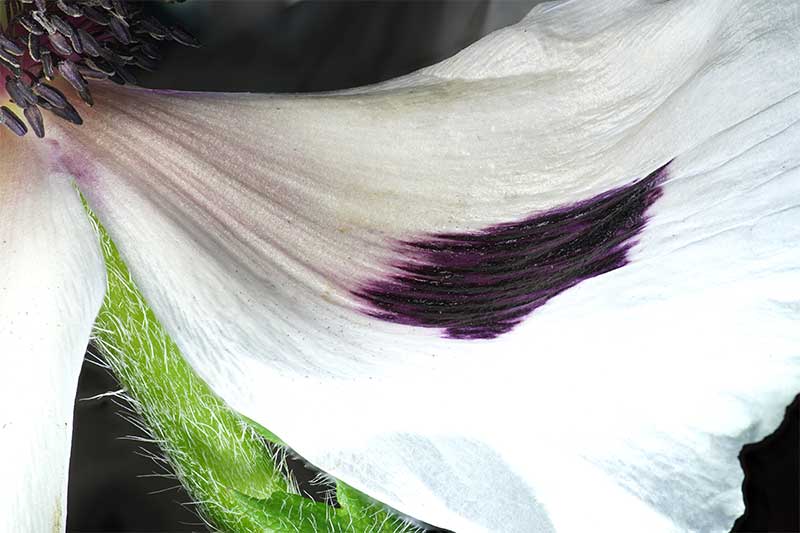 Getting photographs of all the stunning detail on this flower means getting close-up.  Most oriental poppy flower photography you find online are shots from above, outdoors, and don't get much more creative than that.
We're going to take a different approach and try to use lighting and macro photography techniques to our advantage to get some creative shots of our flower close-up.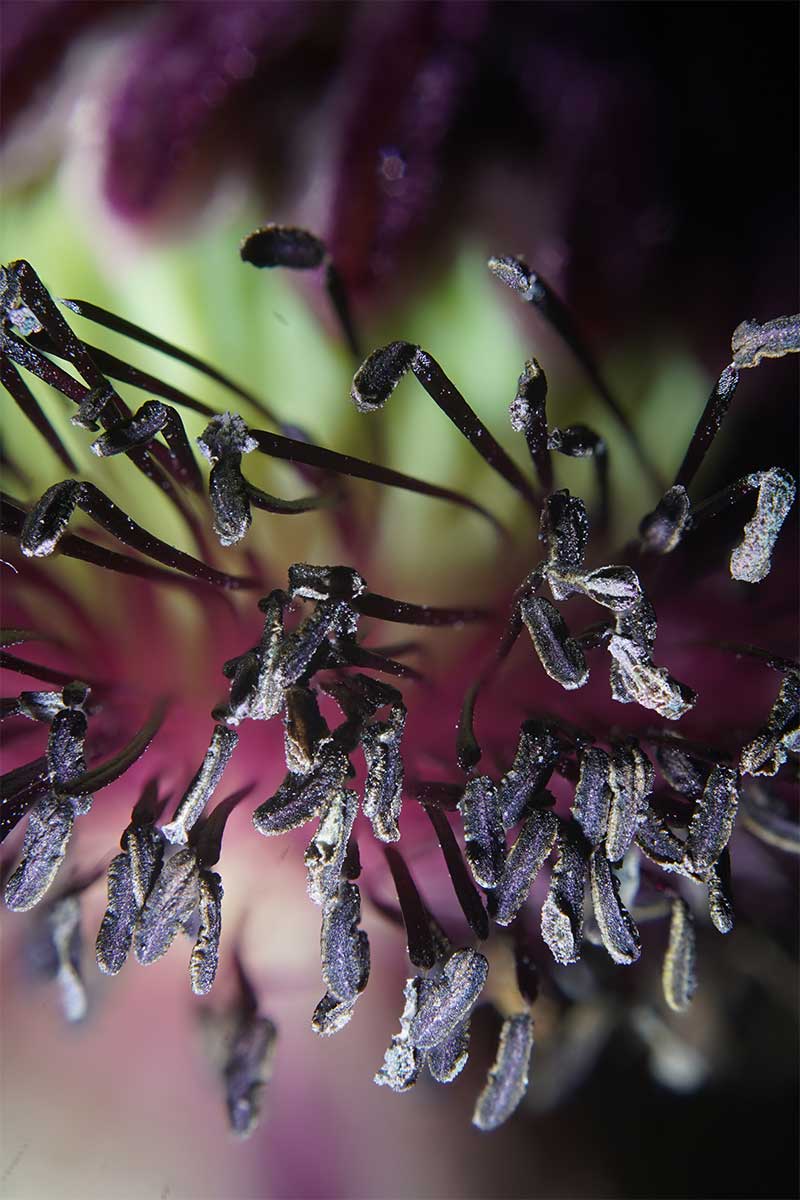 The Importance of Lighting
If you want to take your flower photography to the next level, you need to think about lighting. Lighting has the power to evoke emotions and create a particular mood in your photographs.
You should always experiment with different lighting techniques to enhance the mood of your flower images. Soft, diffused lighting can create a dreamy and ethereal atmosphere, while directional lighting can add drama and create captivating shadows.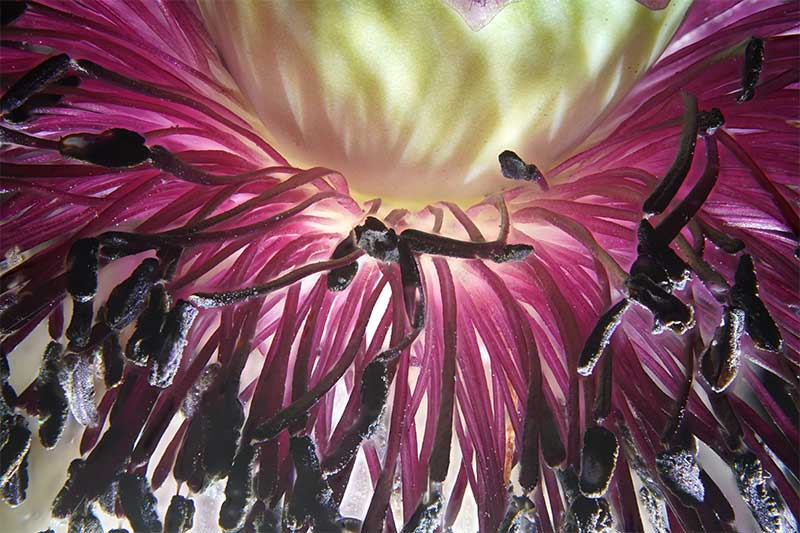 When photographing small subjects like Oriental poppy flowers, shadows can be a common issue. They can obscure important details and create unwanted distractions in your images.
Adaptalux Lighting offers flexible lighting arms and diffusers that can be strategically positioned to minimize shadows and create an evenly illuminated environment. This helps ensure that every intricate element of the flower is beautifully captured without any unwanted shadows interfering with the final result.
With the brand new Pod Mini, this becomes even easier for subjects like our fully opened-up poppy. The Pod Mini allows you to take a single lighting arm and place it exactly where it needs to be. For these shots, we were using the Pod Mini in combination with the Control Pod 3.0 to provide lighting from all directions, including under the petals and stamen.
When it comes to capturing the intricate details of Oriental poppy flowers, employing effective techniques can significantly enhance the quality of your macro photographs. One such technique that can elevate your images to new heights is focus stacking.
Focus stacking is a technique used in macro photography to achieve a greater depth of field by combining multiple images with different focus points into a single, fully focused image. In Oriental poppy flower photography, where intricate details span across different planes, focus stacking ensures that every aspect of the flower, from the foreground to the background, is tack sharp.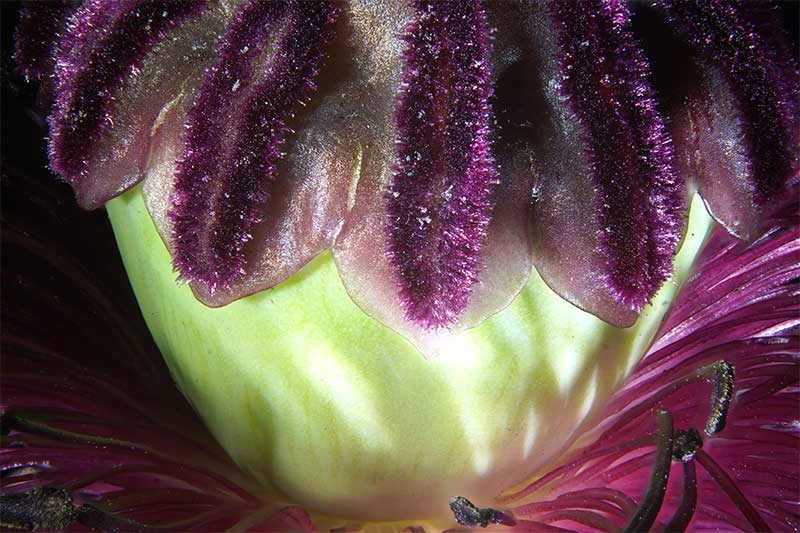 How to Focus Stack
your flower photographs
To begin with focus stacking, it's essential to have a sturdy tripod to keep your camera steady throughout the image capture process. Choose a composition that showcases the desired elements of the Oriental poppy flower and lock your camera into position on the tripod.
The number of shots required for focus stacking depends on the depth of field you desire and the specific details you want to emphasize. Take a series of shots, incrementally adjusting the focus point from the front of the flower to the back. The number of shots needed may vary depending on the depth of the flower and the magnification level.
To ensure consistent results, it's crucial to maintain the same exposure settings, focus increments, and camera position throughout the sequence of shots. Use a remote shutter release or the camera's self-timer to minimize camera shake. Additionally, turning off any image stabilization feature on your lens can help maintain consistency.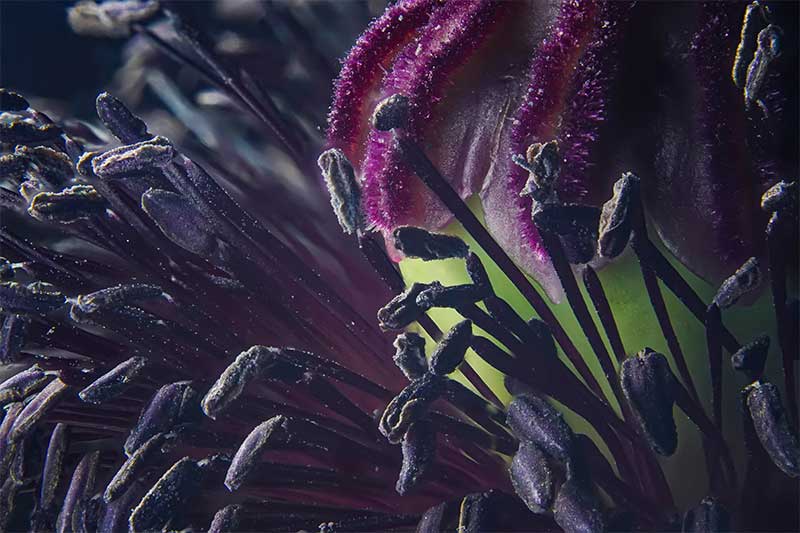 Once you have captured the series of images with different focus points, you'll need to use specialized focus stacking software for post-processing. There are several software options available, such as Adobe Photoshop, Helicon Focus, and Zerene Stacker. Import your images into the software and follow the software's instructions to align and blend the images into a fully focused final result.
Incorporate focus stacking and controlled lighting into your Oriental poppy flower macro photography, and watch as your images transcend the limitations of traditional lighting and depth of field, revealing the intricate beauty of these captivating blooms in all their glory.
Don't forget to subscribe to our YouTube channel for more macro photography tutorials, ideas and inspiration!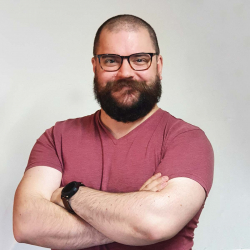 Latest posts by Ben Tuxworth
(see all)