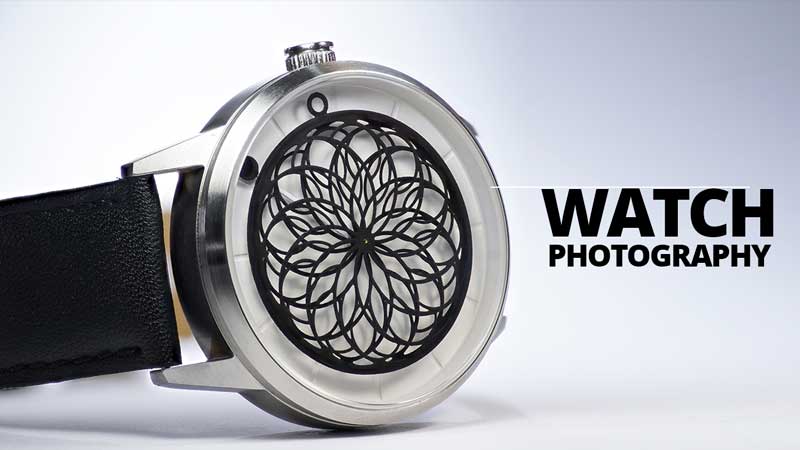 Watches are sought after for their unique designs and fine detail. A lot of effort goes into showing off these details, especially when it comes to product photography. In this article we are going to explore how to photograph a watch!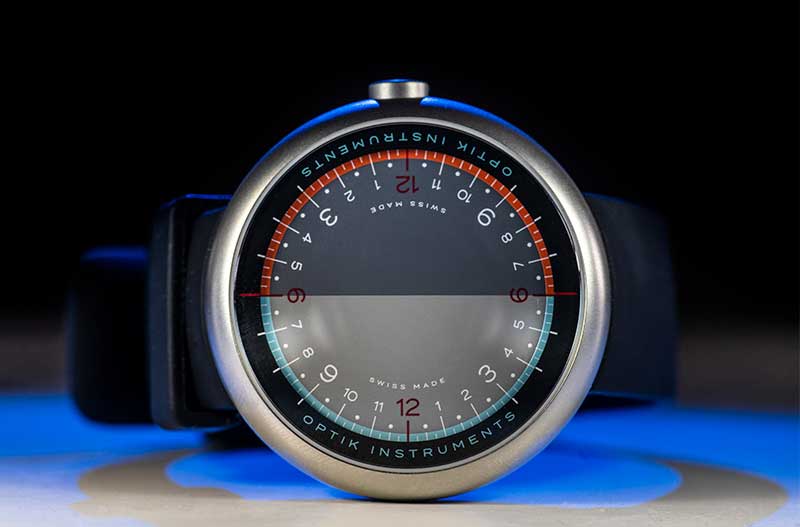 How to

photograph a watch.
Firstly, you need to consider the watch you are photographing, and why. Maybe you have a new timepiece you want to show off, or perhaps you are trying to sell watches online. Either way, you will need it to look its best!
Consider where your images are going to be shown off. Watches often look great on black backgrounds, but this is not ideal for online storefronts. White backgrounds or a gradient can look great too, but come with some extra lighting challenges.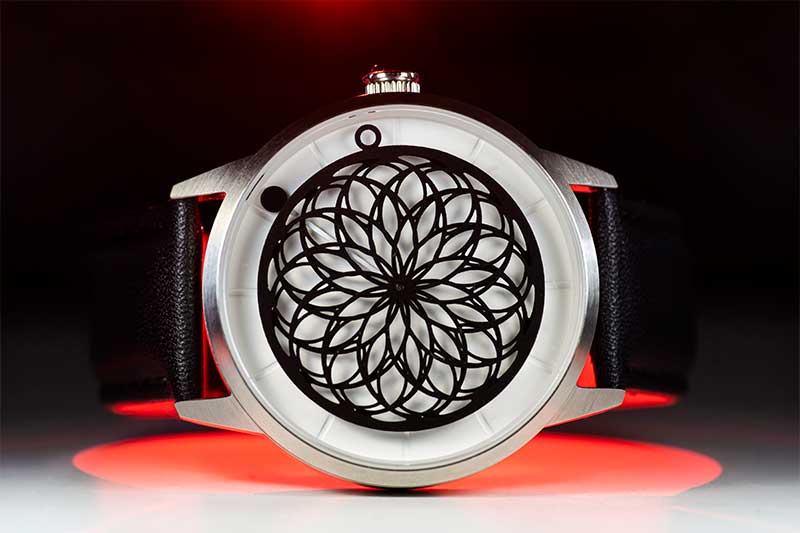 Just as important is the watch itself. What kind of watch is it, does it have color, an interesting strap, or lots of fine details on the face? You need to consider the angles and lighting that will best accentuate these details.
It's usually a good idea to shoot from an angle that doesnt obscure the details on the face. Here's three ways to position your watch;
Flat on its back – Place the watch down on an attractive surface, a texture like wood or concrete can really accentuate the smooth surfaces and glass of a product.
Hang it up – Hang the watch at an interesting angle so it looks like it's floating in mid-air. This is the best way to get a pure white or pure black background.
On its side – This is how we're shooting today. Connect the strap in a loop and the watch will naturally sit on its side. This is great for situating the watch with a shadow on the floor.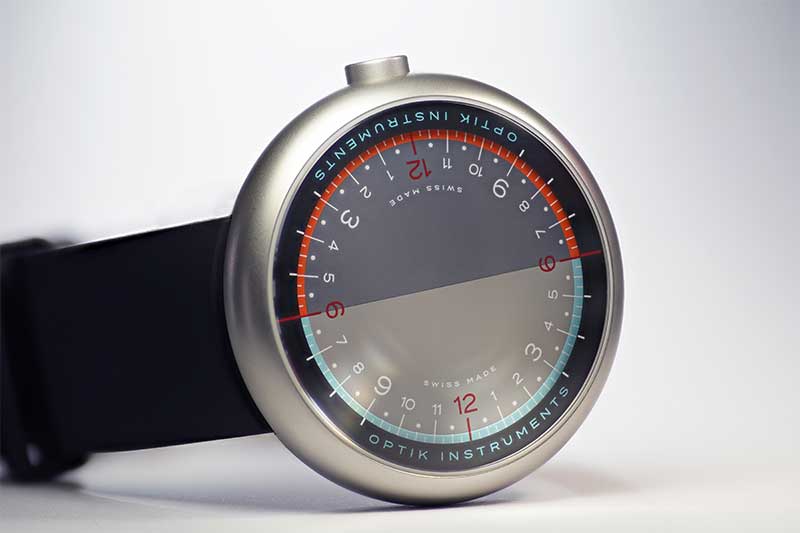 If you want to know how to photograph a watch on a white background, the answer is simple… Use a white sheet of printer paper positioned with a slight curve. This is enough to get a seamless white background for your watch to sit on.
The trick to getting the background to be truly white is all in the lighting!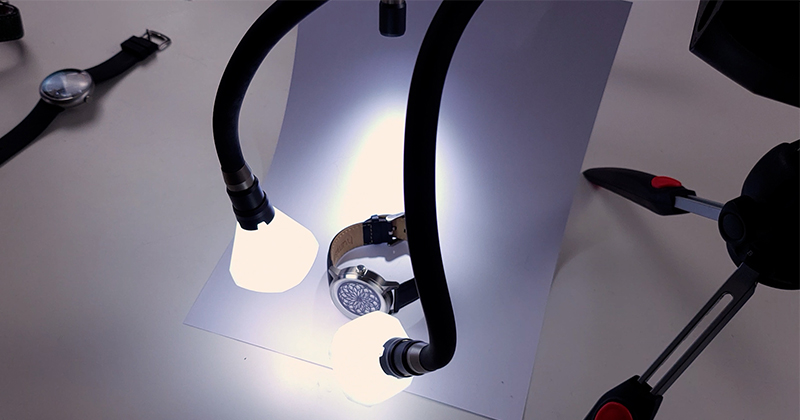 Lighting is the single biggest hurdle you will face as you try and figure out how to photograph a watch. Most watches have reflective glass fronts and a shiny case. Shooting with large softboxes or in a product photography tent will be quite difficult unless you are able to control the light falling onto the face of the watch.
Ambient light is also a factor, with something as shiny as a watch, every lamp and window in your room will show as a small reflection. It's best to try and eliminate as much of those light sources as possible. It's also possible to take advantage of them using clever positioning, but much harder to control!
We use the Adapatlux Studio to finely control the position of our lighting. Each flexible lighting arm can be placed exactly where you need it. You can add diffusion, colour and individually control the brightness.
It's impossible to eliminate all reflections, so you need to make them work FOR you. Make sure they are placed to either highlight or avoid details on your watch. This takes some trial and error, but with continuous lighting, you can see every change you make on the back of the camera.
STOP
– Do this before you shoot!
Clean your watch.
Then do it again and again. Especially if you have been wearing it for a while. It might be ok right out of the box, but a single fingerprint or speck of dust can ruin your day.
You may think your watch is nice and clean at first glance, but when blown up in an image, every scratch and bit of fluff will show. Spending a few minutes cleaning now, is better than hours of cloning in photoshop later!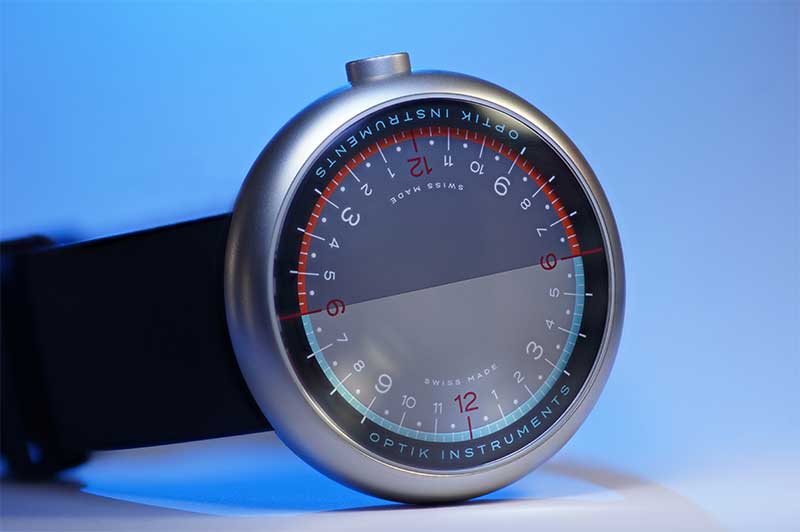 The best answer to how to photograph a watch, is often to just experiment. Grab a macro lens and explore the interesting features of the watch. Show off different areas close up and try new things!
There's no single lighting arrangement that will get great results with every watch out there, they are all different! Some adjustment will be needed to capture different areas of the watch too.
Lastly, don't forget about video! Stills are great, but watches have that tiny bit of movement that catches the eye. Some more exotic watches have lots of moving parts that work really well in short video clips. Consider capturing movement wherever you see it!
Don't forget to subscribe to our YouTube channel for more macro photography tutorials, ideas and inspiration!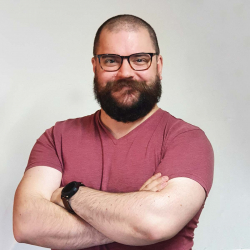 Latest posts by Ben Tuxworth
(see all)