HO Scale model photography – A festive macro photography Idea! – Watch on YouTube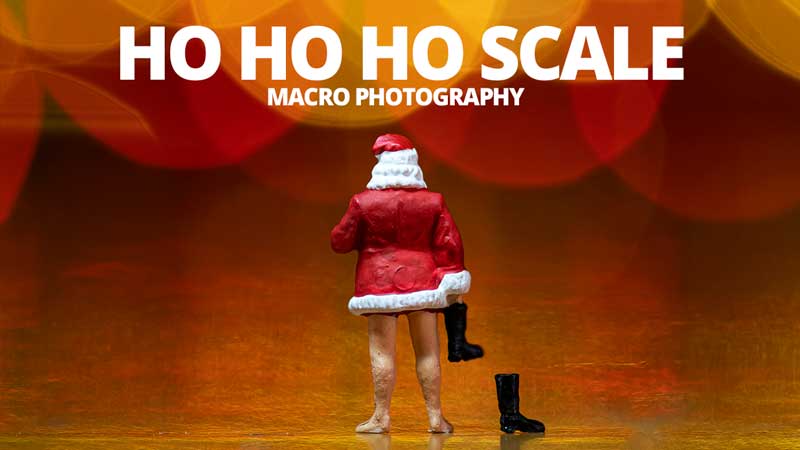 For this year's Christmas macro photography shoot, we have been trying a very popular subject – HO Scale model photography!  It's a common sub-genre to use HO or 00 gauge figures in macro scenes, so let's give it a go!
HO Scale model photography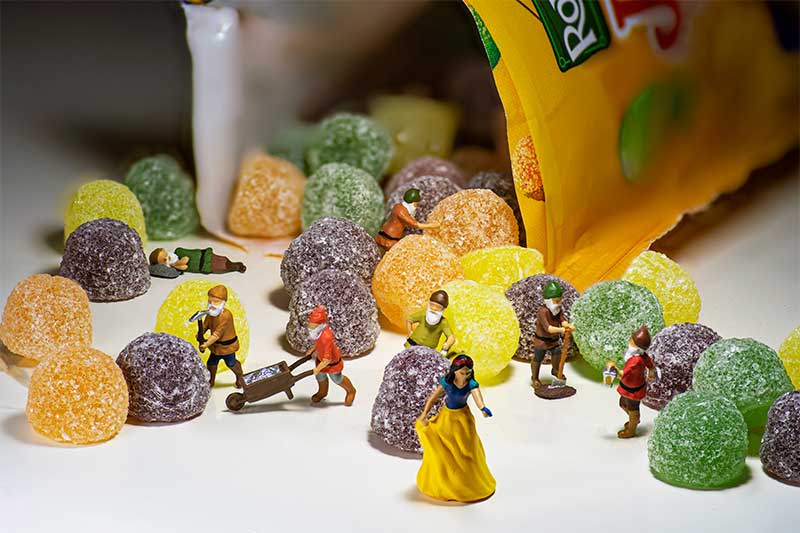 H0 or HO scale refers to the scale of the item in question. We are shooting HO gauge figures, made for model dioramas and train sets at a scale of 1:87. This means our figures are super tiny! A person comes in at just over one centimeter tall – the perfect size for macro photography!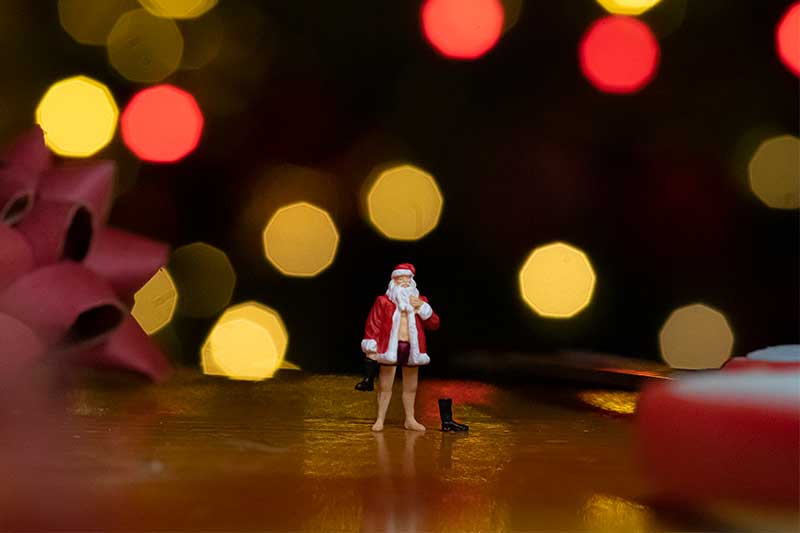 The joy of scale model photography is placing figures in a scene. This can be a scene scaled to fit the figure, like a diorama. Or, the more whimsical method of placing the tiny people among lifesize everyday objects!
We will be aiming for the latter. Placing our figures among larger objects and constructing scenes in front of the camera.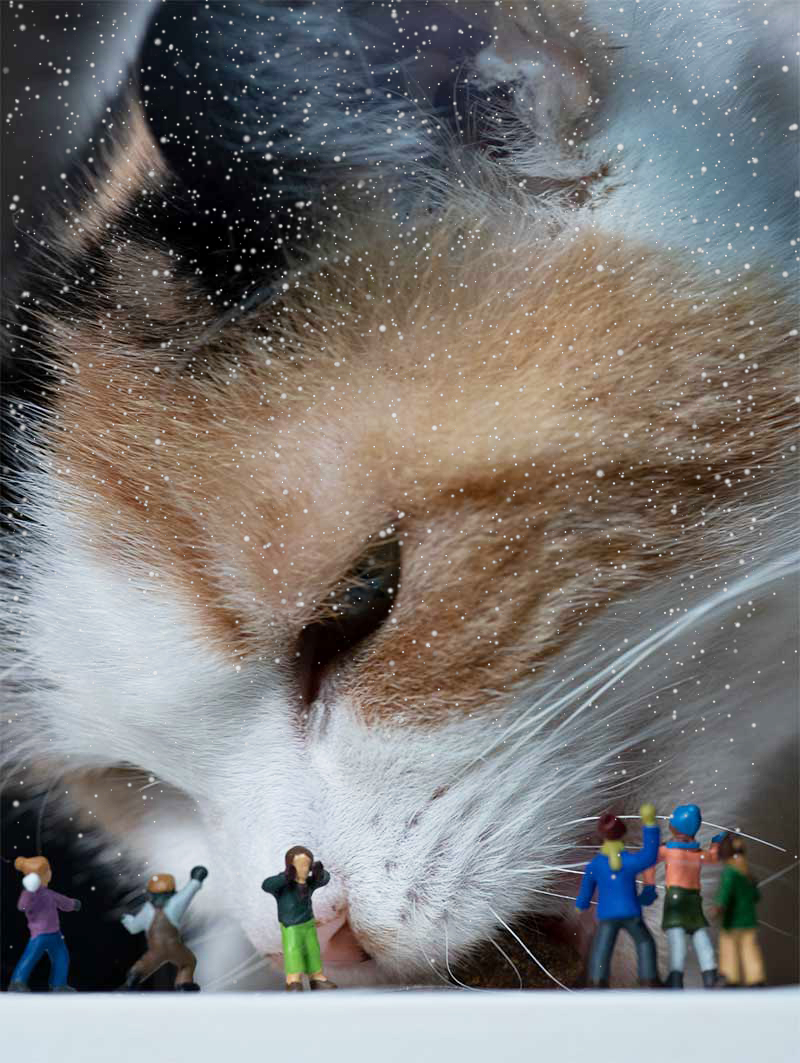 We have several sets of HO gauge figures to try out, but there are thousands of different options! Being that it's currently Christmas, We have picked out a few festive figures. this can be a fun macro photography project year-round, so we have some not-so-festive workers too. There's no right set to buy, just go with the ones you find the most fun!
For macro photography, you will want to aim for the better quality figures from proper manufacturers like Preiser and Noch, but if you don't mind a more slapdash paint job, you can pick up lots of figures for very cheap in bundles of 100 or more. Having lots of figures to choose from might be an advantage, but it's rare that you would use more than a few in any one image, so quality over quantity would usually be the best bet.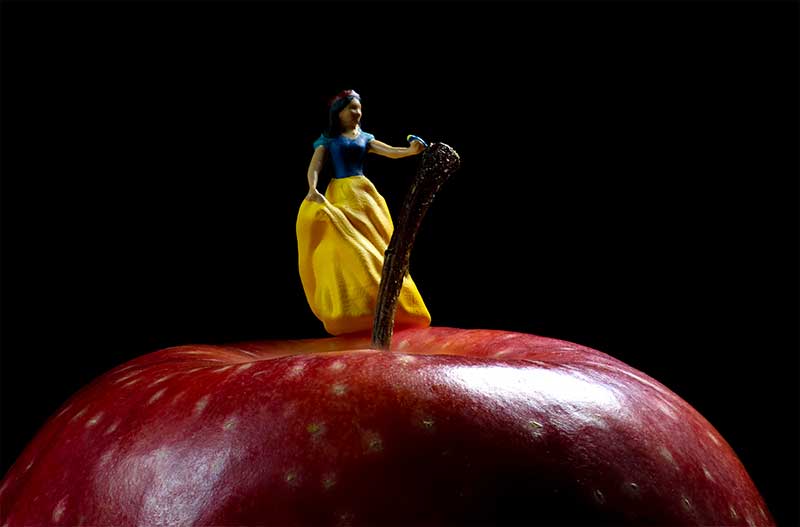 Where and how to place your figures depends very much on the "occupation" of the figure.  A great place to start is to have road or railway workers clear up some spilled food. Place the workers in clear view of the camera, but keep them quite small in the frame.
Don't be afraid to "construct" the image around the figures. Add objects and extras as you go. For example, winter scenes might benefit from some snow, in the form of flower or icing sugar, or even a bit of snow added in photoshop.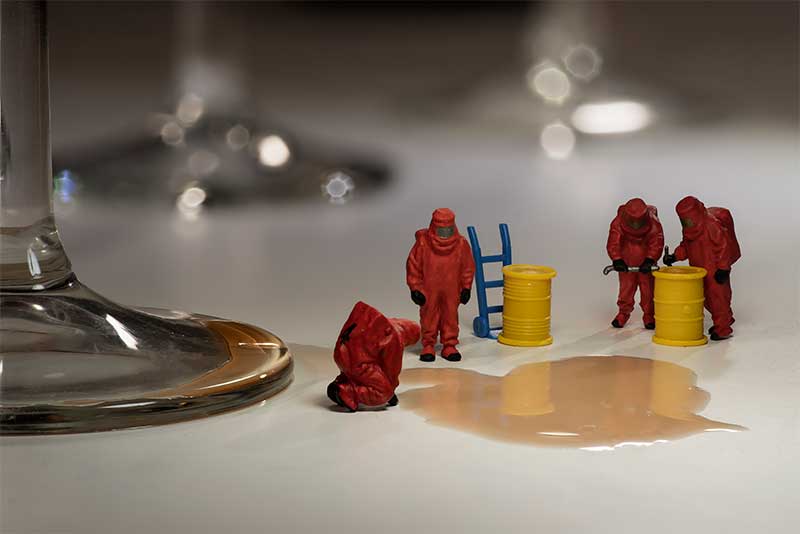 Getting too close to your figures and trying to fill the frame with them can start to show too many of the defects on these tiny figures. We want to emphasize their size in relation to known objects.
For example, the shot above has the stem and base of a wine glass, a recognizable object from real life. The tiny people clearing up this spill is extra fun because of this obvious size disparity!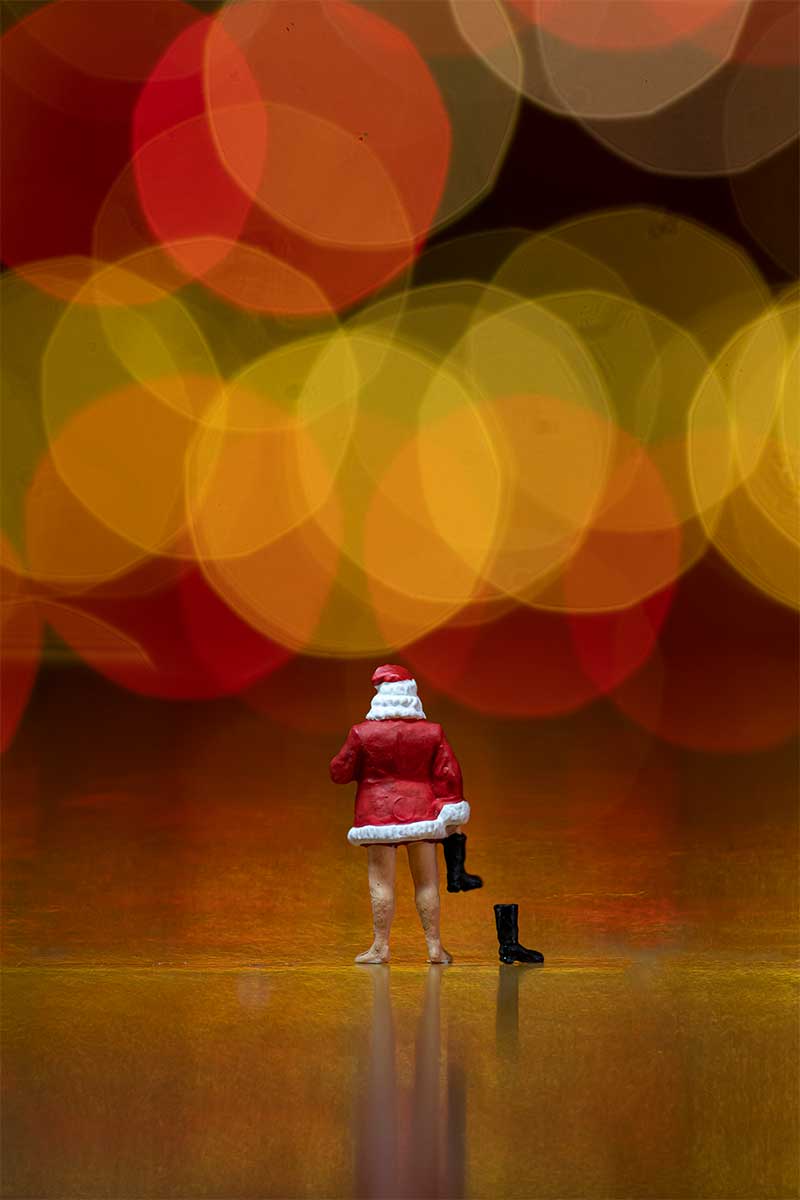 H0 Gauge Macro Photography
Now it comes to taking photographs. You are likely going to benefit from having a macro lens for this kind of photography, though if you're not getting too close, a normal lens might suffice with some creative cropping.
This is also a great macro photography project to try out using your phone camera. Most modern phones will be able to get close enough to photograph a wider scene, and it's much more convenient for an afternoon of playing around!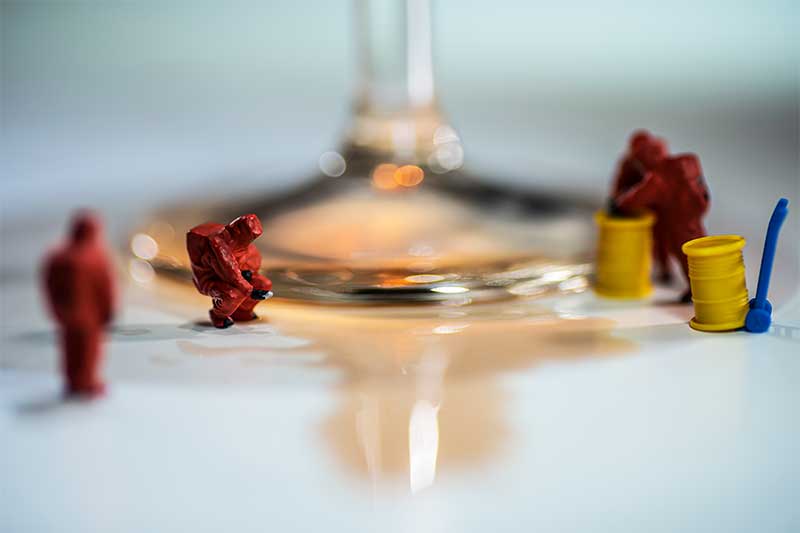 Depth of field is a factor in any close-up or macro photography project. With scale model photography though, we can easily embrace it. Remember, we are aiming to emphasize the scale of our figures compared to real objects. Nothing does this better than some soft focus in the background of an image.
If you want your models to seem larger in the scene, or as if the object is much bigger than it should be, you can try focus stacking your image. This will remove the shallow depth of field people expect when looking at small objects, and may fool some into thinking they are life size!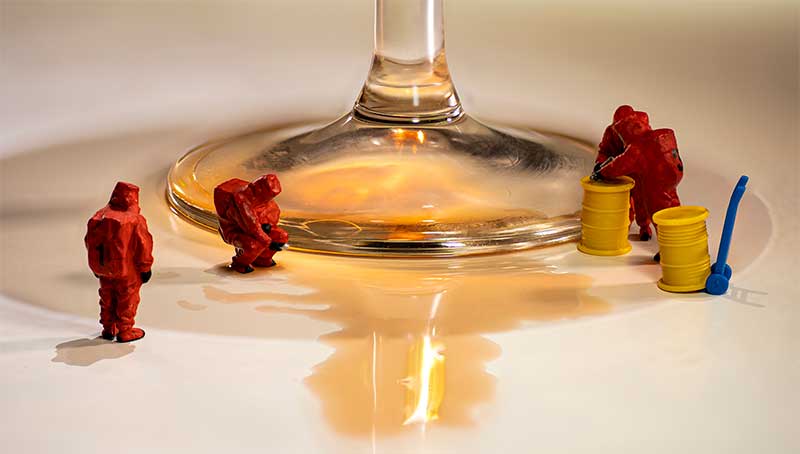 Lighting should not be an afterthought. Adding some additional light to your 00 or HO Scale model photography is the fastest way to make the scene more believable and dramatic.
More importantly though, when working with scale figures, the scale of light sources must change too. Using large softboxes or abundant natural light might leave your scenes looking a bit flat and boring as there will be a lack of shadow on your figures.
A flexible light source designed for macro photography (like the Adaptalux Studio) is ideal for this kind of scale model photography. You can also easily add colour and diffusion for a variety of effects in your scene.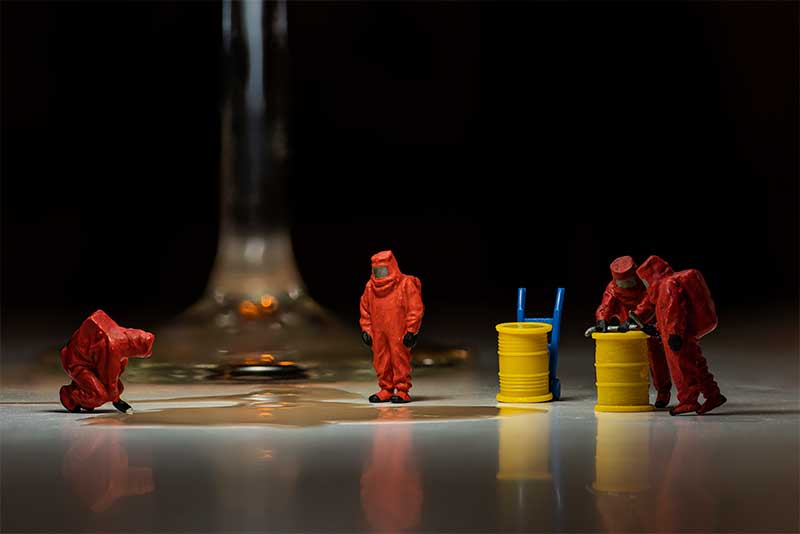 HO Scale photography is a huge amount of fun. It takes the seriousness out of macro photography and enables you to create some whimsical scenes while still testing your macro photography abilities.
Lastly, make sure to subscribe to our YouTube channel for more macro photography tutorials, ideas, and inspiration!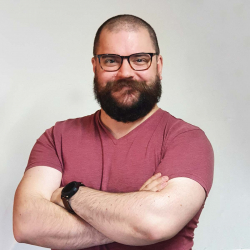 Latest posts by Ben Tuxworth
(see all)