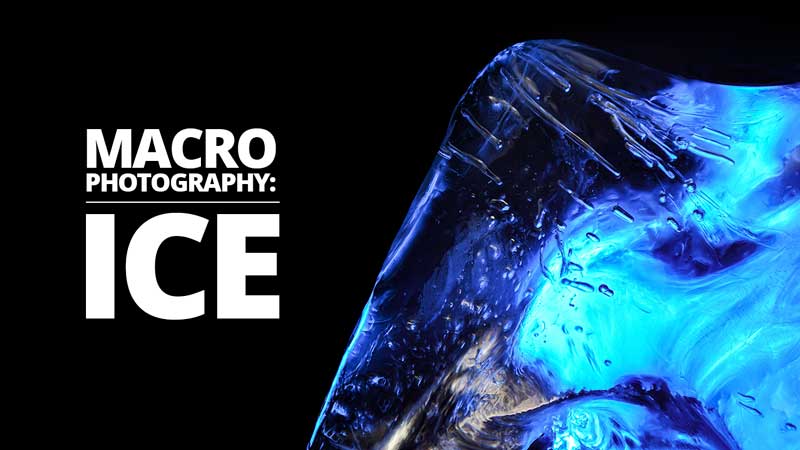 Ice macro photography is a notoriously difficult subject. To photograph the interesting structure of the ice, you first need to see past the wet, reflective exterior. Then there is the issue of depth and getting things in focus. Lastly, there's a time limit! Ice doesn't last forever out in the open, so we have to be quick!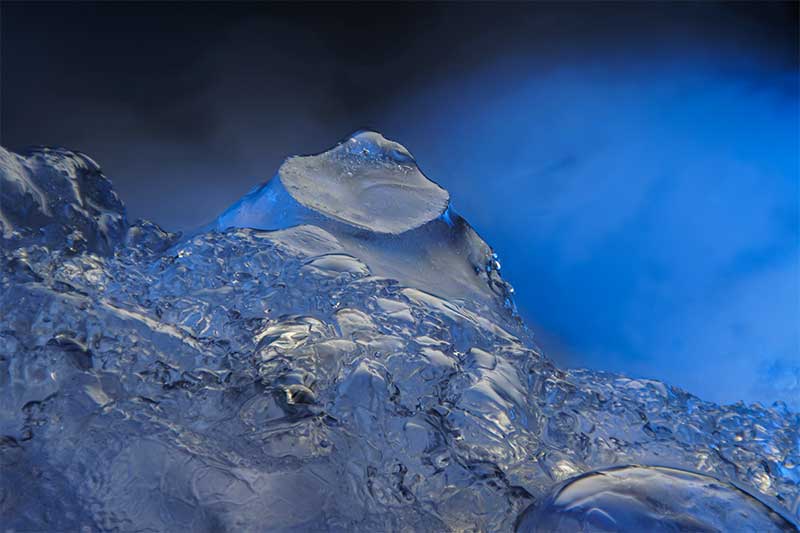 Ice Cubes
for Macro Photography
Not all ice is the same. In fact, the type of water and how it was frozen make a big difference to the kind of ice you are going to get. It's not enough to just put some water in the fridge or ice machine and expect an interesting ice cube to shoot.
Unless you have an expensive one, Ice machines typically create white ice, with no really interesting features. Most importantly, it's not transparent to see the bubbles and cracks that have formed within. This can also happen when making your own ice cubes.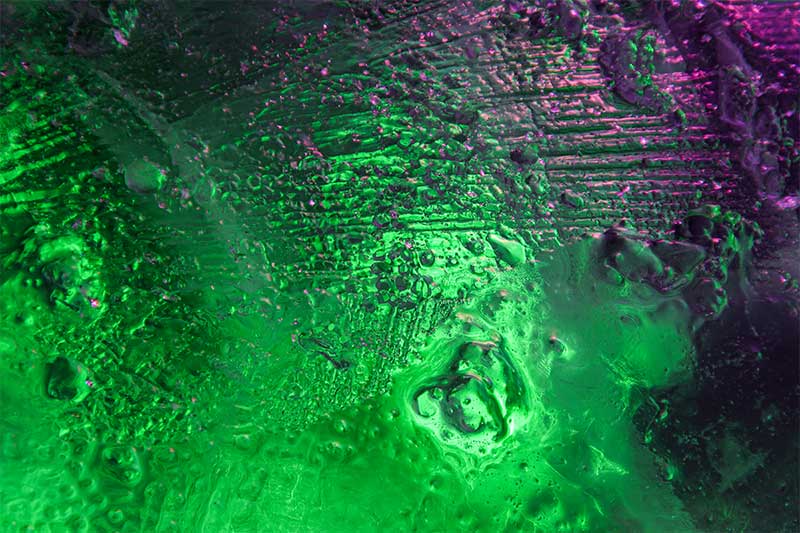 To get the best Ice, you should try to use distilled water. It can also help to boil the water at least once before freezing, to remove any air bubbles.
Lastly, the slower the ice freezes, the more time there will be for air to escape the water as it freezes. This will result in much clearer ice! Of course, we don't want totally perfect ice cubes. We wat a few cracks and bubbles in there to take a look at. Try a few methods of freezing water to see wich results you like best!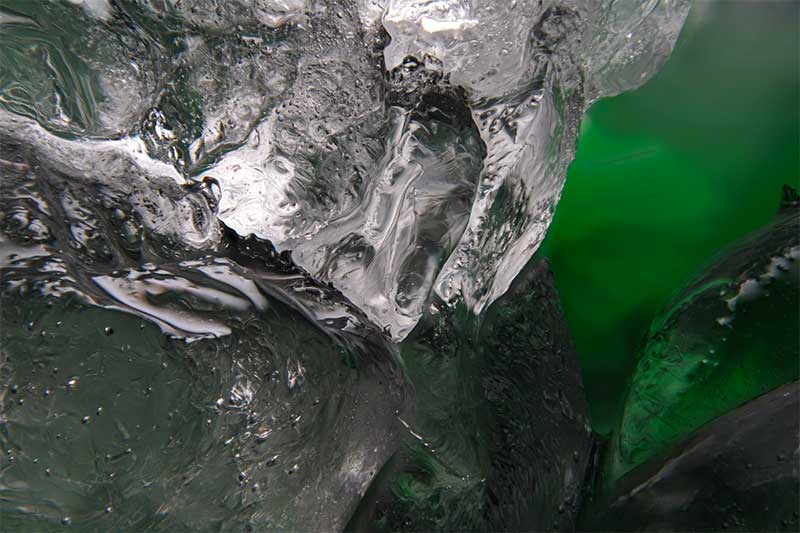 Now we come to take some creative ice macro photos! First things first, you need somewhere to shoot and a way to hold your ice steady. You might think it will be enough to place the ice onto a surface, but as it melts, it may slide and move around!
You can try freezing cocktail sticks into your ice cubes, so you have something to hold on to. Or perhaps fix the cube into a clamp so it can't move away.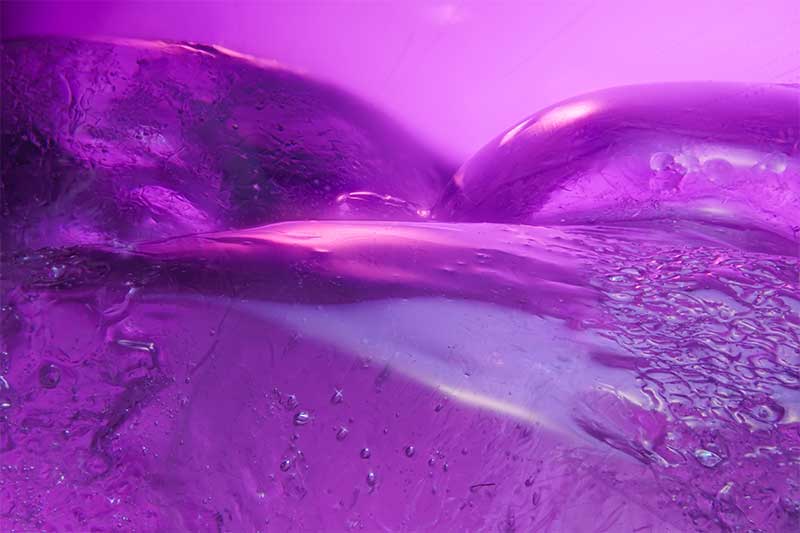 Next, we will want a tripod, camera, and macro lens. We're aiming to get very close to this ice, so a large magnification factor is best! We used a reversed lens setup with extension tubes to get close enough to our ice to really see the detail.
The tripod is essential to give you the time to properly focus and explore your Ice cube. Framing can be very tricky when you are this close, so take the time to adjust and find the right angle.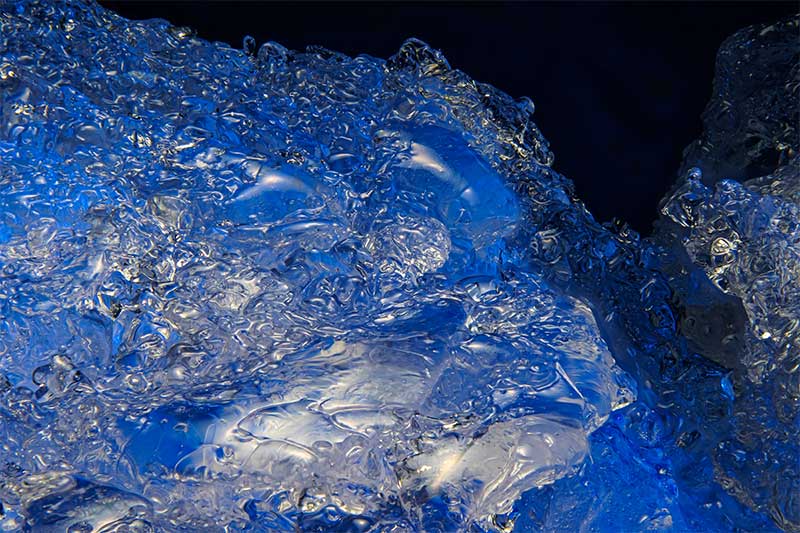 Here's where the magic happens! Ice on its own is transparent and colorless. If you have some interesting detail in your ice cube, this can be enough, but it can be made to stand out even more! Creative macro photography is usually enhanced by using colour.
This colour is going to come from our lighting. We're using the coloured LED lighting arms of the Adaptalux Studio to add beautiful shades of colour into the ice.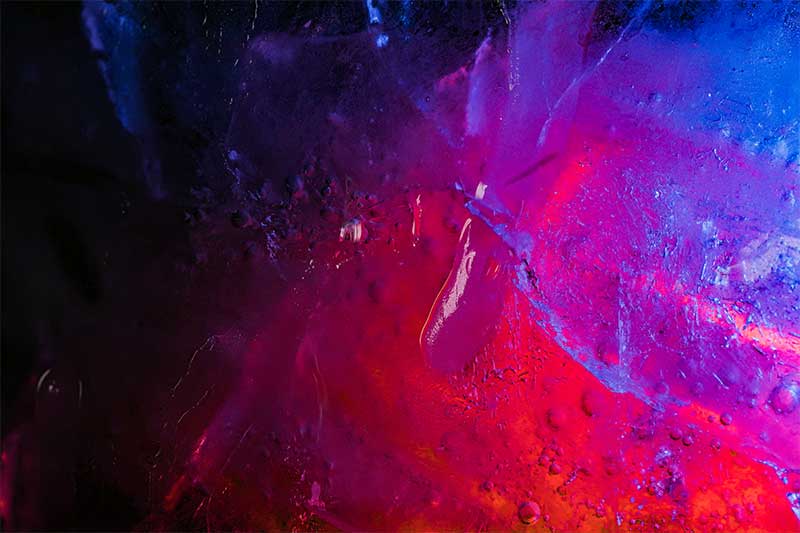 Choosing colours is all about personal preference. We recommend trying a few difference combinations and seeing what happens!
You will want to be shining the coloured light through the ice cube one way or another. This might include shining colours from each side of the ice, or onto a background that can be seen through the transparent cube. You may also want to consider diffusion to soften any harsh reflections from the surface, or water as the ice melts.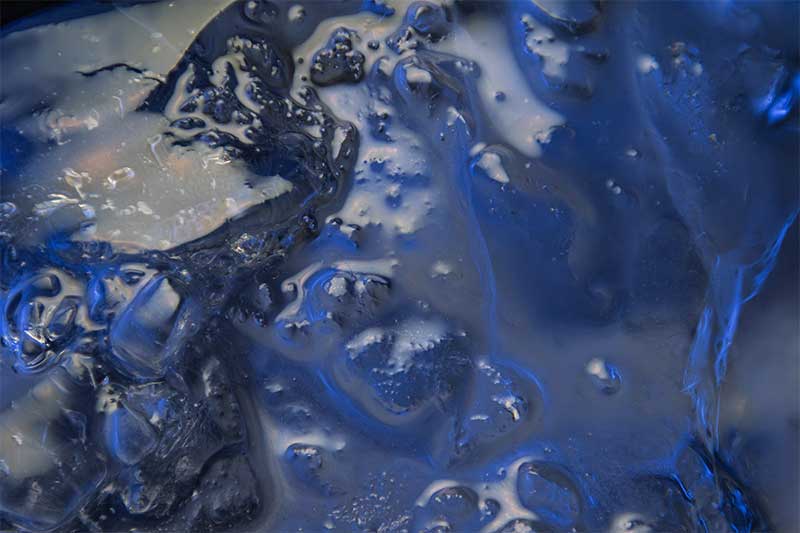 Focus stacking is one of the biggest decisions you will make with your creative ice macro photography. Stacking your images gives you the opportunity to get every part of your image in super-sharp focus! However, it can be time-consuming, and add even more challenge to an already difficult subject.
Especially as your ice melts in front of you, you should think about how long your stack will take, and is your ice cube is likely to melt in that time? After all, if your ice changes or moves, your whole focus stack will be ruined.
Another option is to embrace shallow focus and aim for abstract images. You will have to explore your ice cube in 3 dimensions. There may be interesting cracks, bubbles or formations deeper into the ice!
Inevitably, shooting at high magnification will have a very shallow depth of field. You will need to weigh up the option of focus stacking or having soft focus images. If you want to learn more about focus stacking, we have a whole article talking about the best methods.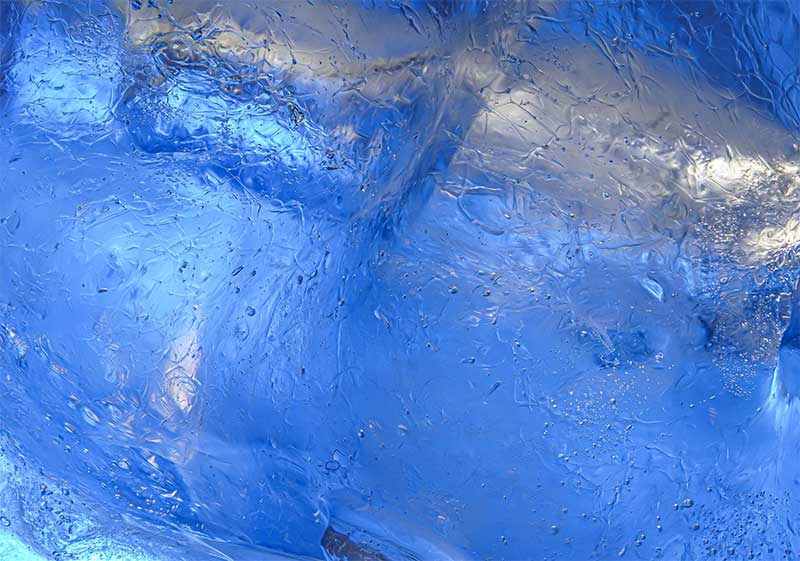 Creative Ice macro photography might seem a little tricky, but ultimately, it can be really interesting and rewarding to photograph!
Especially with the addition of some colour, your images can really stand out and become works of abstract art!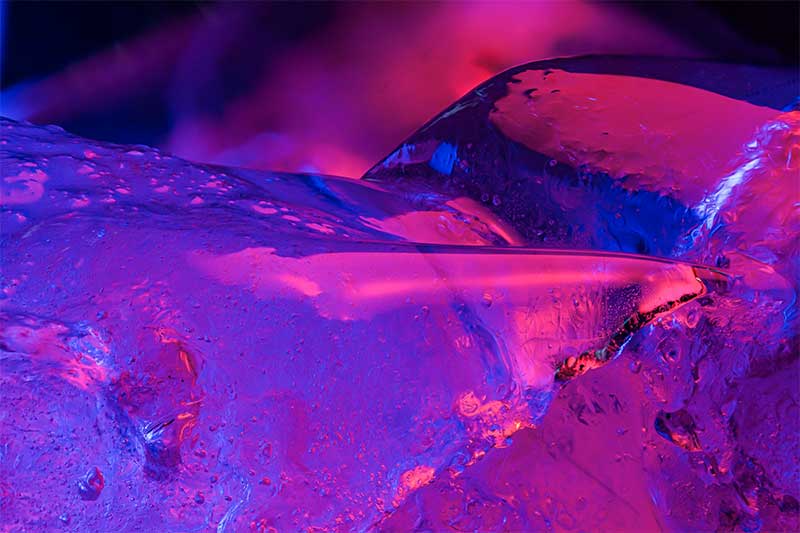 Don't forget to subscribe to our YouTube channel for more macro photography tutorials, ideas and inspiration!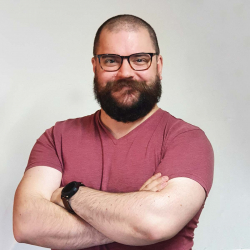 Latest posts by Ben Tuxworth
(see all)