LED macro lighting is one of the many means to light a photograph. We see xenon strobes in studios and natural light for landscapes, but what do LEDs offer for macro photographers?
Van Gogh had paint, while as photographers, we have light to colour our canvas. The source of that light is as important as the painter's brush. (Van gogh was not known for his finger paintings, do you see where we're going with this?)
Metaphors aside, in this article we are going to talk about LED lighting for macro photography, our speciality. LED technology is very new on the timeline with regards to how long photography has been developing. For macro, LEDs offer clear advantages (and disadvantages) when compared to other techniques. Used correctly, LED lighting can truly turn traditional macro photography on it's head.
Firstly, lets start with the most obvious factor.
Continuous light
The most fundamental difference between LED macro lighting and macro flash equipment is that LEDs are always on. If you don't know why you would use continuous lighting for macro subjects, I highly recommend reading our introduction to continuous lighting. It outlines the differences between continuous, flash, and natural light, it's maybe a good idea to read that first!
Having a continuous source of light makes learning easy, because you can always see how the light is falling. As a result of this, setting up a subject with multiple light sources becomes a breeze. Every adjustment you make, you can see with your own eyes as the shadows and highlights change. Some subjects can be very hard to light in a pleasing way and having immediate feedback can speed up your learning process significantly.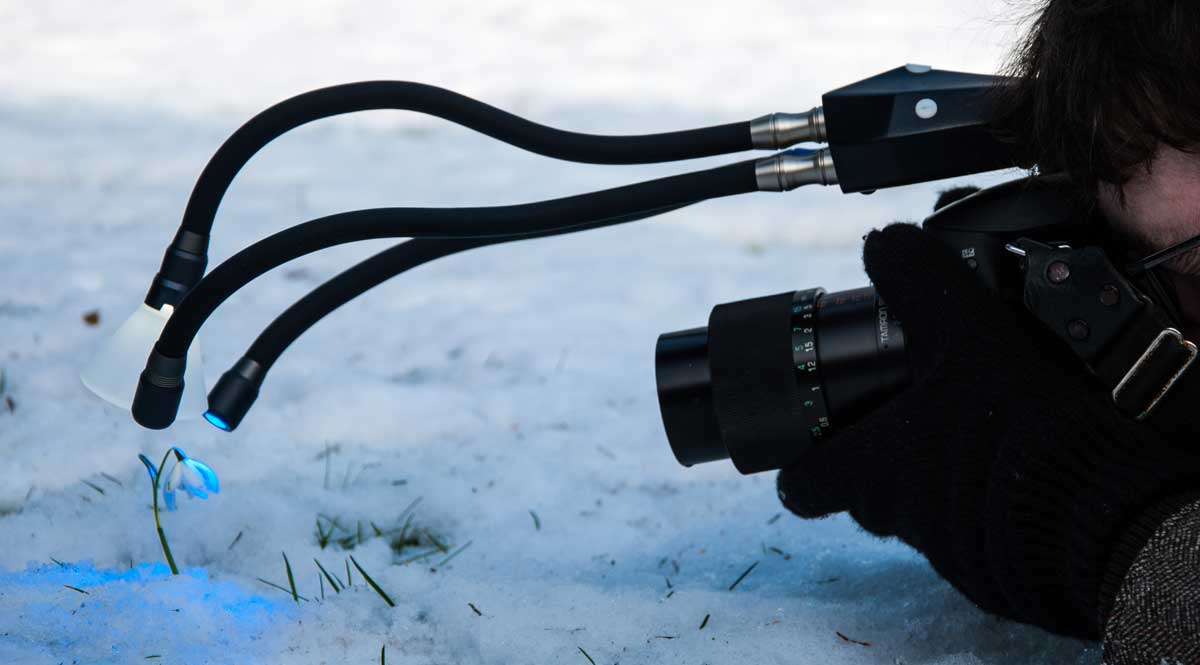 Brightness
LED macro lighting is never going to rival macro flash setups in terms of raw power. What it can do though, is offer the ability to be precise. Instead of setting your flash in 1/3 stop increments, an LED can be adjusted in percentile increments. Balance your light exactly how you want it to compensate for differences in the subject or environment.
As we have mentioned, you can do all of this adjustment without even taking a shot. What you see is what you get!
Heat
If you have ever held your hand in front of a studio strobe, or flash gun, you will have felt the heat as it discharges. Macro photography involves getting very close to a variety of subjects, some of which may be sensitive to heat. Positioning a flash very close to a life subject may be harmful to it. Above all you should never harm a living thing for the sake of capturing it's photograph, what kind of thanks is that?
LEDs get hot over time, however they do so in a different way to flash units. Heat build up over time is easy to manage by spreading the head around. For example, our LED Lighting Arms stay quite cool as the heat is dissipated down the metal gooseneck of the arm. There's no fried insect wings or blinded bugs when LEDs are involved.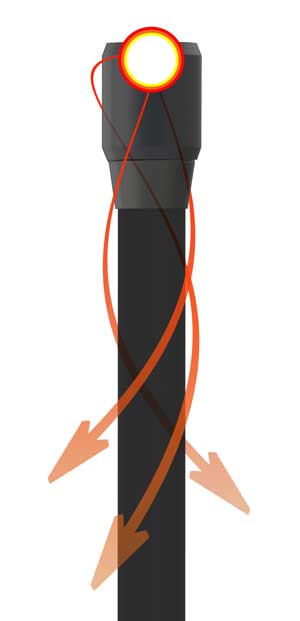 Flexibility
LED macro lighting is often seen in two forms. The rigid way of macro ring lights or LED panels, or flexible "lighting arms". You only need to glance at the Adaptalux Studio to figure out our preference.
When you are using a ring light for macro photography, it offers very little flexibility with the way your subject is lit. Obviously that is the idea of these kinds of devices, to get even and consistent lighting… but that is all you can ever get.
A flexible setup allows you to replicate the effects of a ring light, while maintaining the ability to change your lighting to suit the subject.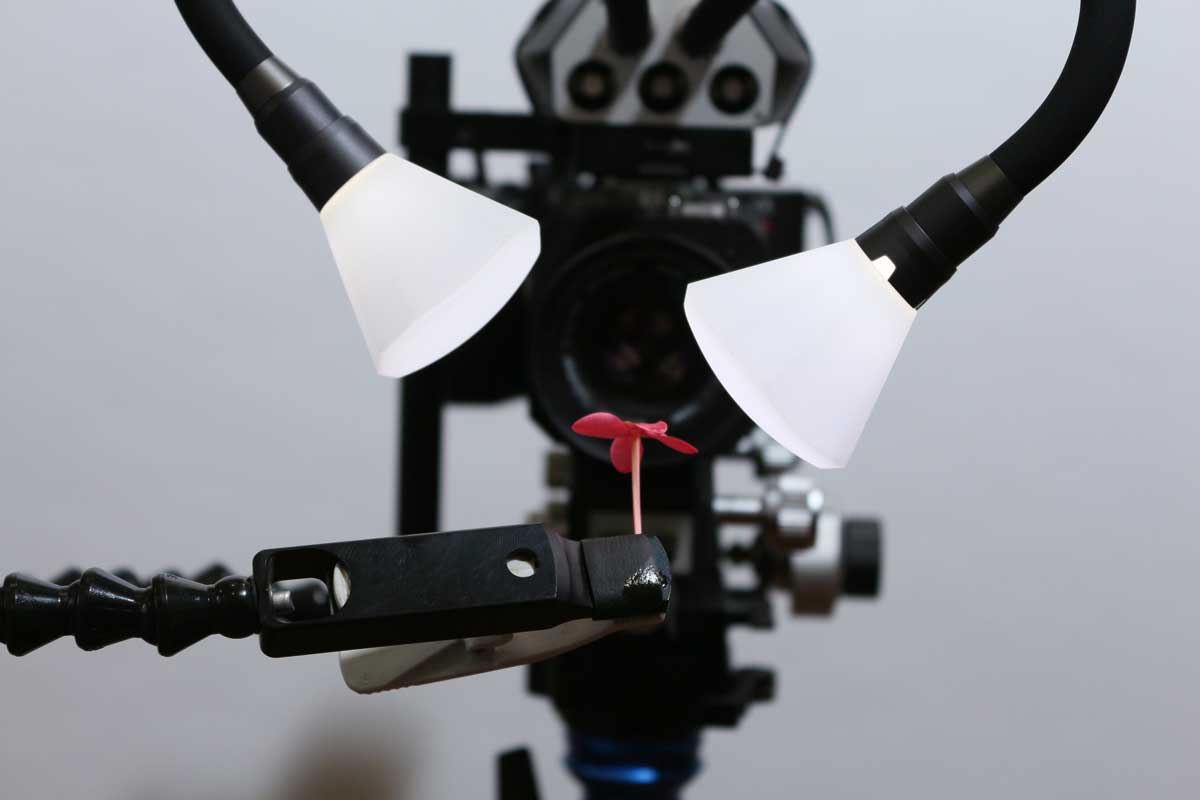 Size
LEDs are small. Macro Subjects are small. Therefore It makes sense for us to match the two. A very small light source can fit in places that a flash could never go or hide behind a subject, to the side or above.
You can position an LED millimetres from a subject and finely adjust the direction of light. Using a large light source is somewhat of a sledgehammer when it comes to intricately lighting a subject!
Creativity
LED macro lighting can come in a wide variety of colours. Unlike traditional lighting, where a new colour meant having to attach a gel, LEDs come in all kinds of colours.
You've not experienced creative macro photography until you have experimented with adding coloured light into your images. Just take a look at our gallery or flickr profile to see what people do with some coloured light.
Want to read more about macro lighting? Download our free e-book to get an introduction to macro lighting.
INTRODUCTION TO MACRO LIGHTING
Sign up to our newsletter to download our free PDF guide to macro lighting as well as occasional emails with offers, news and inspiration.
Where to buy LED macro lighting kits?
DIY lighting kits for macro photography are in abundance. However, if you want a professional, easy to use solution, check out the Adaptalux Studio. We built the studio to serve the needs of the continuous light macro photographer and it will provide all the flexibility and creativity you need to get spectacular results.
You can read more about the studio here.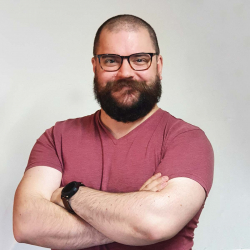 Latest posts by Ben Tuxworth
(see all)