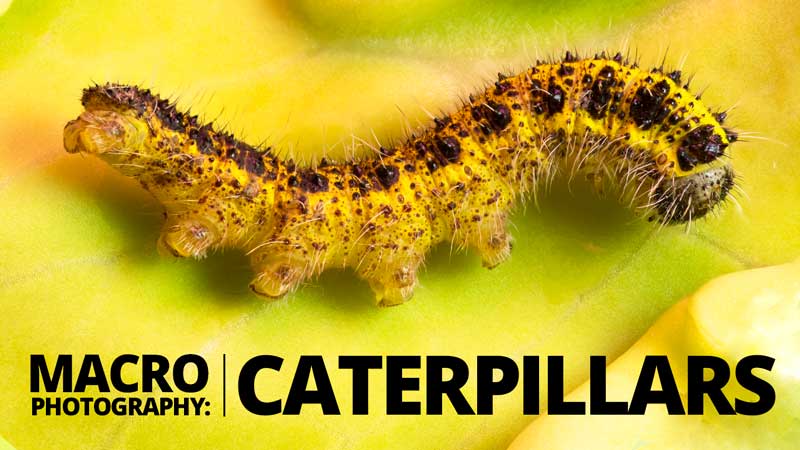 Caterpillars are a common sight for any keen gardener. Although a menace for your vegetable patch, they are great subjects for photography! We're bringing one inside for some caterpillar macro photography in a controlled environment.
Caterpillar Macro Photography
Caterpillars are strange critters, but very interesting up close. Most photos of caterpillars are taken outside in the garden, but for an extended shoot, it's usually better to have a more controlled environment. Being indoors means no wind and other disturbances, making it easier to photo stack and really control your lighting.
We have grabbed one from the garden and brought it inside to shoot. When you find one, it's usually easier to take the whole leaf. This reduces the chance of hurting the caterpillar and you can use the leaf as a shooting surface too!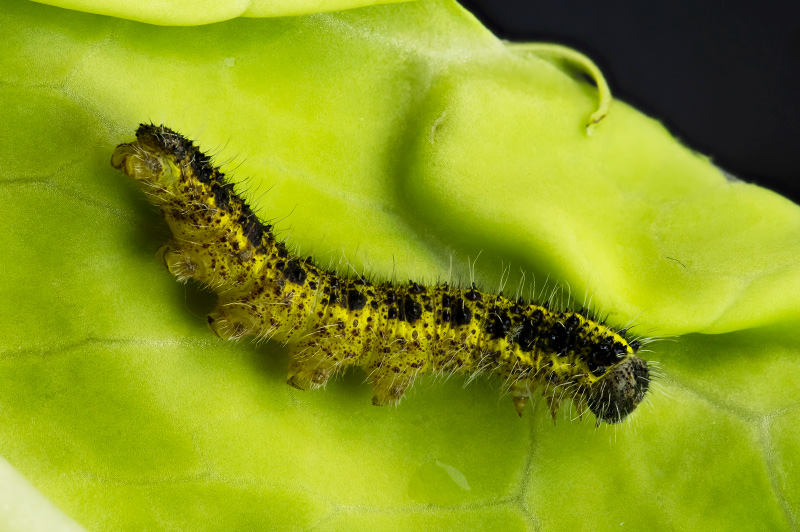 We placed the leaf with our caterpillar in a subject clamp and set up the camera on a tripod. Although you can easily do some caterpillar macro photography freehand, a tripod allows you to take your time.
Composition is a little tricky with a subject that moves around on its own, but caterpillars don't move fast so you still have time to capture some shots before it moves on.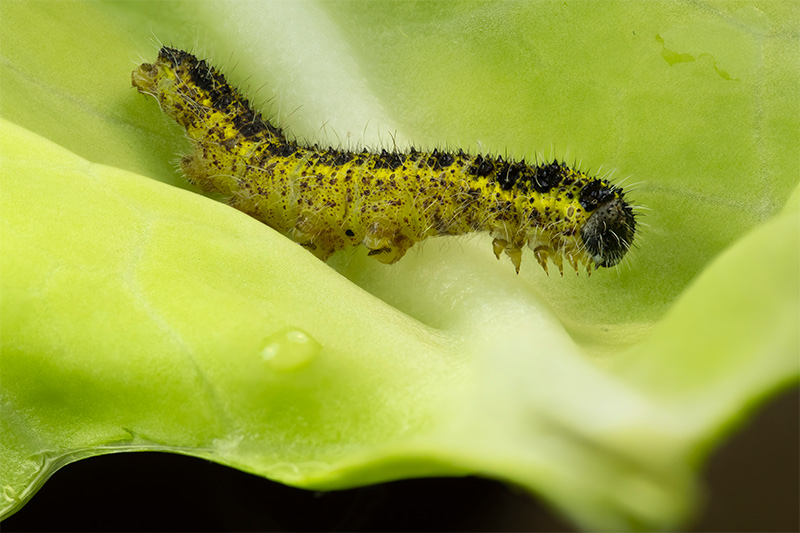 Lighting up the leaf and caterpillar is easy with a dedicated macro light source like the Adaptalux Studio. Being able to adjust the direction and intensity of light is key to making the most of your shots.
We used 2 white Lighting Arms, Diffusers and some Colour Filters. The diffusion in particular is very important to get a natural-looking shot. Harsh shadows are not very pleasing to look at with a complex subject like our caterpillar.
You can use an undiffused white arm to shine through the leaf and backlight the caterpillar. You might lose some detail lighting this way, but the images are striking!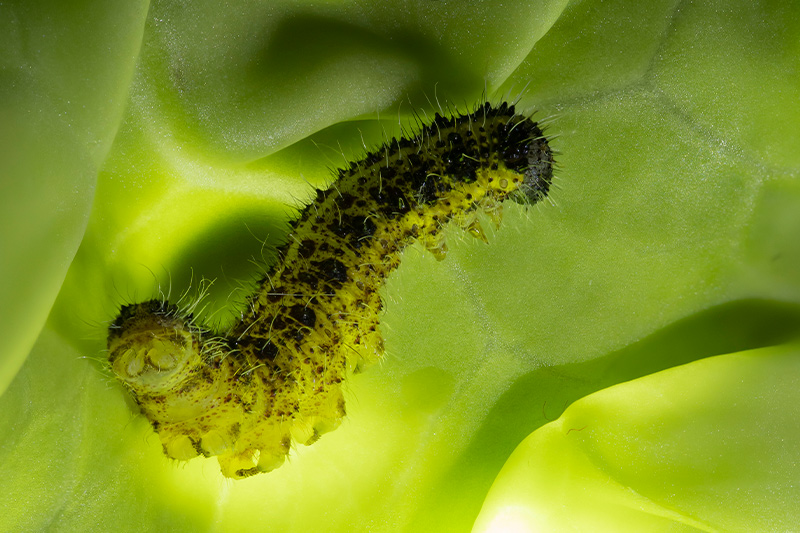 No matter what you think of the little guy, there's no arguing that its detail is interesting to look at. Getting close with our 100mm f2.8 Tokina macro lens reveals lots of features on the caterpillars body.
Tiny hairs all over, little feet clinging to the leaf, and an abundance of spots down its back. Trying to get the whole caterpillar in focus is a challenge though.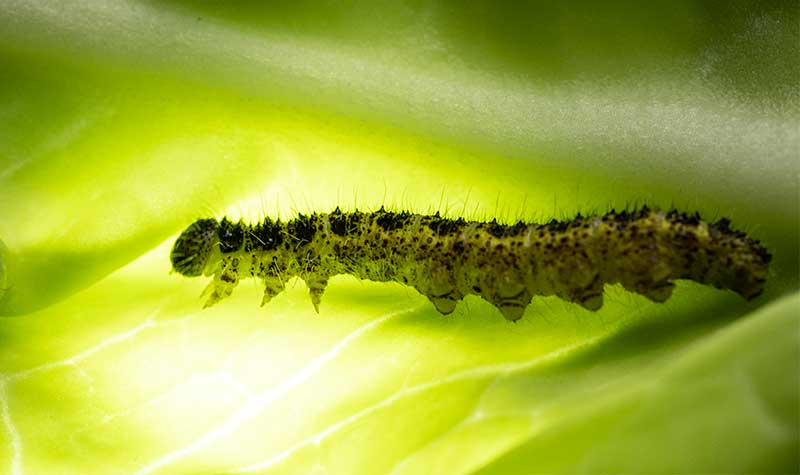 Caterpillar macro photography is tricky when it comes to focus. We have a very long subject and a very shallow depth of field. This is where focus stacking can help!
We have a tutorial on using Helicon Focus to create super-sharp images of deep subjects – find it here.
The difference here is that our subject moves! This makes stacking very tricky and best done as quickly as possible while the caterpillar is still.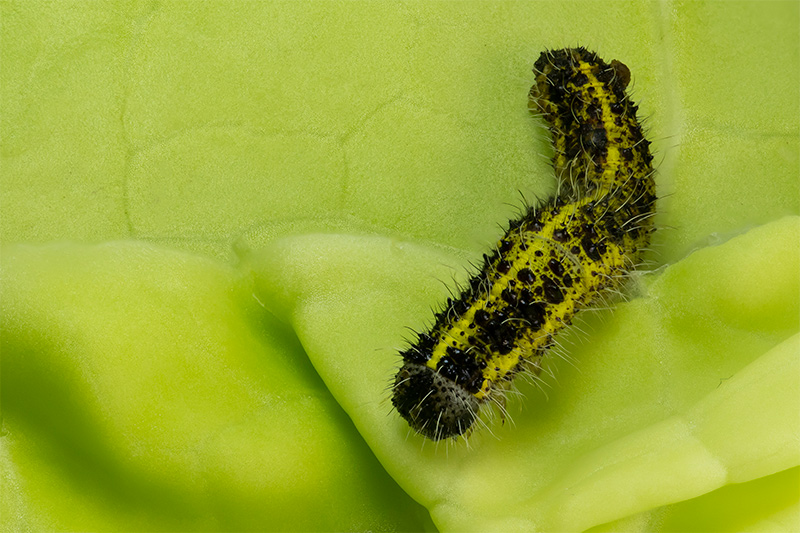 Perhaps limit the number of shots you need to only a few, to save time. If you try a stack of 100s of photos and the caterpillar decides to move its head on photo 56, it's going to ruin your stack.
We did find that our caterpillar occasionally stayed still for several minutes at a time, but it's not guaranteed.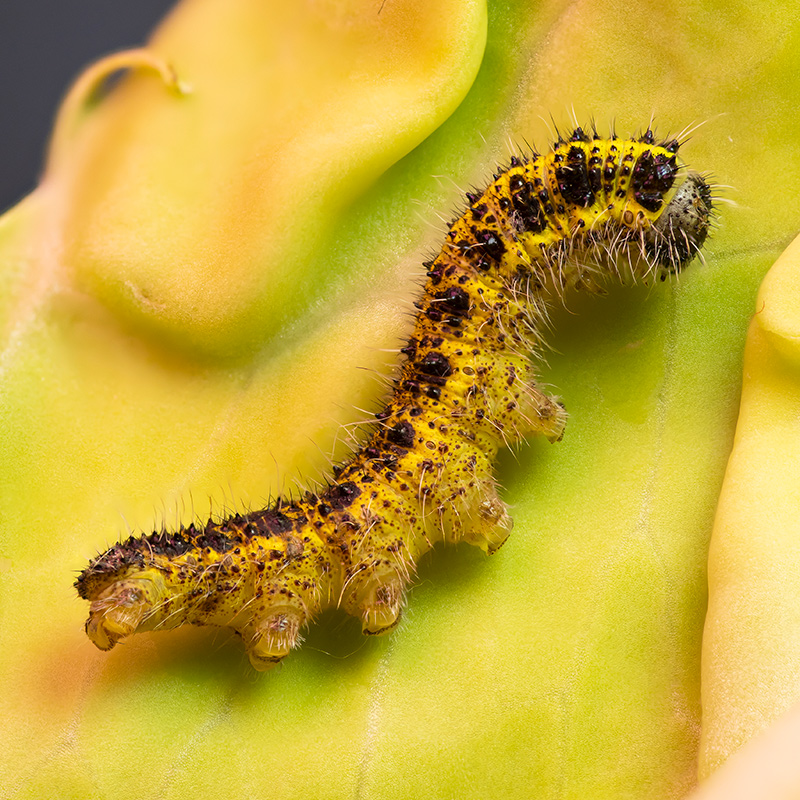 Our caterpillar macro photography shoot wouldn't be complete without a splash of color, so we used blue and pink color filters to add a bit of moodiness to the images. With the pink colour filter added, we think it gives the leaf something of a warm summer evening vibe.
Lastly, make sure to subscribe to our YouTube channel for more macro photography tutorials, ideas, and inspiration!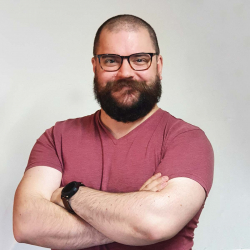 Latest posts by Ben Tuxworth
(see all)