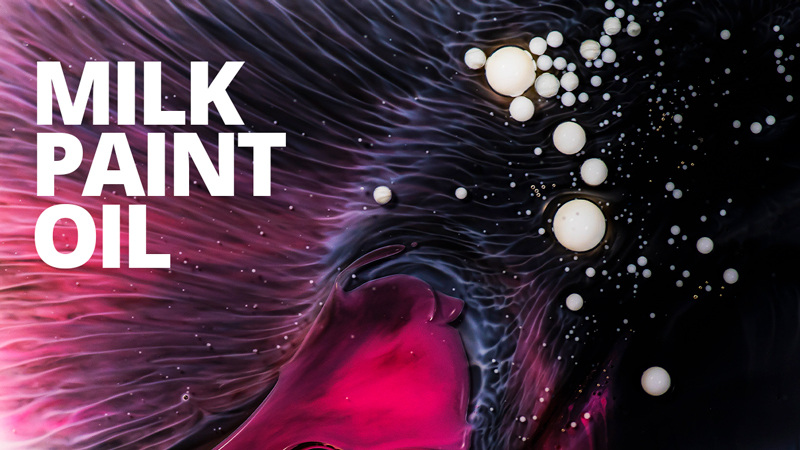 In this macro photography tutorial, we are using milk, paint and oil to capture some abstract photos and video. Bubbles, movement, and colour will all come together to create strange mixtures.
It's a messy but extremely fun and hands-on shoot. A great project to try with kids or during an evening at home.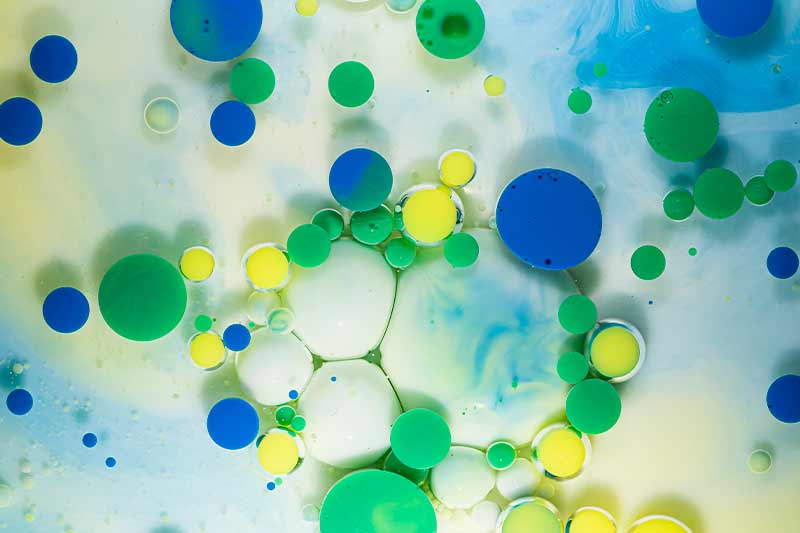 Oil, Milk and Paint Abstract Macro Photography Tutorial
Before you get started, you need to collect a few items to make your solution and keep things tidy. You're also going to need something to take your photos!
Liquids:
Milk (lots).
Cooking oil (lots).
Acrylic paint.
Water.
Dish Washing Soap.
Utensils:
Shallow plate or bowl.
Larger bowl for waste mixture.
Pipette dropper(s).
Small pots for paint and soap mixtures.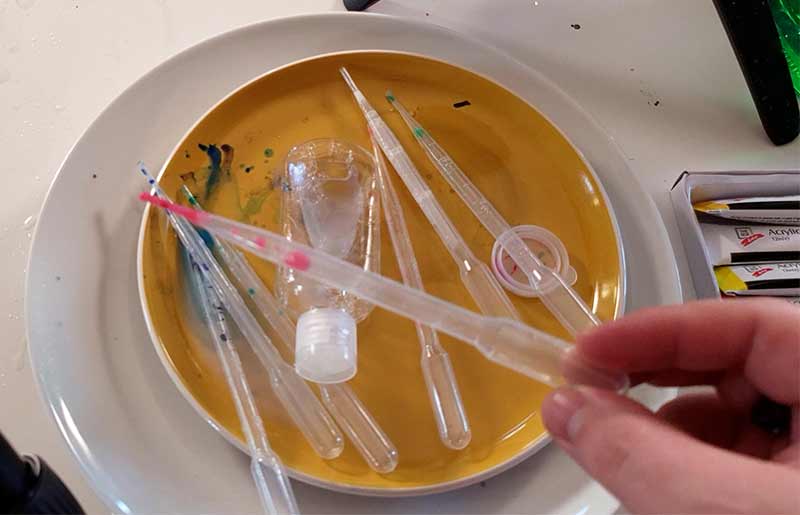 Photography Gear:
The photography equipment can be varied and non-specific. You can even do this using a phone with a good camera. However, some features will make your life easier;
A macro lens will help to get close to the surface of your mixture. Fill the frame with bubbles without getting any plate or shadows in the shot.
A high-resolution camera allows you to crop and explore your scenes while editing. Slow-motion settings will give you more freedom to speed up or slow down the movement.
You will need a tripod or mount to hold your camera steady, facing downwards. You may also want to use a way of triggering your camera remotely to cut down on camera shake.
Step 1:
Pour some milk into the shallow bowl. Just enough to cover the bottom of the bowl.
Step 2:
Secondly, add either paint or oil to your milk. The order that you do this in will determine the spread of colour in the milk. Experiment with both!
Step 3:
Use the pipette dropper to add more bubbles of colour. Place them on top of pools of oil to stop them from mixing with the milk immediately. At this point, make sure your camera is recording, or you are ready to take stills if something interesting happens.
Next, place your container under your camera and lighting and focus on the bubbles. If you're finding it hard to get light onto the surface with no reflections, maybe our macro lighting system can help!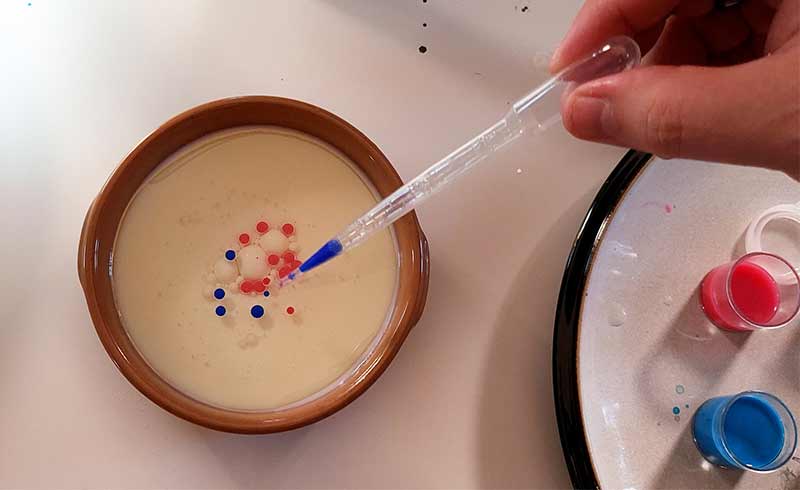 Step 4:
Now the solution is ready. There should be some movement and colour mixing already. Sometimes bubbles will pop on their own as the solution settles, so be ready!
When you are ready for the action to start. Add a very small amount of dish soap mixed with water. One or two drops from a pipette should see an instant reaction.
Step 5:
Next, it's time to move out of the way and let the reaction happen in front of the camera. Bubbles will break and colours will shift as the oil is repelled by the soap.
You may find that more reactions will happen if you add more soap. You can try adding more paint, oil and soap at intervals to liven things up again.
Step 6:
Once the milk is too dirty, or the oil becomes too unstable. It's time to reset.
Pour the mixture away, give the pot a quick clean and start again with fresh milk and oil.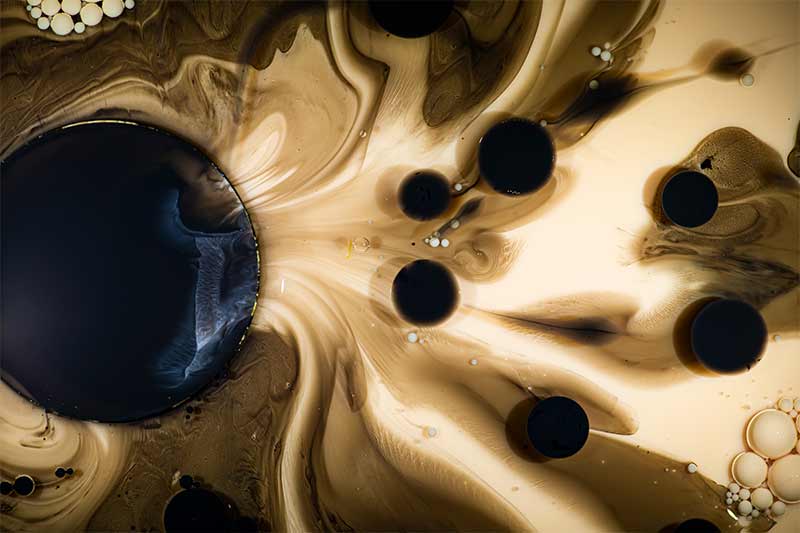 This oil, milk and paint macro photography tutorial was actually with mostly video in mind. The oil, milk and paint mix in very visually appealing ways that look great when set to music.
However, there is a lot of opportunity for still photography. It's less reliant on keeping still and being quick with the pipette dropper. Keep a close eye on what's happening and be ready to press the shutter. You some great abstract shots as the colours and bubbles move around.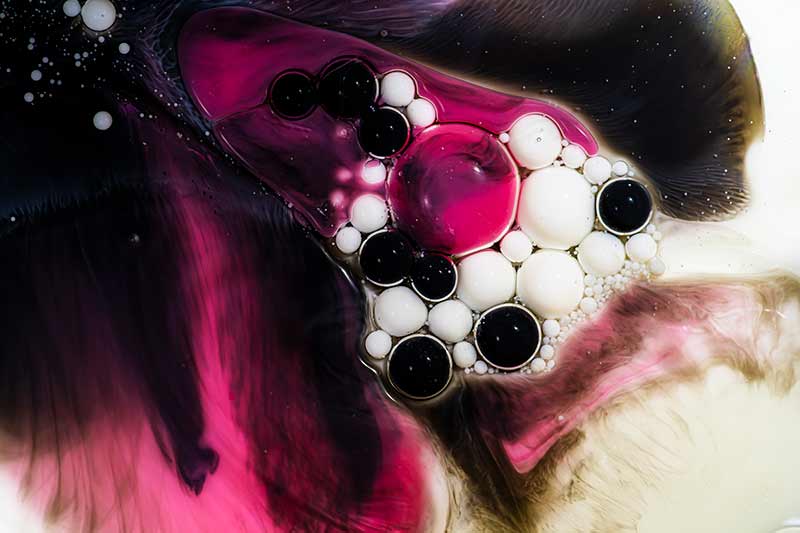 You can mix the solution up or place things more deliberately with stills too. Maybe even cut out the addition of soap altogether and just wait for the bubbles to pop on their own.
The joy of milk and paint macro photography is the various ways to approach the subject. Every different mixture and setup will give more variety in the results!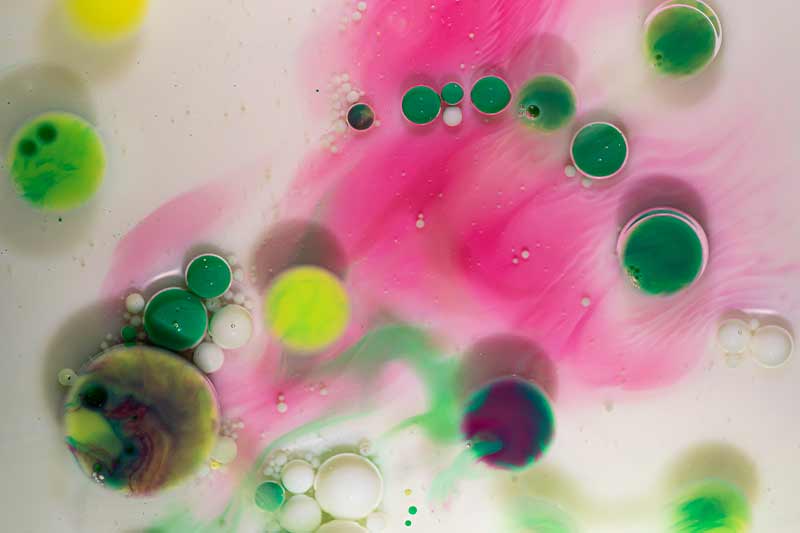 Make sure to have a lot of different paint colours on hand, and a lot of milk!
If you don't get the movement and mixing you want on your first go, just try again. The way the mixture behaves is totally random and can be different every time.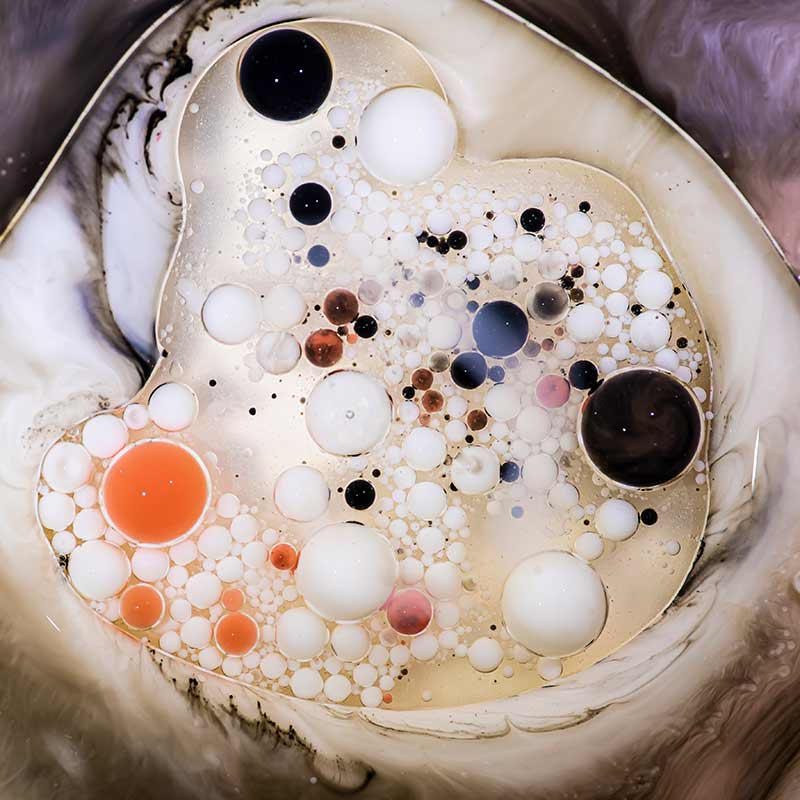 Lastly, make sure to subscribe to our YouTube channel for more macro photography tutorials, ideas, and inspiration!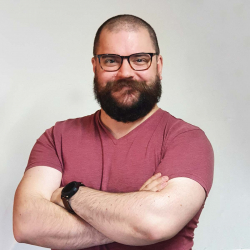 Latest posts by Ben Tuxworth
(see all)