Leaves are a popular macro photography subject, we featured them first in our recent Ideas and Inspiration post. However, when dried out, leaves present a brand new challenge for macro photography enthusiasts.
With no more vivid green colour, trying to get a dried leaf to stand out in an eye catching image is harder than you might think. Luckily we have a few tips that will help with your dried leaf macro photography.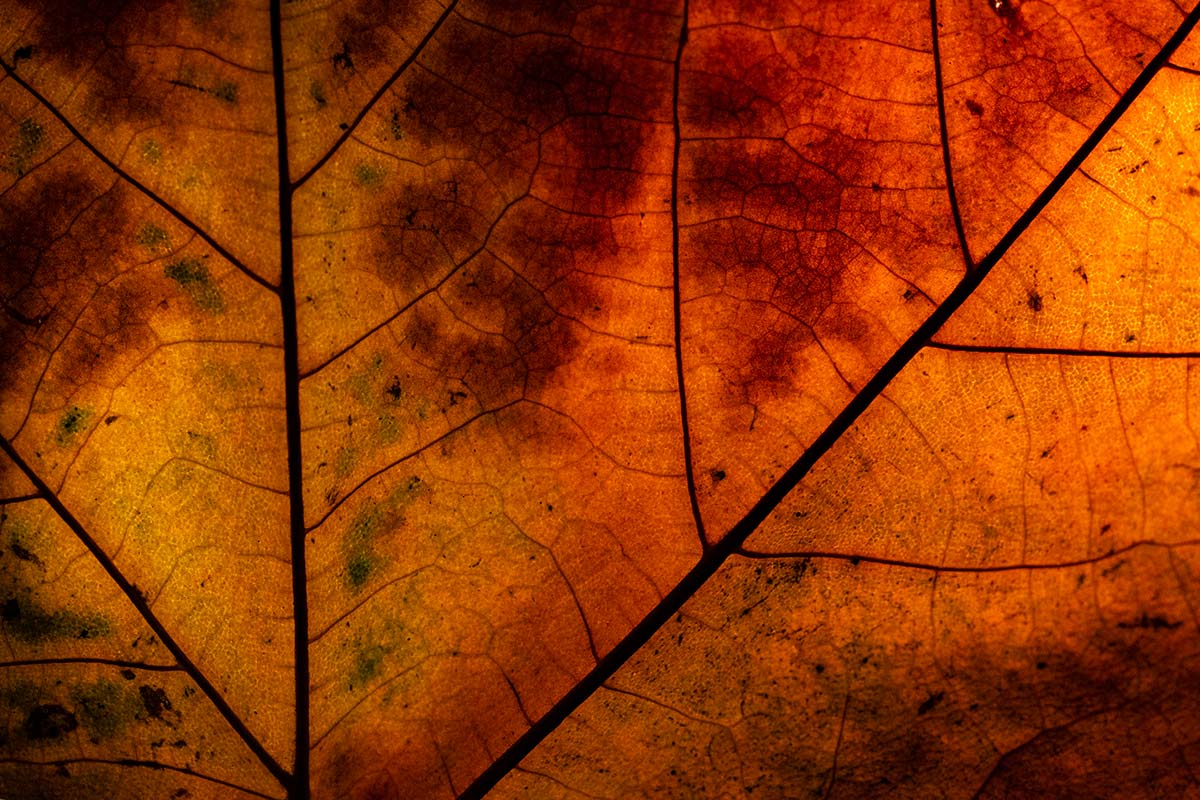 Top 5 Leaf Macro Photography Tips
Before we get into the detail, lets run down our top 5 tips when shooting dried leaves.
Choose a few good leaves
Don't just pick up one. By the time you have dried them out, they change drastically. Take a few to increase your chances of getting a great one when dry. Make sure not to wait too long before choosing your leaves either. The longer they stay outside, the more harm they can come to.
Shoot freehand
The flexibility of movement is an asset when shooting a detailed subject. Because leaves have so many amazing details, it's great to be able to move around and explore. The landscape of each leaf can be varied, so check out all the angles and features!
Use a fast shutter speed and narrow aperture
if you're going freehand, you need a shutter speed of at least 1/100. Anything less than that and you risk camera shake.The smaller your aperture, the more of the leaf you can get in focus. A deep depth of field is very handy for leaf shots, but not essential. We will talk more about focus and composure below.
Add more light
To help you achieve the best settings, more light is always better. Use an external light source like the Adaptalux Studio to improve your settings. Adding light also means getting creative. We will talk more about how to light your leaves below.
Get close
An image of an entire leaf can be interesting, but the real details are found with a macro lens. Getting in as close as possible to your leaves can reveal amazing details and varied colours, even in leaves that are long dead and dry. We're biased though, as macro enthusiasts, closer is usually better!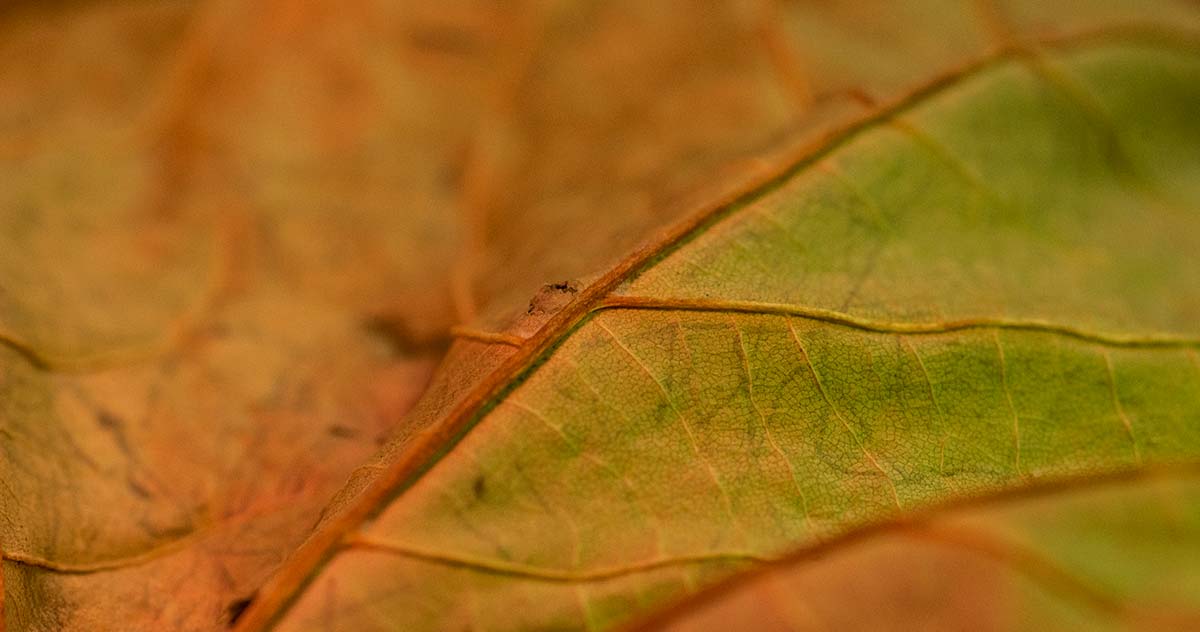 Lighting for leaf macro photography
It's all about lighting. Dried dead leaves have a tenancy to look dull and boring in front of the camera. This is why you don't see masses of photographs of them compared with the same healthy, living leaves. Apply some creative lighting and amazing images can be captured with ease.
In our tutorial video (linked above) we started by lighting the leaf to get a contrast of colours. Using our coloured Lighting Arms, it's easy to add amazing colour to the dull brown leaves.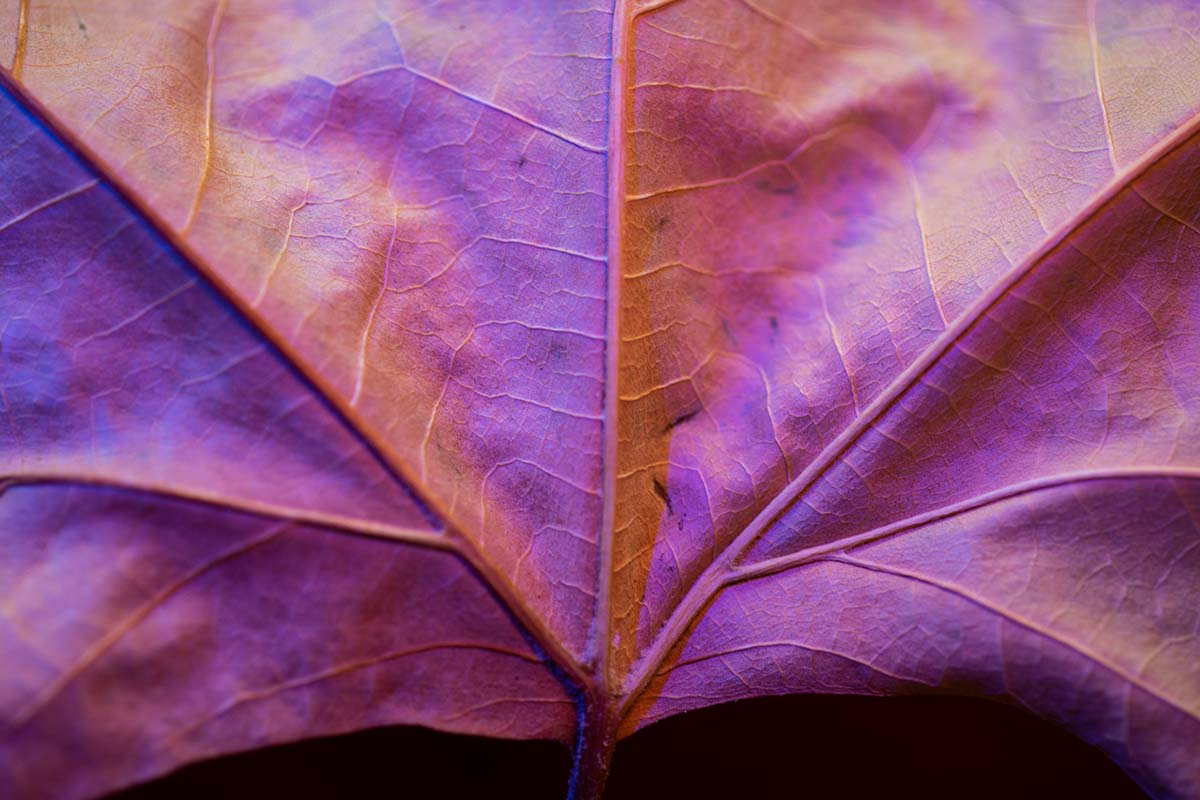 When leaves dry out, they tend to get more pronounced veins. Using colour and light from different sides of the protruding limbs can create some amazing shadows and contrast. This also presents a challenge though, which we will talk about in the next section.
Leaf macro photography experts will often light a normal leaf from behind in order to highlight the cells and veins of a healthy, green leaf. Doing the same for a dead and dry leaf can have amazing results too.
Because of the way leaves dry and decay, a lot of contrast can be created within the leaf that may not be immediately apparent. If you place a light behind the leaf, all of the differences in colour will shine through.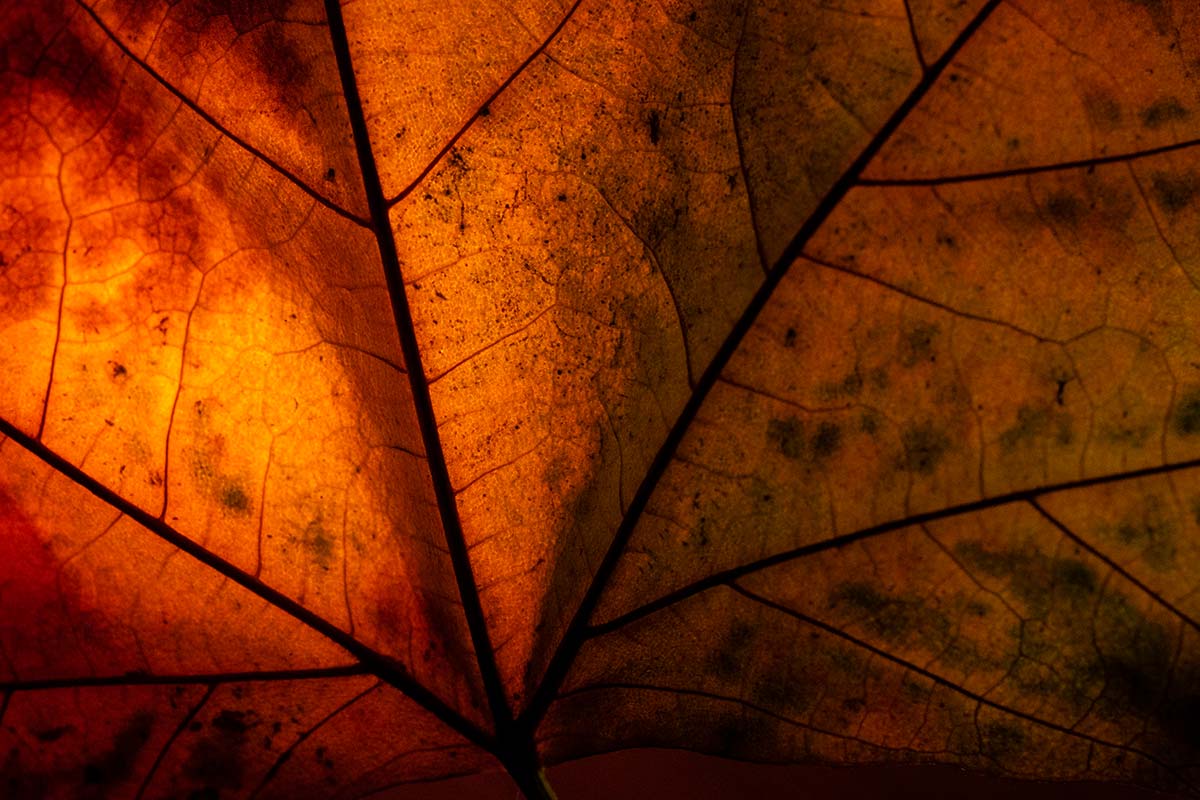 Where to focus on your leaf
When shooting a regular leaf, focusing is often a joy. Easily laid out flat, and shot from above, even a shallow depth of field will suffice. When the leaf dries though, it will crumple and curl up, making it almost impossible to get the entire leaf in focus at once. Even the variation between the pronounced veins and the rest of the leaf can be enough to be totally out of focus.
We say, embrace it. Unless you are into photo-stacking, trying to get everything in crisp focus when close in is going to be impossible. Instead, try to find interesting sections to focus in on.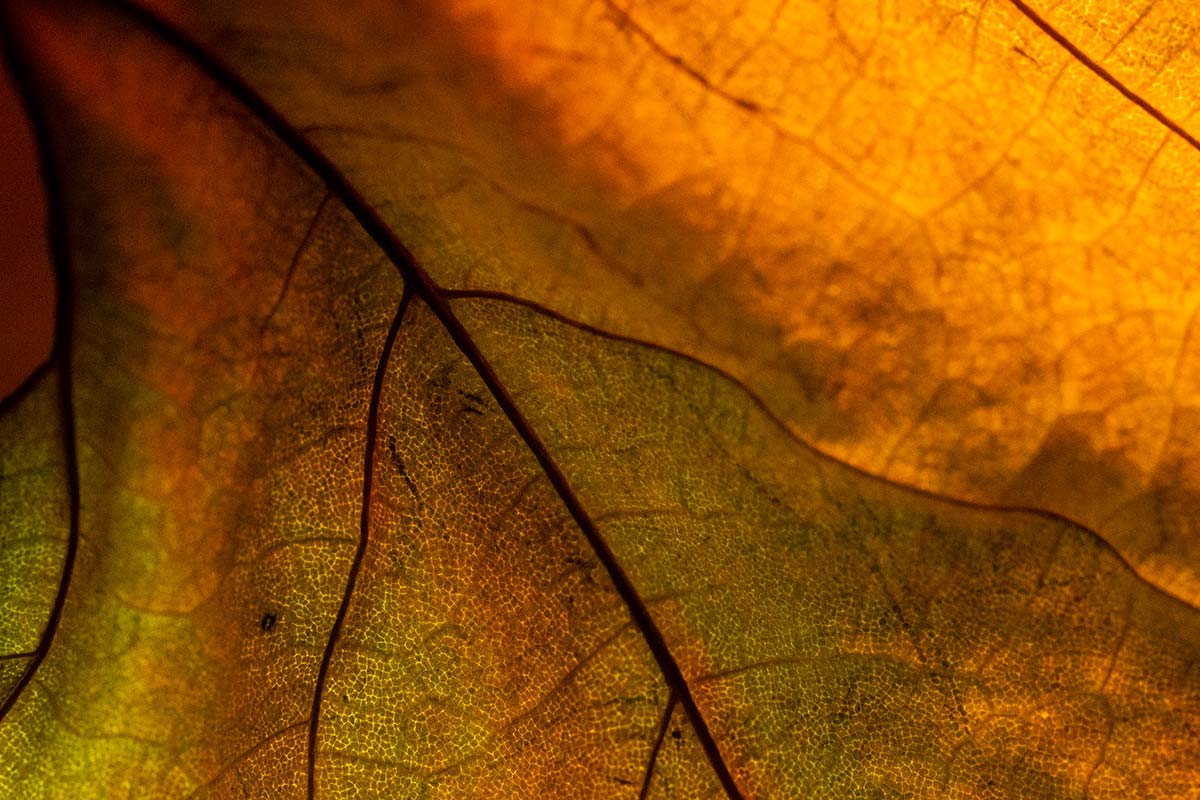 You will often find with dried leaf macro photography, that it is better to explore the leaf freehand with your camera. If you had a nice flat leaf, we would recommend setting up on a tripod looking down at the flat side of the leaf. Dried leaves though, tend to curl over at the edges. You can make use of this when going freehand, exploring the various curves and lines of the leaf.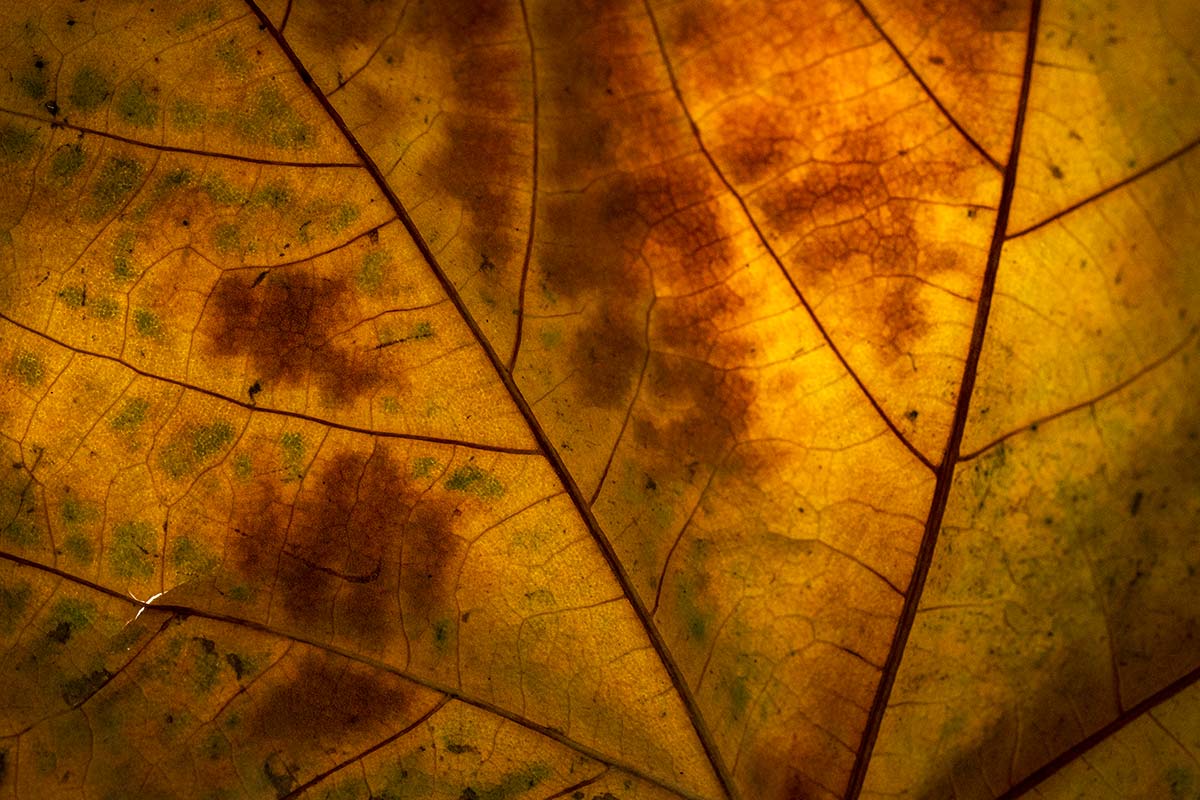 Dried leaves are a simple and interesting subject for you to shoot at home on a rainy day (providing you grab some leaves before it rains!). Remember, you can send us images you capture using Adaptalux Studio to pictures@adaptalux.com, we love to see what you have all been up to!
Don't forget to subscribe to our YouTube channel for regular macro photography tutorials, ideas and inspiration!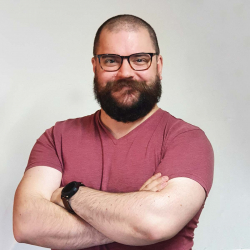 Latest posts by Ben Tuxworth
(see all)