In this tutorial we are looking at some tips to get the most out of a common subject, feathers! Macro peacock feather photography is a great way to get beautiful images full of colour with lots of details. So grab your feathers and let's get started.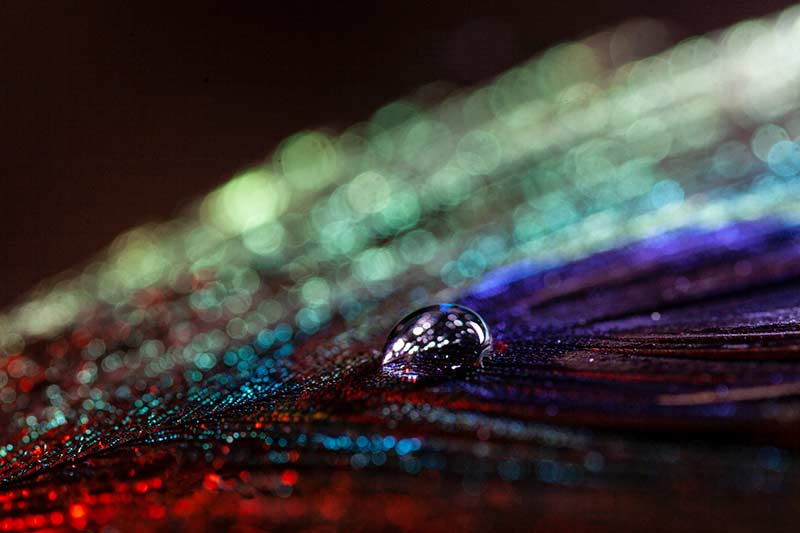 Macro Peacock Feather Photography
Peacock feathers are amazingly colourful and extremely detailed. Getting up close with a macro lens is a real treat with a subject like this. With that in mind, here are some things to think about as you explore your feathers…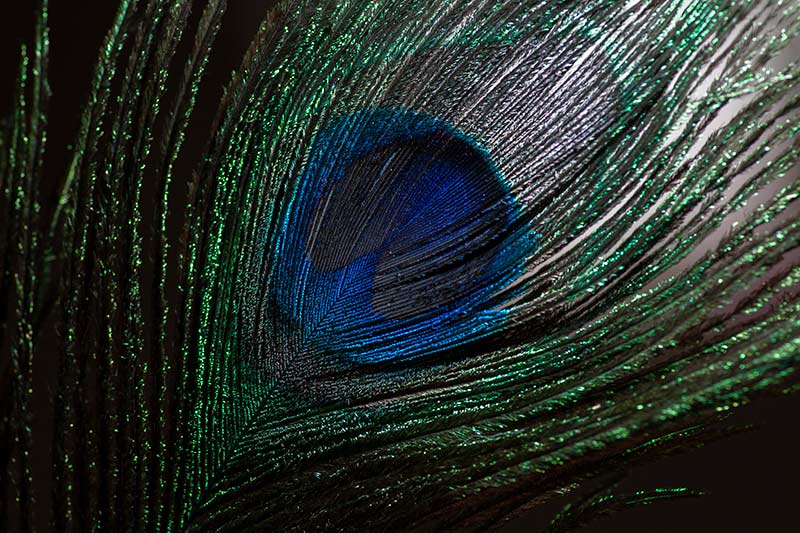 Firstly, shooting the front of the feather like the image above can be a fun way to get the full range of colours. It can also be helpful for getting as much in focus as possible. Shooting flat against the subject like this means your plane of focus is parallel with the subject, making it easy to get all of those details!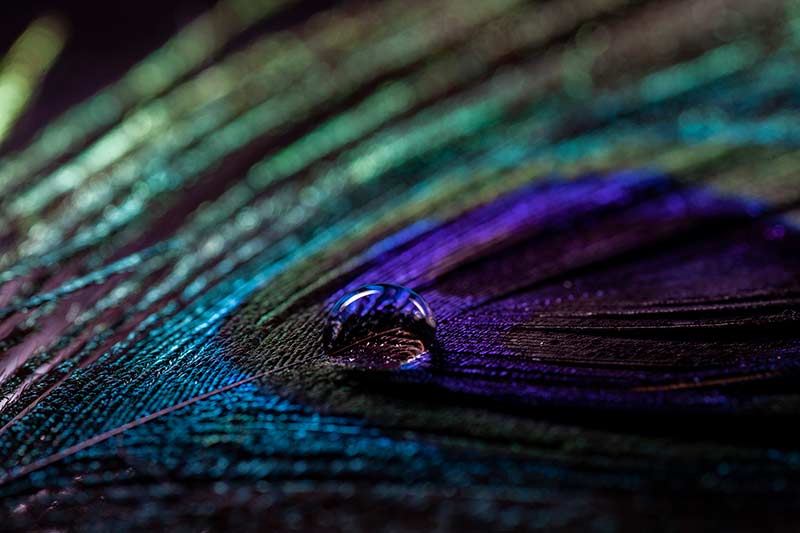 However, there is certainly something to be said for shooting at an extreme angle. A shallow DoF does amazing things with the colours of the feather. Peacock feathers are slightly reflective, so the light catches every little colour.
With a good angle and precise lighting, you can create amazing bokeh effects in the background.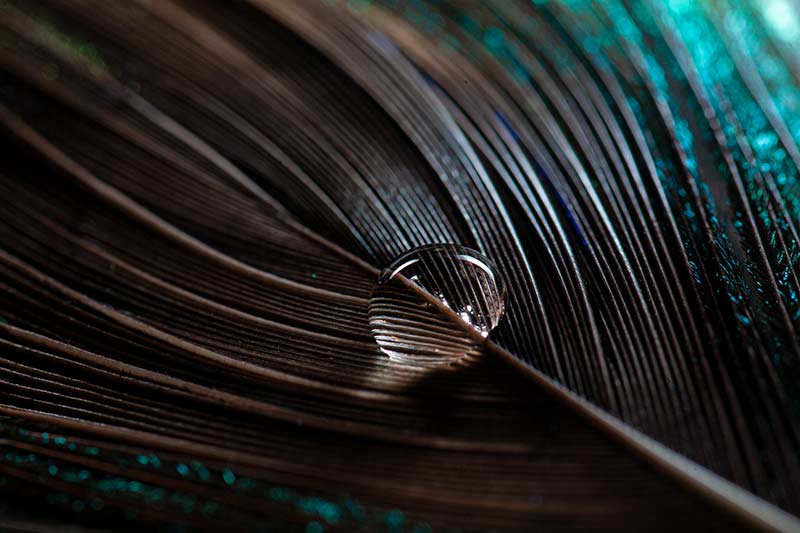 Water Drop Details
The image above is the underside of the feather. Amazing details like this can be enhanced using a simple drop of water. The water acts as a point of interest amongst the complicated lines and colours of the peacock feather.
Placing a drop in strategic places on your feather creates lovely refractions inside the water. Try it out!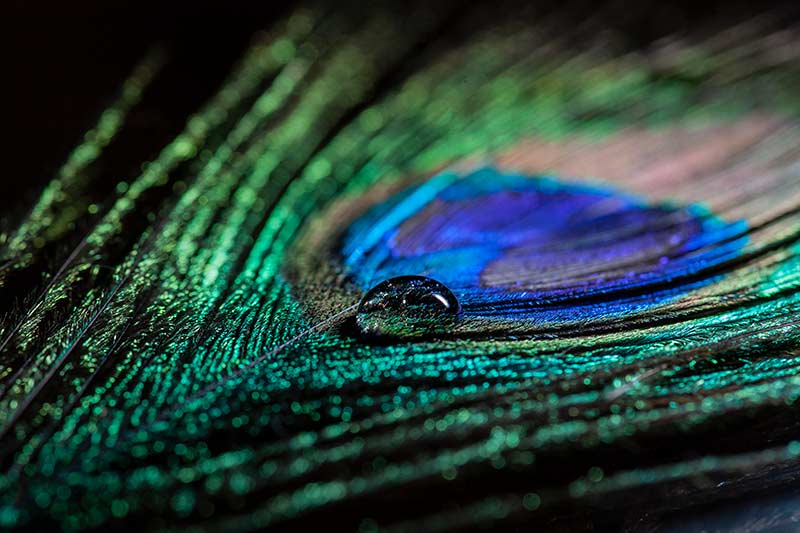 Lighting
All of the images from this shoot were made using our new Flash Lighting Arms. Above all, having powerful artificial light at the ready is make or break for images like these. Lighting direction and power is very important because feathers are so delicate and intricately reflective.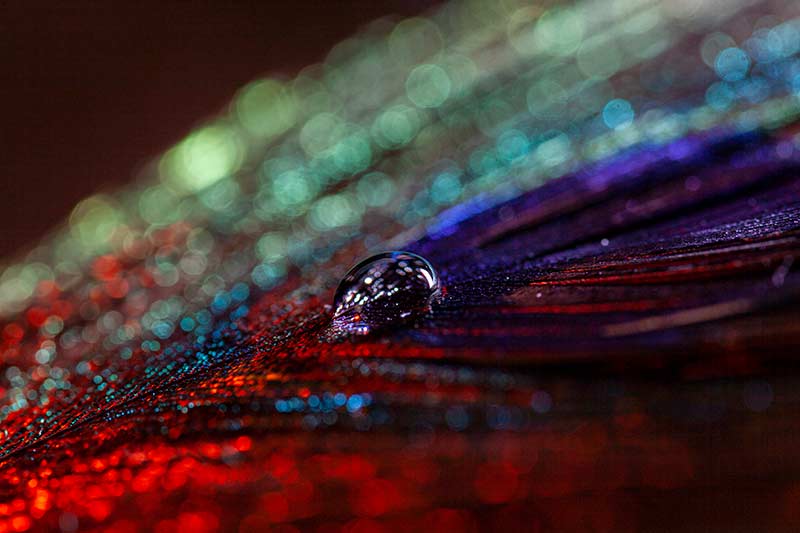 You can even use a combination of flash and continuous light to achieve subtle colours and effects. In the image above we used an amber LED Lighting Arm as well as the Flash Arms to get a nice additional colour.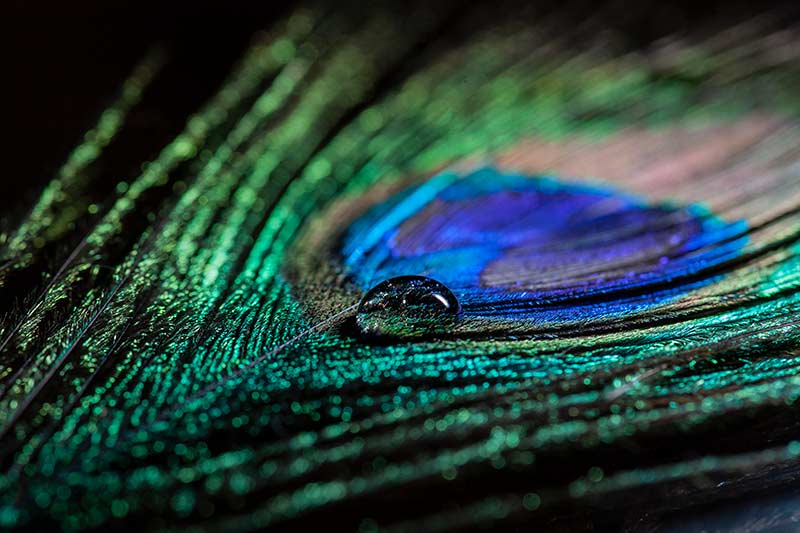 Macro peacock feather photography is fun and relatively easy to try out at home. The amazing colours and details of the feathers lend themselves to experimenting with your lighting. In conclusion, don't forget to shake your tail feathers folks!
To get more inspiration, subject ideas and tips, don't forget to subscribe to our YouTube channel!
Flash Lighting Arms now available.
The Flash Lighting Arm Kickstarter campaign was a huge success. We have now made the flash available for purchase on our website. Click below to get some flexible flash lighting for your own macro photography.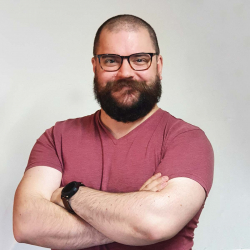 Latest posts by Ben Tuxworth
(see all)